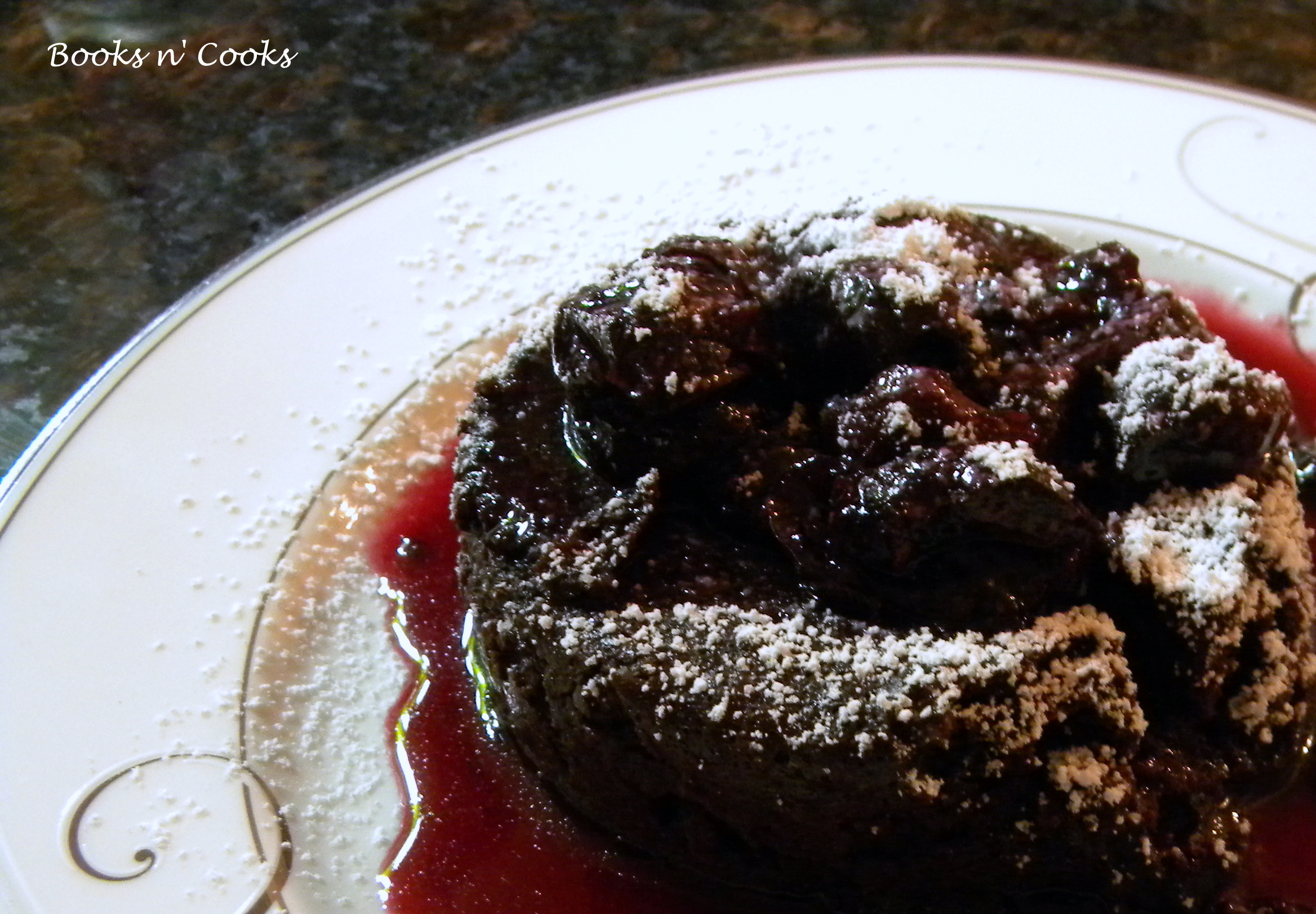 So rich and decadent, this was the ideal cap to our Valentine's celebration. The lave cakes were surprisingly easy to make, and both sauce and cakes can be made up to one day in advance.
Lava Cakes with Cherry Sauce For Two
Adapted from: Epicurious
Ingredients for the Cakes:
2 Tbs. unsweetened cocoa powder
2 oz. bittersweet chocolate, chopped
1/4 c. (1/2 stick) unsalted butter, cut into pieces
2 large egg yolks
1 large egg
2 tsp. all-purpose flour
Ingredients for the Sauce:
1 16-ounce bag frozen pitted dark sweet cherries, halved, thawed, undrained
3/4 cup sugar
1/4 cup kirsch (clear cherry brandy) or regular brandy
1/4 teaspoon ground cinnamon
Confectioners sugar, for dusting
Make the Sauce:
Note: Make the sauce before the cakes, as you'll need to pull out some cherries to include in the cake. Also, you will have extra sauce. Try serving it over ice cream!
In a medium sauce pan over medium heat, combine cherries and cherry juices, 1/2 c. sugar, kirsch or brandy, and cinnamon. Stir until sugar has dissolved. Reduce heat and simmer until sauce thickens and reduces, about 10 minutes.
Using a slotted spoon, take out 1/4 c. cherries. Drain and coarsely chop. Set aside chopped cherries for the cakes.
If making in advance, cover and refrigerate sauce.
Make the Cakes:
Butter two 3/4-cup ramekins or custard cups and set aside.
In a small saucepan over low heat, stir chocolate and butter until melted and combined. Meanwhile, in a small bowl, whisk together cocoa and 1/4 c. sugar. When chocolate-butter mixture is combined and smooth, remove from heat and whisk in cocoa mixture. Whisk in egg yolks, whole egg, and flour. With a rubber spatula, fold in chopped cherries.
Divide batter between buttered ramekins. If making ahead of time, cover and chill.
Bake:
When ready to cook, preheat oven to 350°F and begin warming sauce over low heat.
Bake until edges are set but center is shiny, about 22 minutes. A toothpick inserted into the center will still have some wet batter attached to it.
Serve Warm:
Using a butter knife, cut around cakes to loosen. Turn out onto plates – it'll fall right out. Spoon sauce over cakes and sprinkle with confectioners sugar.