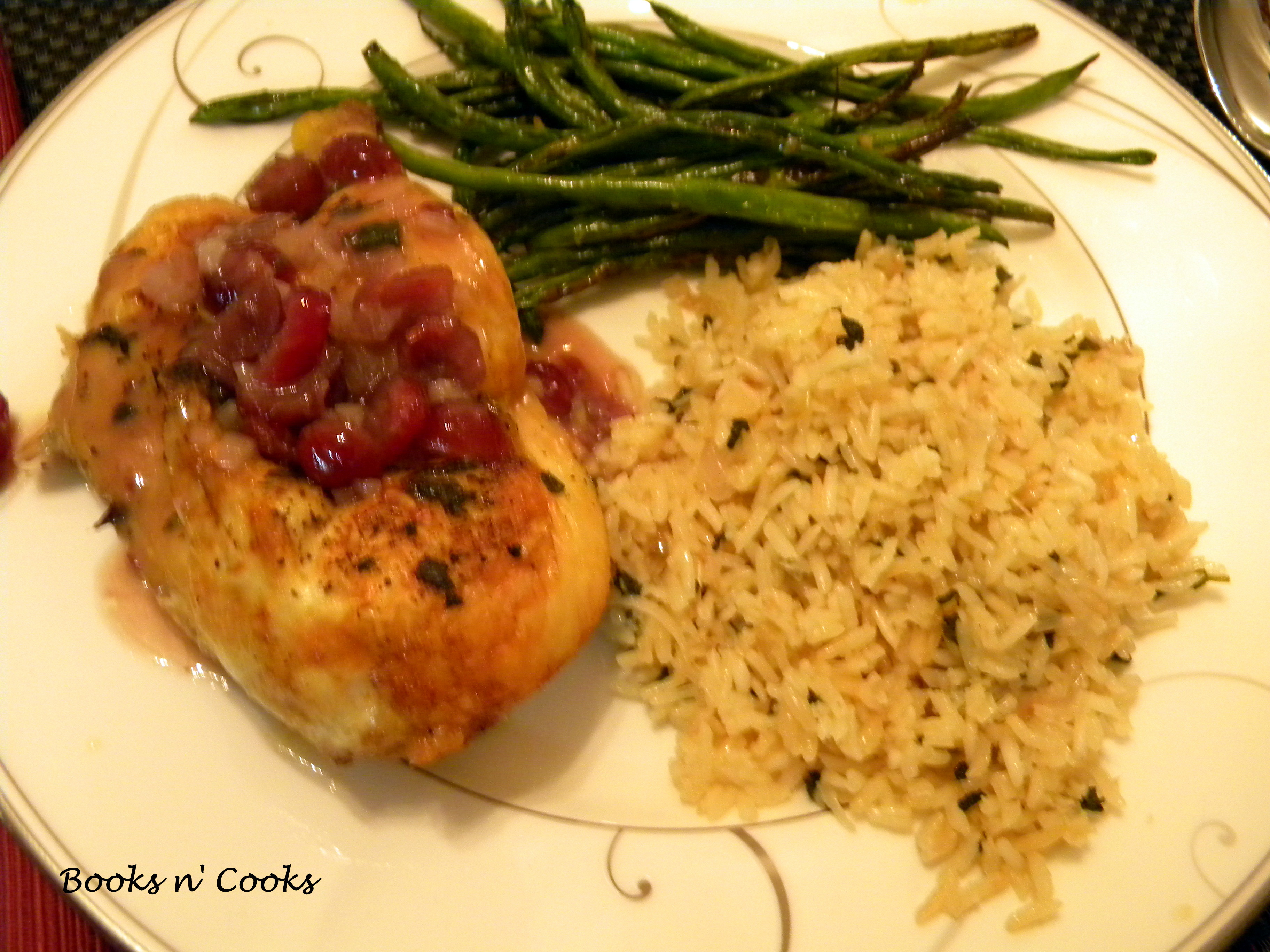 The only change I made with this recipe was to make two birds instead of four. If you're going to make four birds, be sure to double the sauce below.
This recipe was mighty intimidating. I don't like to make turkeys or chickens (um, ew, pulling out the innards?), and have never deboned any bird in my life. Since this was part of my special Valentine's Day dinner for the hubby, I started the day early (when he was involved in video games and not paying any attention to me). It was slightly traumatic, and they weren't the prettiest birds, but I did it!
Roasted Cornish Game Hens with Cranberry-Port Sauce
Adapted from: Fine Cooking No. 102 (p. 65)
Ingredients for the Birds:
2 Cornish Game Hens, 1 1/2-2 lbs. each
2 tsp. finely chopped fresh sage leaves (save the stems for the broth)
2 tsp. finely chopped fresh thyme (save the stems for the broth)
Kosher salt
Fresh ground black pepper
1/2 Tbs. unsalted butter
Ingredients for the Broth:
2 tsp. olive oil
2 c. low-sodium chicken broth
1/3 c. chopped shallot
Reserved backbone & wing tips from hens
Reserved sage & thyme stems
Ingredients for the Sauce:
1/3 c. ruby port
1/3 c. dried cranberries
1 Tbs. unsalted butter
1 Tbs. minced shallot
1 Tbs. all-purpose flour
Kosher salt
Fresh ground black pepper
Prepare Birds At Least 12 Hours in Advance:
Step 1: Split each hen down the center of the back using a chef's or butcher's knife. Remove the backbone. Or, using kitchen shears, cut along both sides of the backbone. Set backbone aside.
Step 2: Extend wings on each side and chop off the last two joints. Set wing tips aside, with backbone.
Step 3: Combine sage, thyme, 1 Tbs. salt and 1 tsp. pepper in a small bowl. Pat hens dry and rub sage-thyme mixture on both sides of the hen. Place hens, skin-side up, on a rimmed baking sheet. Hens should not be touching. Refrigerate uncovered for at least 12 hours, or overnight.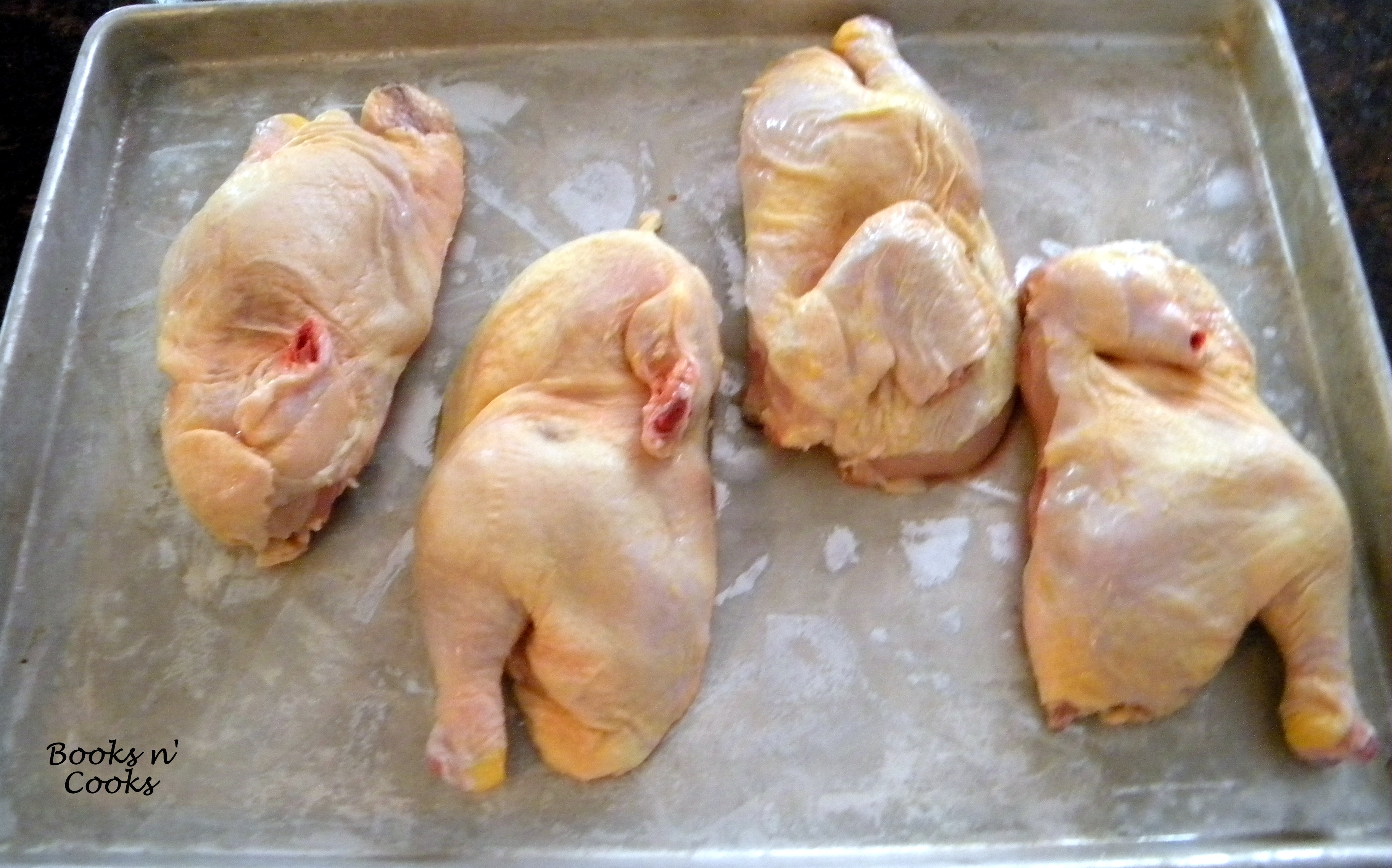 My backbone-less hens… not the prettiest but they sure were tasty.
Make Broth & Sauce 12 Hours in Advance:
Step 1, the Broth:  Heat oil in a 3-4 qt. saucepan over medium-high heat. Pat the wings and backbone dry and add to hot oil. Stir a few times until browned on all sides. Add chicken broth, shallots,  and sage & thyme stems. Reduce heat, simmering for 30 minutes. Strain, removing the solids, and let cool. Refrigerate overnight.
Step 2, Start the Sauce: Combine port and cranberries in a small bowl. Cover and let sit at room temperature overnight, so that cranberries plump up.
A couple hours before mealtime… remove the hens from the refrigerator and let sit at room temperature for an hour.
Roast the Hens:
Preheat oven to 450°F. Melt 1/2 tbs. unsalted butter and brush it over the hens. Roast the hens for 30 minutes, rotating half-way through. An instant thermometer inserted into the thickest part of the thigh should read 175°F to 180°F when done. Let rest 5 minutes before serving.
Meanwhile, Finish the Sauce:
Remove broth from fridge and skim fat off broth, and heat in a small sauce pan.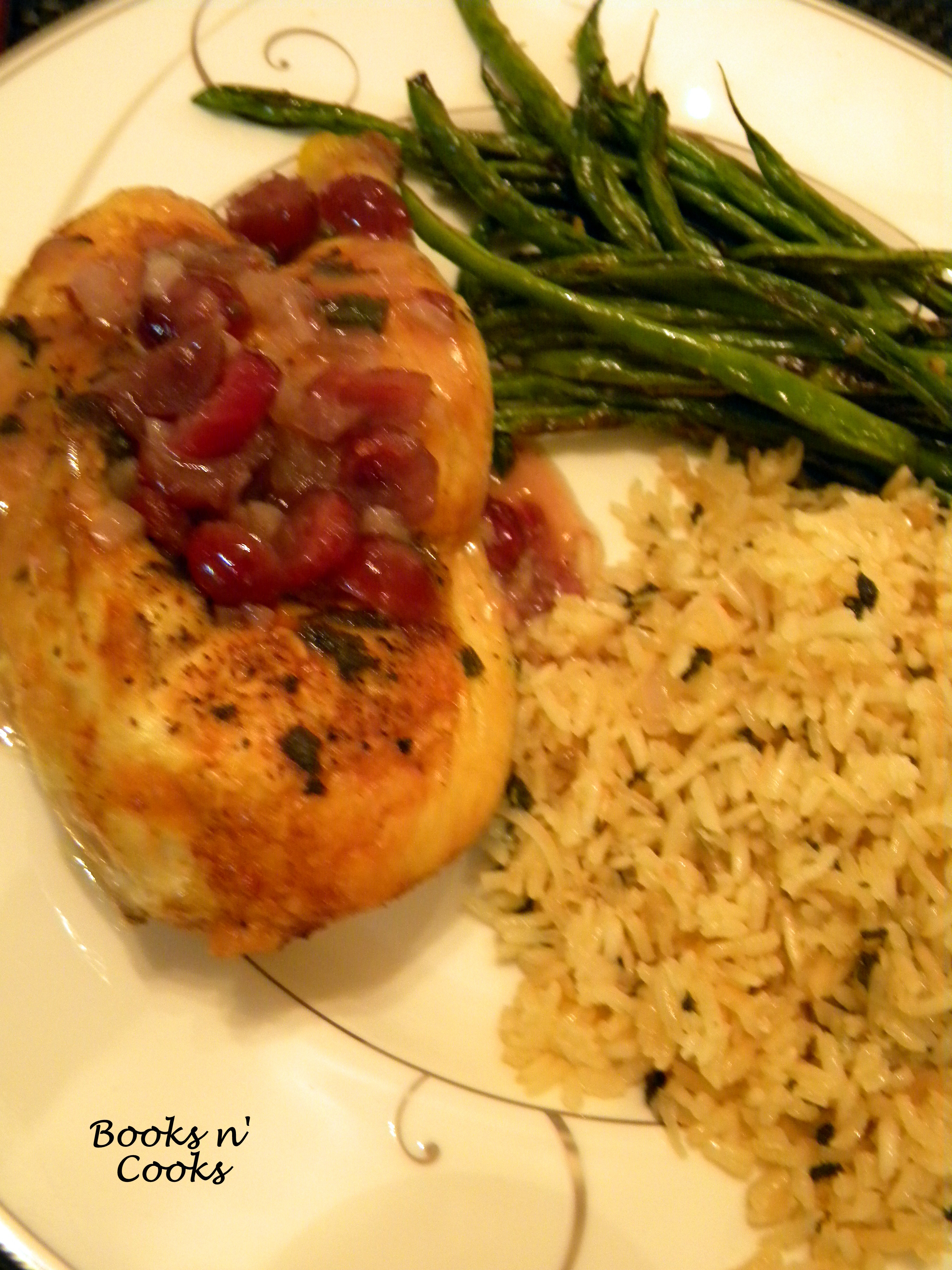 In another saucepan over medium heat, melt 1 tbs. butter. Add shallots and cook until tender, about 1 minutes. Stir in flour and whisk for about 30 seconds, until a thick paste has formed. Strain port into sauce pan, setting aside the plump cranberries. Whisk for another 30 seconds.
Whisk in broth until the sauce is smooth. Lower the heat to maintain a simmer, whisking occasionally until sauce reduced to 1/3 its volume, 5-8 minutes.
Stir in cranberries and season with salt and pepper. Keep warm.
Just prior to serving, pour any juices left from the roasted hens into the sauce, stirring to combine.
Serve roasted hens with a drizzle of the cranberry port sauce.