Unlike some people, I never really had any strong Christmas traditions of watching a particular movie. When my brothers and I were little, we would watch Christmas specials that my mom recorded (on VHS!) – the Smurf's Christmas Special, Frosty the Snowman… the homemade movie had all of those amazing Coca Cola polar bear commercials (seriously, why did those every go away?).
But at a certain point, we got too old for the Christmas specials. I don't know when we stopped watching – junior high? High school? It wasn't until college that those Christmas specials were replaced with a movie. Elf.
I remember coming home from college and talking about the movie. My mom rolled her eyes at me, but my brother jumped right into the conversation about what a great movie it was. Needless to say, Mom had to watch it with us. Several times that Christmas vacation. Thus began my newest Christmas movie tradition.
These cookies are inspired by that movie. For those of you that don't know the movie, stop reading right now, and check out Netflix, On Demand, whatever. Watch it, and then finish reading this post. You should be picturing the scene where Will Ferrell is making a breakfast of pasta, candy, and maple syrup for his father's wife. These cookies aren't as sickly sweet as I imaging that breakfast would have been.Not surprisingly, I felt like I was eating a handful of candy when I ate a cookie.
I can't wait to turn my Christmas movie tradition into a movie + baking event with my daughter!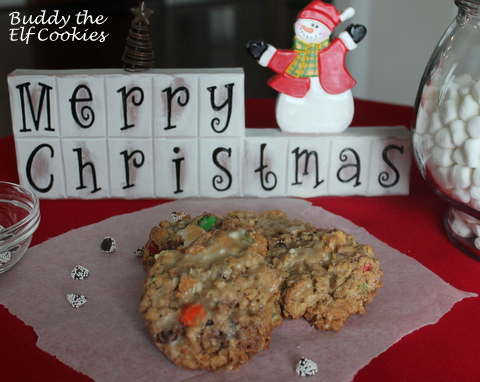 Buddy the Elf Cookies
Adapted from Spoon or Foon
Makes 2-3 dozen cookies
Ingredients for the Cookies:
1½ c. all-purpose flour
1 tsp. baking soda
1 tsp. cinnamon
½ tsp. salt
1 tsp vanilla extract
2 large eggs
14 Tbs. unsalted butter, at room temperature
3 c. old-fashioned oats
3/4 c. granulated sugar
½ c. brown sugar
1 c. M&Ms
½ c. mini marshmallows
1 c. Sno-Caps
4 S'mores Pop Tarts, chopped
Ingredients for the Maple Glaze
1/4 c. confectioners' sugar
1-2 Tbs. pure maple syrup
1/4 tsp. vanilla extract
Preheat oven to 350°F. Line two baking sheets with parchment paper an set aside.
In the bowl of a stand mixer fitted with the paddle attachment, beat butter and sugar on medium speed until light and fluffy. Add eggs one at a time and vanilla, beating until combined. Scrape down sides of the bowl. Add flour, baking soda, cinnamon and salt, mixing well and scraping down sides of the bowl as necessary. Reduce speed to low and add oats, Sno-Caps, Pop Tarts, M&Ms, and marshmallows. The batter will be very thick. You'll want to finish stirring with a wooden spoon to make sure the candy is evenly distributed.
Using an ice cream scoop, portion out cookie dough onto prepared baking sheets. Bake 14-16 minutes, until lightly golden. Allow to cool for a few minutes before moving to a wire rack (set on top of a paper bag to minimize the mess) to cool completely.
Make the Glaze. While cookies are baking, whisk together all ingredients in a small bowl. Drizzle over cooled cookies.
Store in an airtight container.