This post is sponsored in conjunction with #BrunchWeek. I received product samples from sponsor companies to aid in the creation of the #Brunchweek recipes. All opinions are mine alone.
Before I start telling you about my new favorite entree to serve for brunch, I want to remind you that there's also an awesome giveaway. Our generous sponsors have created some amazing prize packs, and I'm hoping that one of the Books n' Cooks readers wins one of them. Check out the details and enter to win here.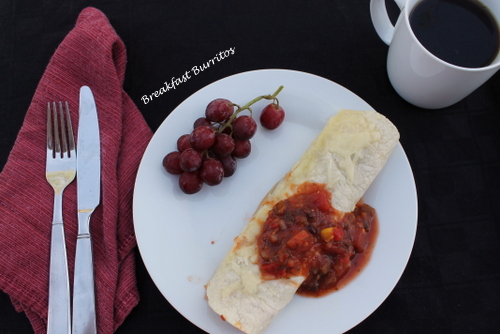 So I wasn't kidding about when I said that today's post is my current favorite main course to serve for brunches. I first made these burritos in December, for a holiday brunch with a set of good friends. They received rave reviews from all of the attendees. And my hubby and I enjoyed the leftovers – frozen and reheated – for quick but flavorful breakfasts after the holiday season was over.
While the burritos I made in December were wonderful, I took the original recipe and tweaked it slightly, mostly skipping the bacon to make it vegetarian (and frankly, to cut prep time) and increasing the amount of eggs, for a nice hearty burrito. This recipe does make a huge batch, which makes it perfect for feeding a crowd or for freezing for quick weekday morning breakfasts. (Directions for freezing and reheating included below.)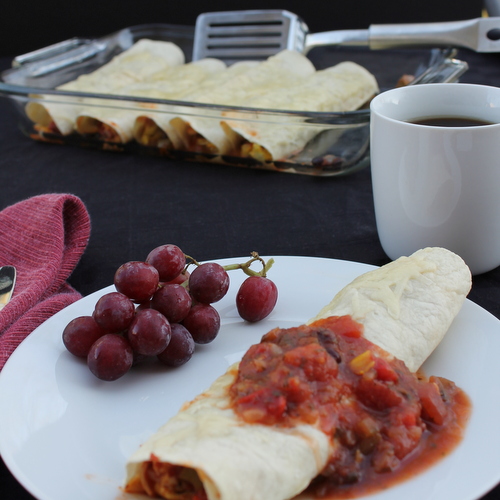 I hope you enjoy my first recipe this #BrunchWeek. Be sure to scroll to the bottom of this post to check out over 3 dozen fabulous brunch recipes.
Breakfast Burritos
Adapted from RecipeTin Eats
Makes 16 Burritos
Ingredients for the Vegetable-Bean Filling:
cooking spray
2 cloves garlic, minced
1 small yellow onion, finely chopped
1 red bell pepper, finely chopped
1-14 oz. can stewed tomatoes
1-14 oz. can low-sodium black beans, rinsed
1 8-oz. can tomato sauce
2 tsp. paprika
2 tsp. cumin
1/2 tsp. kosher salt
1/2 tsp. freshly ground black pepper
Ingredients for the Enchiladas:
2 Tbs. unsalted butter
24 large eggs
kosher salt
freshly ground black pepper
3 c. shredded Cabot Vermont Sharp Cheddar Cheese, or other favorite cheddar cheese
16-8 inch flour tortillas
Optional Toppings: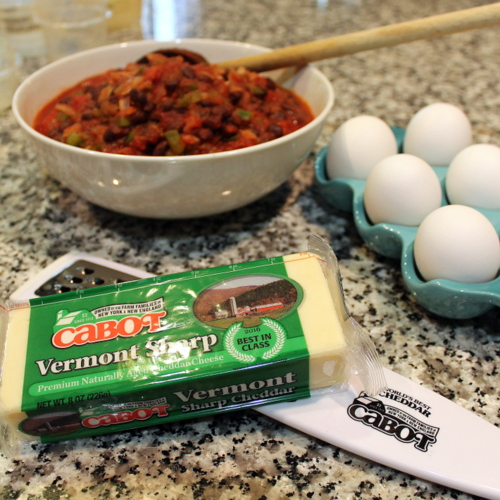 Make the Vegetable-Bean Filling: Heat a large skillet, coated in cooking spray, over medium heat. Add garlic, onion and bell pepper, sauteeing until soft and translucent, about 5 minutes. Add remaining ingredients, breaking up the strewed tomatoes into small pieces. Cook for 10-15 minutes, until sauce thickens. Remove from heat and allow to cool while you make the eggs.
Make the Eggs: In a large bowl, season eggs with salt and pepper. Whisk.
Heat a large skillet over medium heat. Add butter, allowing to melt. Add eggs to skillet. Cook, stirring occasionally until eggs reach your desired doneness. (I prefer eggs to be fairly dry, but I know others prefer scrambled eggs more watery. Eggs will continue to cook a bit in pan, and again in the oven.) Remove pan from heat.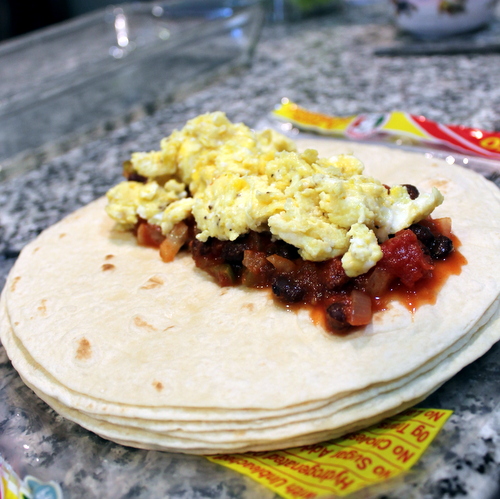 Assemble & Bake the Enchiladas: Spray two 9×13″ Pyrex or other dishes with cooking spray. Set aside. Preheat oven to 400F, while assembling the enchiladas.
Lay tortillas on a clean work space. Place 2 generous tablespoons (I used the tablespoons that came with my everyday silverware set) of vegetable-bean mixture onto tortilla, spreading to cover. Top with two generous tablespoons of eggs. Roll tightly and place seam-side down in prepared dishes. Repeat until fillings are gone.
Sprinkle with 2-3 cups of shredded cheese. Bake for 10-15 minutes, until cheese is melted and enchiladas are starting to brown.
Serve hot, topped with salsa and/or fresh avocado.
To Freeze: Make and cook enchiladas all the way through. Allow cooked enchiladas to cool. Place enchiladas individually on a piece of wax paper. Roll and tuck ends. Place wrapped enchiladas in a freezer bag and freeze until serving.
Enchiladas can be microwaved straight from freezer (remove wax paper), but they heat quicker when they are allowed to defrost for 30-60 minutes (basically the amount of time it takes me to get to work. 🙂 )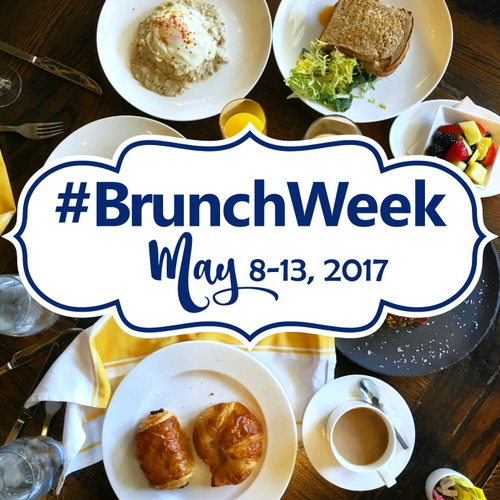 Take a look at what the #BrunchWeek Bloggers are creating today!
BrunchWeek Beverages:
Homemade Orange Julius from A Day in the Life on the Farm
Kimchi Bloody Mary from kimchi MOM
Mimosa Bar from Love and Confections
BrunchWeek Egg Dishes:
Asparagus & Pancetta Frittata from The Chef Next Door
Breakfast Burritos from Books n' Cooks
Chilaquiles from The Redhead Baker
Coddled Eggs with Bacon and Cheddar from Family Around the Table
Eggs Benedict Breakfast Tacos from The Spiffy Cookie
Parmesan Polenta Brunch Bowl with Asparagus and Sausage from Cooking with Carlee
Put an Egg on it Mac and Cheese from Sew You Think You Can Cook
Smashed Sweet Potato Rosti with Butter Poached Egg from Nik Snacks
Smoked Eggs over Asparagus from Cindy's Recipes and Writings
Spinach Baked Eggs with Habanero Cheddar from Sweet Beginnings
BrunchWeek Breads, Grains and Pastries:
Apple Cinnamon Pull Apart Bread from Pink Cake Plate
Apple Crumble Bread from Hezzi-D's Books and Cooks
Apple, Sausage & Cheddar Oven Pancake from Wholistic Woman
Cheddar Asparagus Breakfast Tarts from It Bakes Me Happy
Cinnamon Roll Oatmeal from Big Bear's Wife
Cinnamon Roll Pizza from Palatable Pastime
Best Dutch Baby Pancake Recipe from That Skinny Chick Can Bake
English Raisin Scones with Apple Jam from The Crumby Cupcake
Gluten Free Cinnamon Rolls from Gluten Free Crumbley
Strawberry Lemonade Muffins from An Edible Mosaic
Strawberry Rolls with Orange Icing from The Nifty Foodie
Tiramisu French Toast from Brunch-n-Bites
Twisted Star Cinnamon Rolls from Amy's Cooking Adventures
BrunchWeek Main Dishes:
Biscuits and Gravy Bubble Up from A Kitchen Hoor's Adventures
Cheesy Bacon Chile Rellenos from Rants From My Crazy Kitchen
Country Fried Steak & Eggs with Habanero Cheddar Gravy from Forking Up
Homemade Chicken Sausage & Egg Stromboli from Hardly a Goddess
Spinach, Artichoke and Asparagus Strata from Cooking in Stilettos
Ultimate Cheddar Grits Bowl from The Barbee Housewife
Veggie Loaded Breakfast Enchiladas from Sarcastic Cooking
BrunchWeek Fruits, Vegetables and Sides:
Apple and Creamy Ricotta Crepes from From Gate to Plate
Apple Cheddar Bites with Honey and Pepper from Feeding Big
Spring Asparagus Salad from Girl Abroad
Sweet Pea Sipper from Culinary Adventures with Camilla
Thai Asparagus Slaw from Jane's Adventures in Dinner
BrunchWeek Desserts:
Baltimore Peach Cake from Cookaholic Wife
Mandarin Orange Bundt Cake from My Catholic Kitchen
Save
Save
Save
Save