Ever since commuting an hour to grad school, I've become an audiobook convert. I find they help me stay focused on driving. Weird, right? But the truth is, I don't get as annoyed at the stupid drivers and the traffic. I don't constantly glance at the clock or the GPS to see how much farther I have to go. I get absorbed in the story and actually am disappointed when I reach my destination.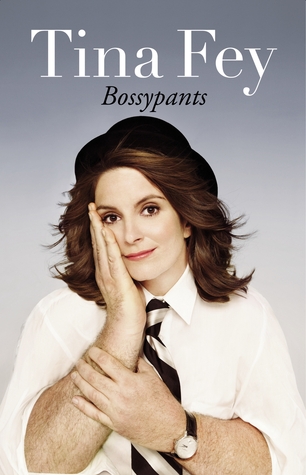 I usually need to listen to a light story, otherwise I have a hard time focusing. I listen to a lot of mystery books and young adult books. It's easy for me to get engaged in the story, and the narrators are usually pretty good. However, for my car ride home from Christmas – 7 hours with my hubby and my younger brother – I needed something that would appeal to everyone. After waiting for two months, Bossypants arrived from the library just in time for us to make our trip.
Book Review:
Bossypants
By Tina Fey
Bossypants is written (and read, if you get the audiobook) by actress, comedian, writer, and producer Tina Fey. The book is an autobiography about her life, from childhood to 30 Rock. She talks about her Greek childhood, college and her struggles to find a job, her experience as part of a traveling improv group, and moving to Saturday Night Live. From there comes 30 Rock and a side-show on SNL as Sarah Palin. All of this while balancing life at home with her husband and her daughter.
I thoroughly enjoyed Bossypants. Listening to the audiobook, it felt like Fey was simply having a conversation or telling a story. She was witty and sarcastic throughout the book. But at the same time, she brought up serious issues like the struggles she faced early on as a woman in comedy, originally a male-dominated profession. She discussed the difficult game of balancing her career in the public's eye with her attempts to keep her own political views separate, particularly while performing in the SNL skits featuring Sarah Palin and Hilary Clinton.
Recommendation: If you know who Tina Fey is and some of her work, you'll enjoy this book. I am not generally up on actors/actresses, movies/tv shows (I don't watch 30 Rock or SNL), and tend to dislike stand-up comedy, but I really enjoyed this book. Fey's personality and beliefs came through loud and clear. If you don't know how Tina Fey is, I think you'd still enjoy the book, but you may miss some of the stories and quips (like I did in the chapter on 30 Rock).
Grade: A-
Note: If you listen to the audiobook, Fey refers to several photos that are available on pdf, that comes with the audiobook. Since I was traveling, I did not have these photos readily available. While annoying, it didn't detract from the book at all.