Merry Christmas!
This holiday season is a full house for my family. The hubby and I spent the holiday with my family up north. For a week, we had friends and family in and out of the house every couple days. It made for a fun week, although a bit chaotic. It was hard to keep up with so many people coming and going, everyone at a different times. As a result, we kept our meals fairly informal and flexible. We stocked the pantry to accommodate a couple extra batches of cookies, and the freezer, which was full of ready-made appetizers and breakfast goodies that just had to be popped in the oven. Finally, family members volunteered to make a couple quick trips to the grocery store so that we could add two requested items (from this blog!). I just went with the flow (and tried to get Mom to relax and do the same).
In the end, the following ended up being the menu for the week – for most of the main meals. In addition to the below, we also had cranberry scones, orange pecan biscotti, and blueberry scones for breakfasts throughout the week.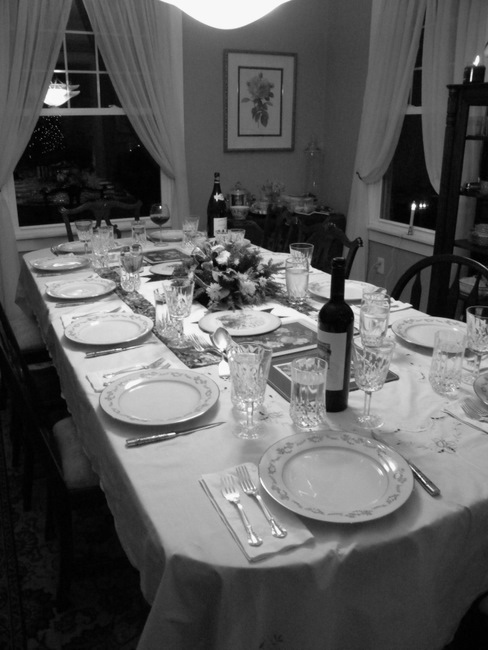 CHRISTMAS EVE EVE (THE FRIDAY BEFORE)
Lunch for 9: Chicken Noodle Soup & Butternut Squash Soup
Dinner for 11:  Chicken & Eggplant Parmesan, Penne with Homemade Marinara Sauce, Warmed Italian Bread
Dessert/The Week's Sweets: Seven Layer Cookies, Chocolate Chip Cookies, Babka
CHRISTMAS EVE
Dinner for 11: Crab Cakes, Roasted Shrimp with Tomatoes & Feta, White Rice, Roasted Asparagus
Dessert: Cheesecake with Raspberry Sauce, Cranberry Pear Tart
CHRISTMAS DAY
Appetizers (for 5-11): Spinach-Artichoke Dip with Baguette, Assorted Cheese & Crackers, Mushrooms Stuffed with Pancetta
Cocktails: Champagne Cosmopolitans
Dinner for 11: French Onion & Fennel Soup Gratin, Roasted Beef Tenderloin with Horseradish Sauce, Twice Baked Potatoes, Roasted Vegetables
Dessert: Leftover cheesecake, fruit tart, and cookies. Tiramisu, an Italian cookie platter, and a ginger-pear pie, compliments of our guests.
THE MONDAY AFTER
Leftovers & Chinese food. Mom and I finally get a break from the kitchen!
THE TUESDAY AFTER (round two of visiting family)
Appetizers for 18: Spinach-Artichoke Dip, Baked Fontina
Dinner for 18: Crown Roast of Pork with Apple Stuffing & Cider Bourbon Sauce, Roasted Vegetables
Dessert: Leftovers (Sadly. I've been dying to make a coconut cream cake, but we just had way too many sweets in the house to make it).
THE WEDNESDAY AFTER
Dinner for 18: Spaghetti & Meatballs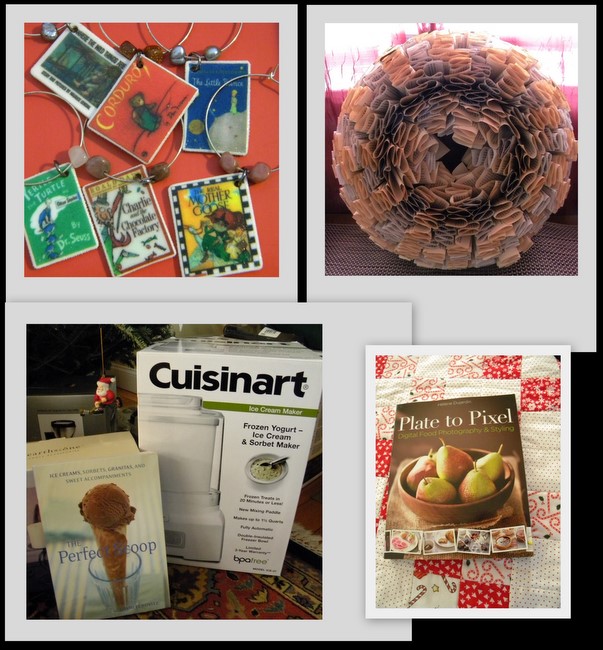 And because I can't resist, a few photos of my favorite Christmas gifts :
1. A set of children's books wine glass charms. I've never seen any book-related wine charms – can't wait to try these out at the next book club dinner I host!
2. A gorgeous wreath made of pages from Jane Austen novels.
3. An ice cream maker with a copy of The Perfect Scoop – since my ice cream bowl for my KitchenAid began to ooze blue stuff this summer
4. From Plate to Pixel – so that I can work on my photography this year