HAPPY NEW YEAR!!
Since graduating college seven years ago, I feel like each year is busier than the last. 2011 flew by! I'm not even entirely sure why I was so busy. I did work quite a bit and spent some time doing home improvement projects, but that doesn't account for a whole year. Oh well.
Here are some of my goals for 2012:
In the Kitchen
In 2012, I would like to regularly post two recipes each week. I've done alright with it in 2011, but really want to commit for 2012. I'd also like the posts to be bit more balanced – desserts and sweets should not outweigh breakfasts, lunches, dinners and sides. Part of the reason for this is that I find desserts easier to photograph. So clearly, I need to focus on really learning to use my camera better, perhaps making a light box, and taking more time to style and photograph my creations. Think I can keep the hubby away from dinner long enough to do that? 😉
I do have a bit of a bucket list for items I'd like to make, but I'm not going to swear that it'll get done during 2012. I'd love to make perogis and stuffed cabbage (perhaps on Polish Day, if I can ever pick a date to get some friends and family together for it). Homemade pasta has been on my list for a while (I keep swearing that I'll steal my mom's Kitchen Aid attachment). Caramel and tiramisu continue to intimidate me (I've failed at both once before), but I swear it'll happen eventually. If my brother comes to visit, homemade bagels will be attempted, per his request. The list could go on and on. If only I didn't have to work or keep a clean house…
Off the Bookshelf
In 2009 I had set the following goals for myself (I apparently didn't do a New Year's post last year):
Read all of Jane Austen's works (6  books, 1 short fiction, and 2 unfinished fiction)
Read Gone with the Wind, a book that has always intimidated me a little bit in its length
Read the Lord of the Rings series. I love the movies, I just need to start the books!
I am sad to say that I only accomplished one of those – reading Gone With the Wind, which I finished earlier this year. I'll be keeping the other two goals on my list for the year. In addition, I would like to read the Eragon series (which I had been putting off until the final book came out) and Paullina Simons's Tatiana & Alexander books (I've read the first, but would like to reread it and finish the trilogy).
Also, like last year, I want to work on reading through and donating the many mystery novels that line my bookshelves. Until I have a bigger house and more bookshelves, I cannot just keep them all! I have to be selective!
Please share! I'd love for you to share your cooking and/or reading goals for 2012. What are your plans for the new year? Leave a comment, but before you go, check out this recipe for Champagne Cosmos, a nice change from your glass of New Year's champagne. The touch of cranberry-lime-Grand Marnier takes the edge off the champagne and sweetens the drink just a little bit. Love it! We drank four batches of this over Christmas week, and I fully intend on bring some to our New Year's Eve party tonight.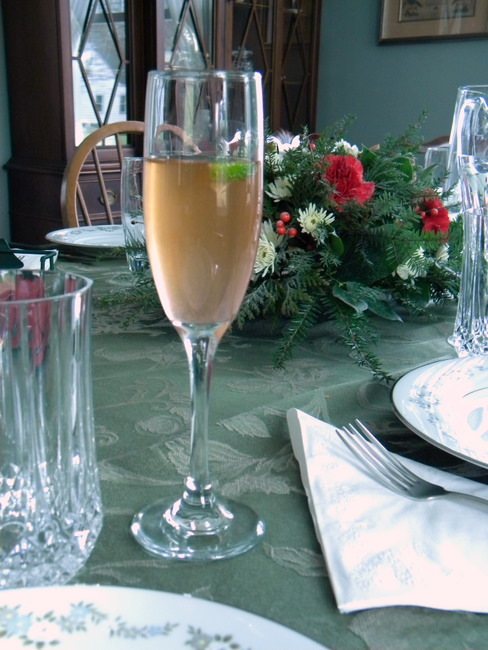 Print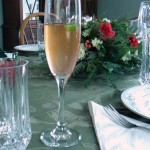 Champagne Cosmos
Ingredients
2

bottles of champagne or prosecco

3

Tbs.

fresh lime juice

from 1-2 limes

1

c.

cranberry juice cocktail

1/2

c.

Grand Marnier

lime curls

for garnish
Instructions
In a small pitcher or large (2 cup) measuring glass, combine lime juice, cranberry cocktail, and Grand Marnier. Stir to combine.

Pour a couple tablespoons of cranberry mixture into champagne flute (will be about an inch of cranberry mixture in bottom of the champagne flute).

Top with champagne and garnish lime curls.
This recipe was adapted from Fine Cooking No. 96 p. 62