This week, I teamed with Eva over at Eva Bakes to try out another recipe in the drool-worthy, although sometimes daunting, Bouchon Bakery cookbook. I was pretty excited when Eva suggested we make rum cake. It's something I only make once a year, and although I enjoy it, the recipe I use isn't exactly baking from scratch.
Besides trying out a new recipe, I was thrilled to have the opportunity to bake along with Eva. While I don't talk about it much, one of the things I enjoy most about blogging is getting to meet and get to know others who share my passions. Over the past few years, I've gotten to know Eva, my Mixed crew, and a fabulous group of bloggers from around the country (and a few even farther!). We don't just exchange recipes, restaurant recommendations, and favorite books, but we share our families, our careers, our lives. Baking with Eva has been an awesome way not just to compare notes on a new recipe but also to continue to get to know one another.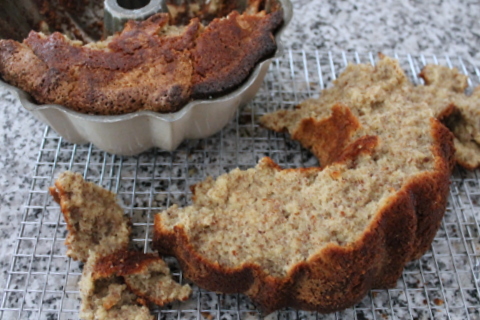 And now I remember why I rarely bake anything in bundt cake pans. 🙁
Despite the appearance, the cake actually turned out pretty well. I made the cake and the rum-infused simple syrup (don't skip it – that's where much of the flavor comes from). Since my broken cake was going to be turned into a trifle, I skipped the rum icing (listed below) and exchanged it for a rum whipped cream (recipe at the bottom of this post). Overall, the flavor was pretty good, but the almond meal gave the cake a nuttier flavor and a bit grainier texture (perhaps I should have kept it in the food processor longer). While the cake was good, I think I'm still partial to the recipe used in my rum cake cupcakes. I'll continue to search for the perfect from-scratch rum cake recipe but you should head on over to Eva Bakes to check out Eva's blog and see what she thought about this Rum Cake recipe.
Thanks for baking with me, Eva!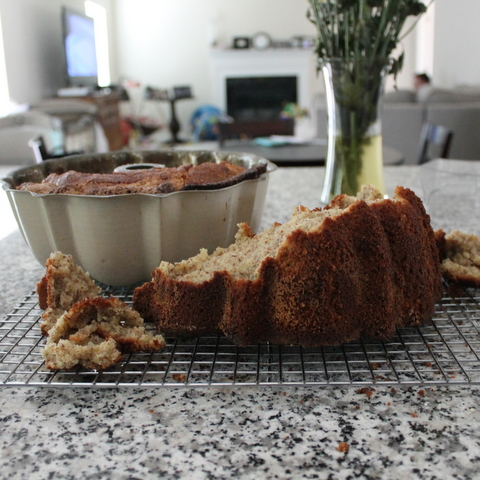 Rum Cake
Adapted from The Bouchon Bakery (p. 106)
*** Ingredient estimates in parenthesis are provided to ensure that you have enough of the ingredients. Please don't use them when making the cake – weigh out each ingredient with a kitchen scale!!! ***
Equipment:
15-cup "original bundt" cake pan
7-quart stand mixer (a 4.5 quart might work, but it will be tight!)
Ingredients for the Cake:
468 g. unsalted butter, at room temperature; plus more for pan (about 4 1/2 sticks total)

562 g. granulated sugar; plus more for pan (under 3 c.)
468 g. almond meal, pulsed 10 times in a food processor to break up clumps (4+ cups)
150 g. all-purpose flour (1+ cup)
562 g. eggs (about 11 large eggs)
75 g. dark rum* (1/3 c.)
Ingredients for the Rum-Infused Simple Syrup: 
100 g. granulated sugar (1/2 c.)

117 g. water (1/2 c.)

50 g. dark rum* (3 Tbs.)
Ingredients for the Rum Icing:
180 g. confectioners' sugar (1 1/2+ c.)

15 g. dark rum* (1 Tbs.)
15 g. water (1 Tbs.)
* The Bouchon Bakery recommends using Meyer's dark rum. I used Captain Morgan Black Spiced Rum.
Make the Cake: Preheat oven to 350F (325F for a convection oven). Melt 1-2 Tbs. of butter. Brush bundt cake pan with butter, being sure to get into all of the crevices. Refrigerate the pan to harden butter. Remove from fridge and sprinkle evenly with a few tablespoons of granulated sugar. Rotate pan until evenly coated on the sides and bottom. Tap out extra sugar and set pan aside.
In a stand mixer fitted with the paddle attachment, cream butter. Add sugar and mix on medium speed until light and fluffy, about 7 minutes.
Scrape down the sides of the bowl. Reduce speed to low and add eggs, one third at a time. Mix for only 15 seconds after each addition. The mixture will look broken, but you don't want to overmix (which would cause the cake will expand too much). Scrape down sides of the bowl again.
Whisk together almond meal and all-purpose flour in a small bowl. With the mixer on low, add almond meal  mixture, one third at a time. Mix for only 15 seconds after each addition. Scrape down sides and bottom of the bowl and stir any remaining dry ingredients in.
Place 1 cup of batter in a small bowl. Add rum and stir until combined. Return to bowl and fold into batter.
Pour into prepared bundt cake pan. A half inch should be left at the top after filling the pan with batter. Bake until golden brown and a skewer inserted into the center comes out clean – 55-60 minutes for a convection oven and 65-70 minutes for a standard oven.
While the cake is baking, make the simple syrup: Combine water and sugar in a small sauce pan over medium-high heat. Bring to a boil, stirring until sugar has dissolved. Turn off heat and allow to cool to room temperature. Stir in rum and refrigerate until using.
When a skewer inserted into the center of the cake comes out clean, remove the cake from the oven and set on a cooling rack for 10 minutes. Place another cooling rack on top and invert cake onto cooling rack, removing the cake pan.
Allow to sit for another 10 minutes. Brush cake with simple syrup. Allow to soak in for a few minutes before reapplying syrup. Continue until syrup is gone and cake is evenly coated. Allow to cool completely.
And in case your cake doesn't turn nicely out into the pan like mine….
Turn it into a….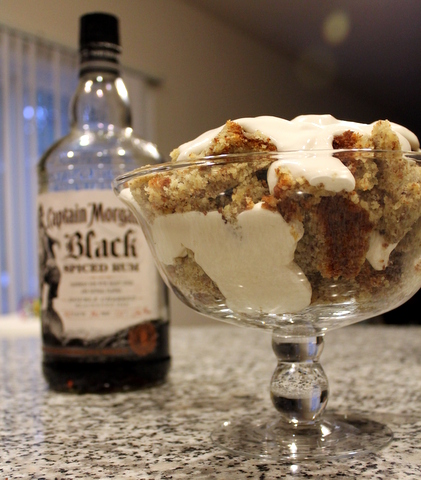 RUM CAKE TRIFLE!!! 
rum cake (soaked in simple syrup) + rum whipped cream
Ingredients for the Rum Whipped Cream: 
1 quart heavy whipping cream

4 heaping tablespoons (the kind you use for dinner, not the measuring scoop) granulated sugar
2-3 Tbs. dark rum
Make the Rum Whipped Cream: Place whipping cream in the bowl of a stand mixer fitted with the whisk attachment. Whisk on high speed until soft peaks form. Without turning off the mixer, sprinkle in sugar. Continue whipping until stiff peaks form. Add rum and whisk until just incorporated. Refrigerate until using.
Make the trifle just before serving. Cube rum cake and layer with whipped cream.
Enjoy. 🙂