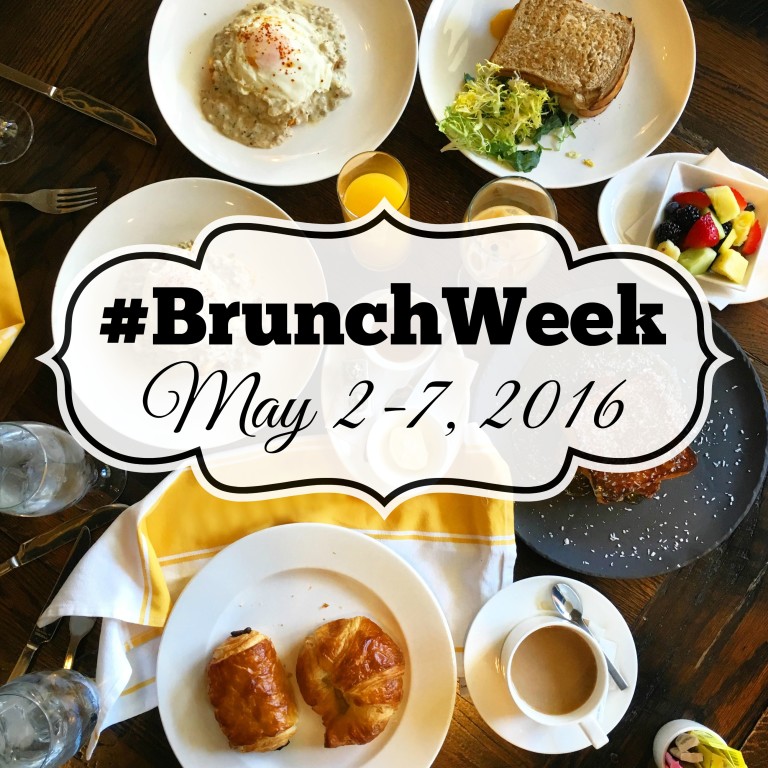 Today is the first day of #BrunchWeek, and I'm super excited to be participating. I made lists and lists of recipes that I wanted to make to share with you this week (way more than I could possibly do), and I spent the last couple of weeks drooling over the sneak peeks I got at some of the recipes my fellow bloggers have been preparing for you. I've gotten to work with some awesome brands – tasting new items for you and getting to play with some new kitchen gadgets.
On that note, I encourage you to do two things. First, visit this post to learn about the amazing sponsors and enter to win one of eight prize packages they provided, pictured below. Secondly, after you read my recipe, continue to the bottom of this post to check out the complete list of #BrunchWeek recipes we've put together for you.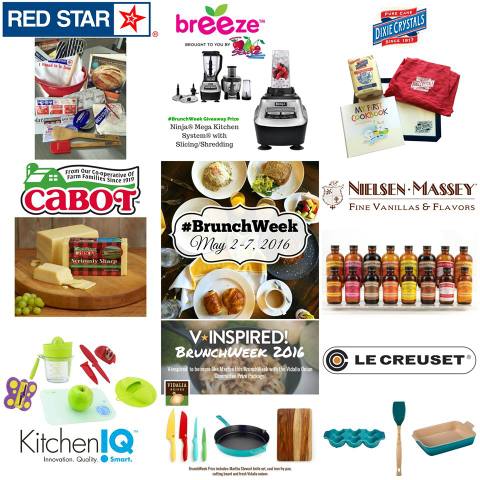 Although I've been stoked about #BrunchWeek, life prevented me from getting into the kitchen as much as I would have liked. Last month in particular was a rough month, with a lot of houseguests and a lot of daycare cooties floating around my house. Cooties that cost me several days of work and my monthly ladies night out. 🙁
I was all ready to go – the scones were made and packaged up, but when my hubby came home from work sick, I couldn't leave him alone with my sick daughter and super active baby. I was bummed, but my coworkers were more than happy to polish off the scones that were destined for ladies night, someone even commenting that he was unaware that scones could actually taste good. He was use to the dry, bland store-bought scones, not homemade scones – soft and full of flavor.
After that week, I went on a scone-making kick – from sweet to savory. These bacon, cheddar, and chive were a pleasant surprise to those who were not familiar with savory scones. The smokiness of the bacon and the subtle undertones of the cheddar made for a wonderful breakfast, and a great addition to this week's #BrunchWeek.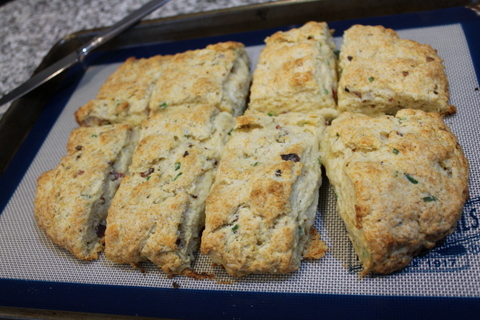 Bacon, Cheddar & Chive Savory Scones
By Books n' Cooks
Makes 8 Scones
Preheat oven to 425F. Line a baking sheet with parchment paper and set aside.
In a large bowl, whisk together:
3 c. all-purpose flour
2 Tbs. granulated sugar
1 Tbs. baking powder
1 tsp. baking soda
1 tsp. kosher salt
Then, gently stir in the following, just to coat:
1 c. shredded Cabot Seriously Sharp Cheddar Cheese (3-4 oz.)
1/2 c. coarsely chopped cooked bacon (from 4 slices thick-cut bacon)
2 Tbs. minced chives
Using two forks or a pastry cutter, cut in
12 Tbs. cold unsalted butter
until mixture is crumbly. Finally, fold in:
Mixture will just start to come together, but will remain very crumbly. With clean hands, knead dough until it comes together. Set on a baking sheet lined with parchment paper. Shape into a long rectangle (or circle), about 1 inch thick. Brush tops with
2 Tbs. unsalted butter, melted
Bake for 12-14 minutes, until tops are golden. Remove from oven and allow to cool on baking sheet for a few minutes.
Serve hot, warm, or at room temperature.
Disclaimer: Thank you to #BrunchWeek Sponsors: Red Star Yeast, Dixie Crystals, Cabot Cheese, Vidalia Onion Committee, Sage Fruits, Nielsen-Massey, KitchenIQ, and Le Creuset for providing the prizes free of charge. These companies also provided the bloggers with samples and product to use for #BrunchWeek. All opinions are my own.
Check out these other #BrunchWeek recipes from over 3 dozen bloggers.
BrunchWeek Beverages:

BrunchWeek Breads, Grains and Pastries:
BrunchWeek Fruits, Vegetables and Sides:

BrunchWeek Egg Dishes:

BrunchWeek Main Dishes:

BrunchWeek Desserts: