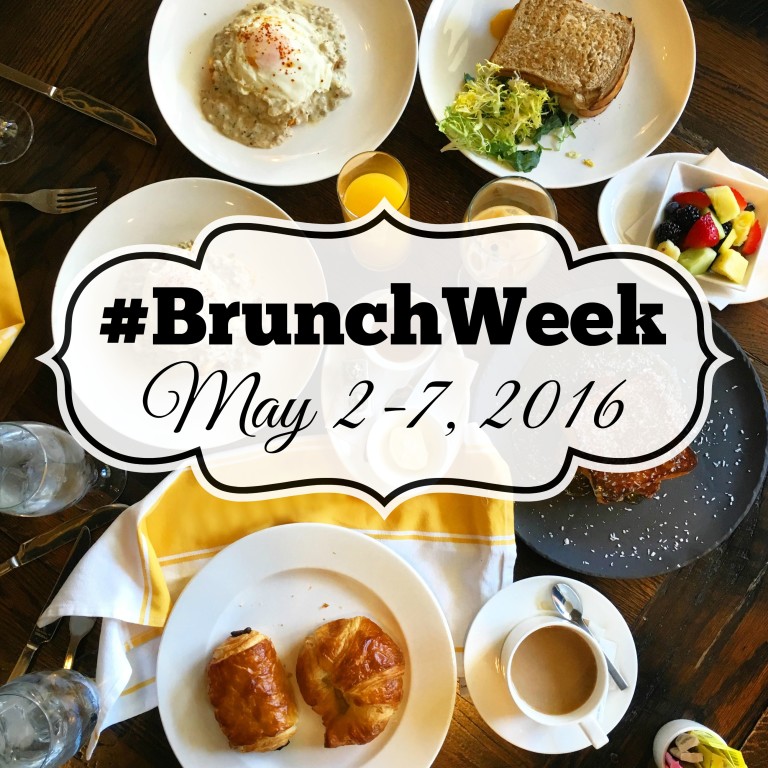 Since having kids a couple of years ago, brunch has become one of my favorite times to host friends. It's not just that it doesn't get in the way of early afternoon nap time. It's that brunch is (for me and my family) one of the easiest, most stress-free times to entertain. I find it's easy to put together an impressive menu with very little effort. I've got it down to a science. Literally. With this formula, I can't go wrong:
Egg dish + grain/carby side side + fruit dish
With this formula, I've got an easy, filling, balanced meal. Frittatas and quiches are my favorite egg dishes. I'll frequently pair that with a fresh scone or muffin, or even homemade granola (served with yogurt) and then round off the meal with a serving of fresh fruit.
Today, I created two varieties of fruit salad, both of which are tossed with a light poppy seed vinaigrette. In the first, I jazz up some berries, grapes, and kiwi with a little fresh mint and in the other, I let the brightness of sweet Breeze apples (a new variety that originated in New Zealand, but is currently being grown in Washington State and introduced to US markets by Sage Fruit) and grapes shine through. Both were wonderful, but feel free to use your favorite in season fruit.
Do you have a standard menu or formula for brunch entertaining?
As a reminder, our amazing sponsors have generously donated some wonderful prizes. Visit here to learn more about our sponsors and enter to win one of the the awesome prizes they so generously provided.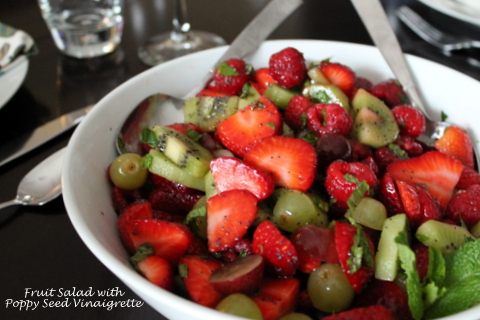 Make Ahead: Vinaigrette and fruit salad may be made ahead of time, but don't mix until just before serving, so that the fruit doesn't get soggy.
Fruit Salad (Two Ways) with Poppy Seed Vinaigrette
By Books n' Cooks
Serves 5-6
Ingredients for the Salad:
5-6 c. fruit, sliced into roughly 1-inch pieces (I used a mix of strawberries, raspberries, kiwi, and grapes)
3 Tbs. fresh mint, coarsely chopped
or
2 Breeze apples, cored and cut into 1-inch pieces
1-2 c. red seedless grapes
1 c. mixed berries (I used raspberries and blackberries)
or
Your favorite mix of fresh fruit
Ingredients for the Vinaigrette:
1/4 c. vegetable oil
1 Tbs. fresh lemon juice (from 1 lemon)
zest of 1/2 a lemon
2 Tbs. honey
1 Tbs. poppy seeds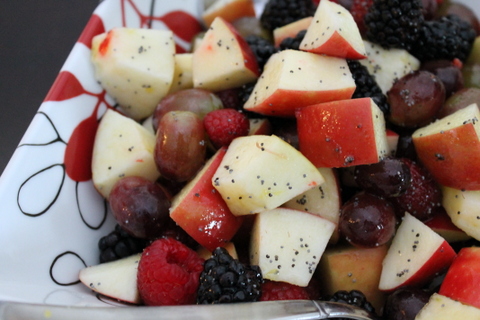 Gently toss fruit and mint to mix. Set aside, or refrigerate until just before serving.
To make the vinaigrette, combine all ingredients in a jar and shake well (or, combine in a bowl or measuring cup and whisk well). Refrigerate until just before serving.
Add half of the vinaigrette to the fruit salad and toss to coat. Add more as desired. (I used only half of the vinaigrette for the 5-6 cups of fruit.)
Disclaimer: Thank you to #BrunchWeek Sponsors: Red Star Yeast, Dixie Crystals, Cabot Cheese, Vidalia Onion Committee, Sage Fruits, Nielsen-Massey, KitchenIQ, and Le Creuset for providing the prizes free of charge. These companies also provided the bloggers with samples and product to use for #BrunchWeek. All opinions are my own.
Don't forget to check out today's other #BrunchWeek recipes, listed below.
BrunchWeek Beverages:
BrunchWeek Breads, Grains and Pastries:
BrunchWeek Fruits, Vegetables and Sides:
BrunchWeek Egg Dishes:
BrunchWeek Main Dishes:
BrunchWeek Desserts: