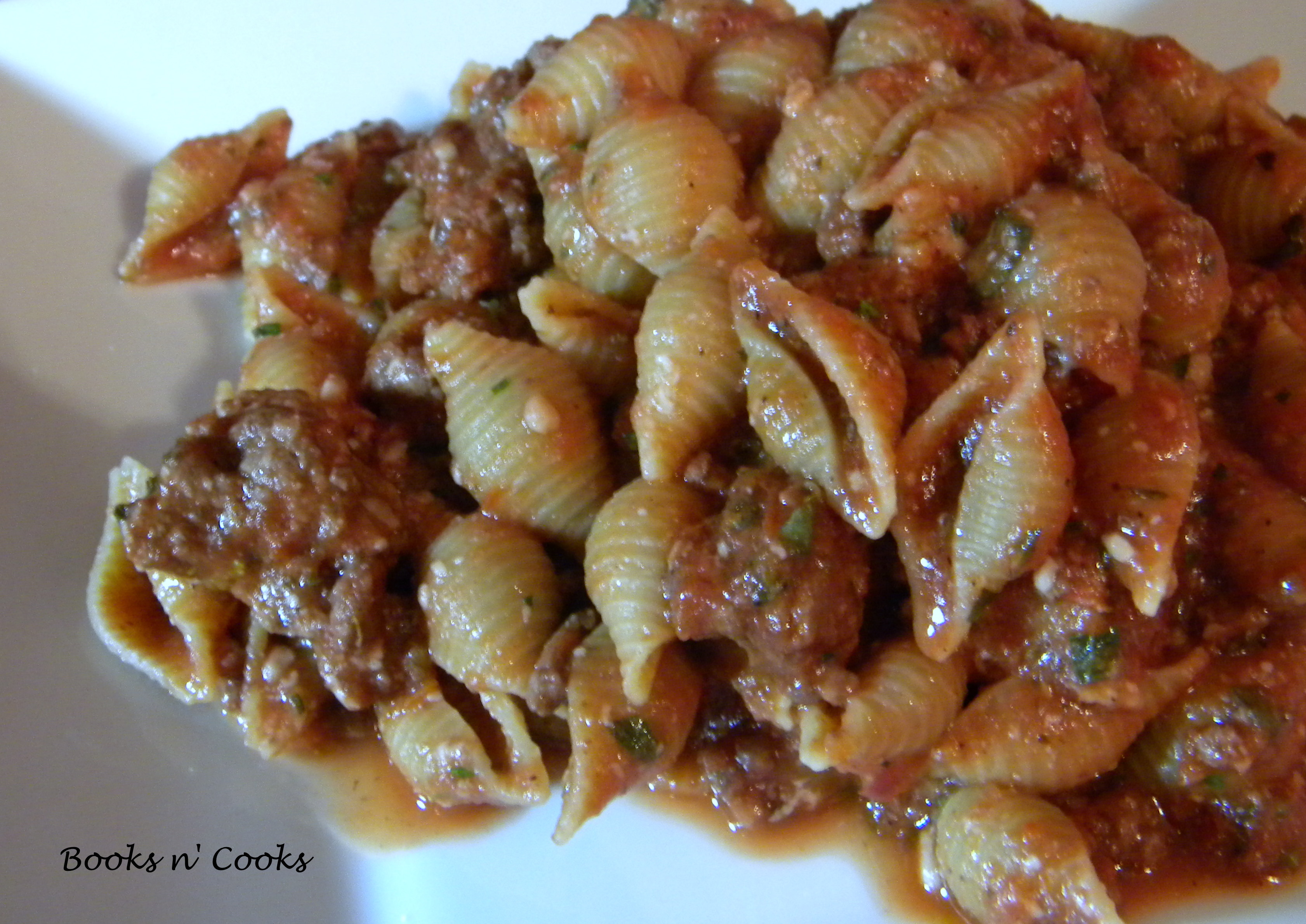 The Barefoot Contessa is one of my go-to recipe sources when I'm looking for something new to try. Like Fine Cooking, Ina has never failed me. That's why I  was so very excited to receive five of Ina's cookbooks for Christmas (I now own her whole collection).
This recipe was from Ina's newest cookbook, How Easy Is That? This weeknight bolognese was certainly quick and easy, and a nice change from my hubby's favorite meat sauce. The bolognese sauce was a little sweeter than we're used to (perhaps because I used shiraz I had on hand, instead of a drier red wine) but still really good.
Weeknight Bolognese
Adapted from Barefoot Contessa's How Easy Is That? (p. 154)
Serves 5
Ingredients:
2 Tbs. olive oil
1 lb. lean ground sirloin
4 tsp. minced garlic (4 cloves)
1 Tbs. dried oregano
1/4 tsp. crushed red pepper flakes
1/4 tsp. ground nutmeg
kosher salt
ground black pepper
1 1/4 c. dry red wine, divided
1-28 oz. can crushed tomatoes
2 Tbs. tomato paste
1/4 chopped fresh basil leaves, lightly packed
1/2 c. freshly grated Parmesan cheese, plus extra for serving
3/4 lb. dried whole grain pasta, such as small shells
Make the Bolognese Sauce: In a large skillet over medium-high heat, heat olive oil. Add ground sirloin, breaking up with a spoon and cooking until browned. Add garlic, oregano, and red pepper flakes – stirring and heating for just a minute. Add 1 c. of the red wine, scraping the bottom of the pan. Add crushed tomatoes, tomato paste, 1 Tbs. kosher salt, and 1 1/2 tsp. black pepper. Stir and bring to a boil. Lower heat and simmer for 10 minutes.
Start the Pasta: At this point,  start boiling water with a bit of kosher salt for pasta. Cook per directions on the box.
Finish the Bolognese: At the same time, add remaining 1/4 c. red wine, nutmeg, and basil to sauce. Stir and continue simmering until pasta is finished, about 10 minutes. (Sauce should thicken slightly).
Drain pasta. Toss pasta, bolognese, and Parmesan together.
Serve hot, with extra Parmesan sprinkled on top.
Nutrition: I eliminated the 1/4 c. heavy cream called for in the recipe (if you want to use it, add it with the nutmeg and basil) and whole grain pasta to make this dish a bit healthier. The above recipe, with 5 servings, was 560 calories per serving.