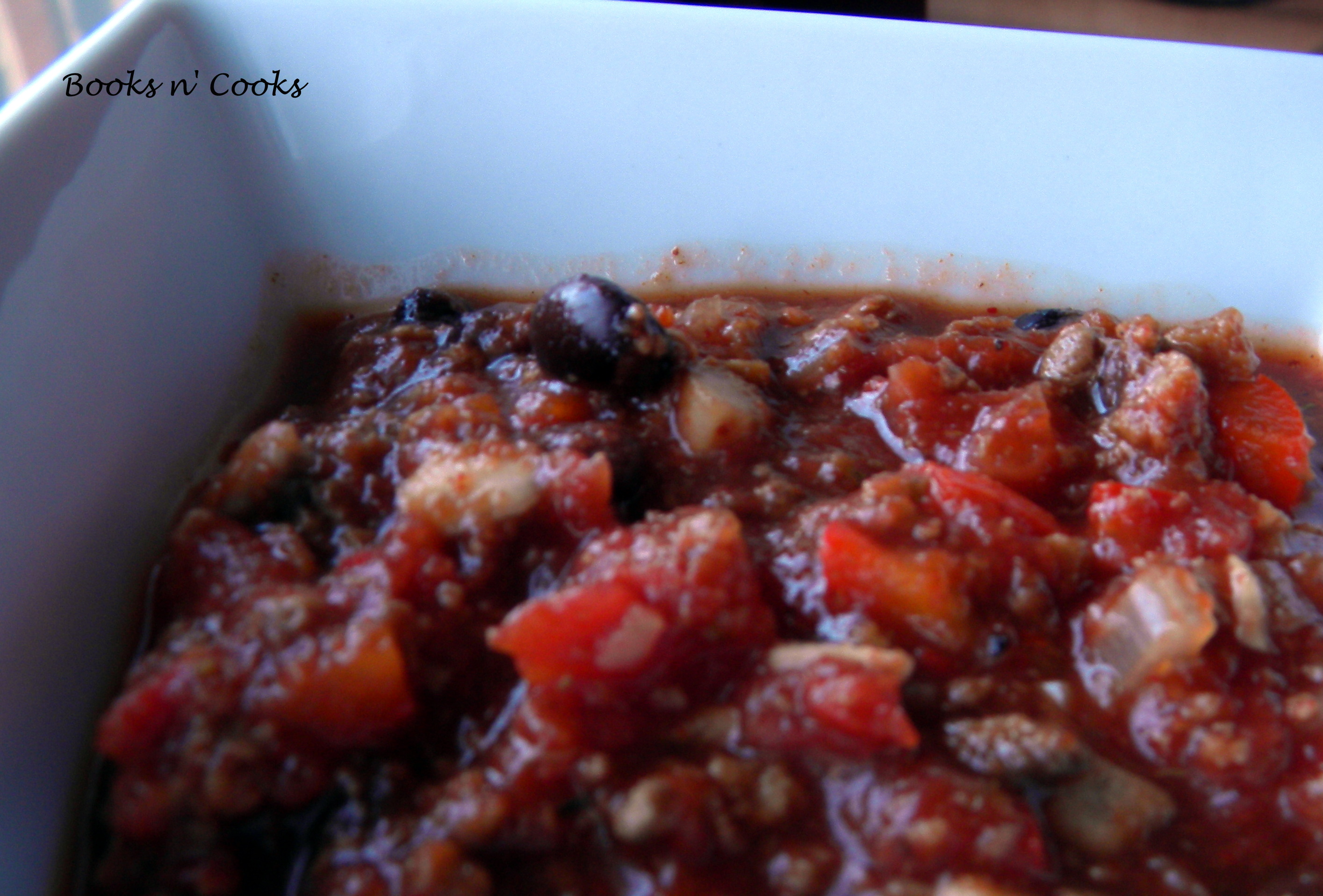 I always seem to struggle at lunch time. I'm not a sandwich person and I'm pretty picky about my leftovers. If I was home for lunch, I'd have more options… turkey burgers, stir-fries, homemade pizza…. pretty easy stuff that just tastes better when you make them on the spot.
I decided to try my hand at chili this week, healthified since I'm trying to eat less junk and to get back in shape. This one was inspired by a friend of mine, with lots of veggies. Its one of those meals that I think I'd throw just about any veggie or bean I had on hand into, such as my mushrooms that were left over from quesadillas and taco night.
Vegetarian Chili
By Books n' Cooks
Ingredients for the Chili Seasoning:
1 Tbs. chili powder
1 tsp. ground cumin
1 tsp. dried oregano
3/4 Tbs. kosher salt
1/2 tsp. red pepper flakes
1 tsp. dried minced onion
Ingredients for the Chili:
olive oil
2 cloves garlic, crushed or chopped
1 onion, diced
1 red or green pepper, diced
1 c. diced mushrooms
1-12 oz package veggie protein crumbles (I used Smart Ground Mexican Style)
1 can diced tomatoes
1-28 oz. can crushed tomatoes
In a medium saucepan, heat a teaspoon of olive oil. When hot, add onion and sauté until soft.
Add all other ingredients and simmer for 30+ minutes, stirring occasionally, until flavors have fused.
Serve with a cheddar or Mexican cheese blend.