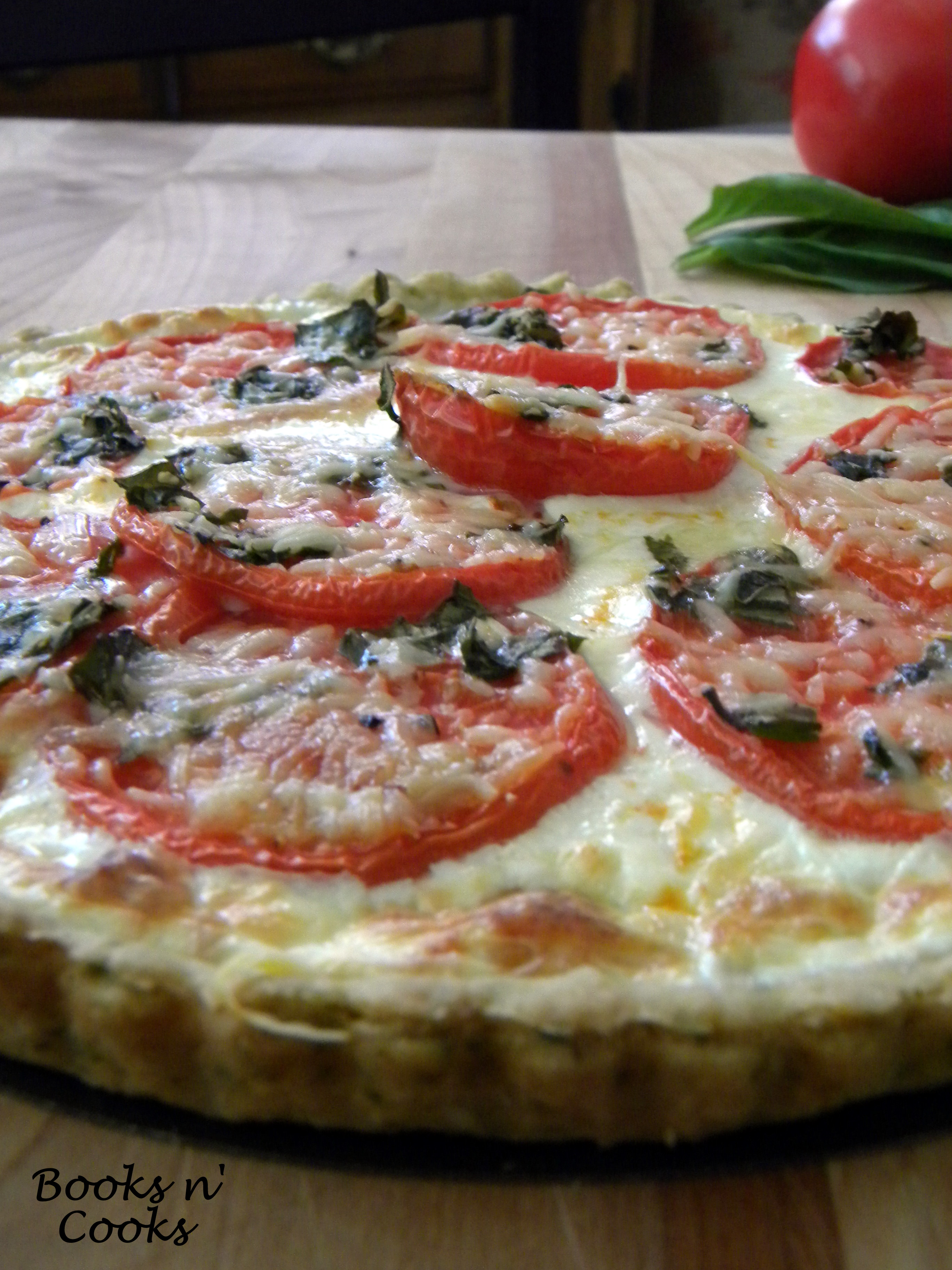 The day of my evening baking marathon with K (lemon limoncello cupcakes and cosmo cupcakes for S's birthday), I played hookey from work. I have more vacation time than I know what to do with, so I decided to stay home, read, and play in the kitchen. I knew I wanted to do something fun for our girl's night, but substantial enough to go with the cocktails I knew we'd be drinking (Limoncello Cosmos, as it turned out!). And, not having the guys there meant that I was able to go meatless. Thus, the Tomato Mozzarella Tart!
I had it both hot and at room temperature. While it was best straight out of the oven, it was also great at room temperature. It was pretty much as expected – sweet tomato, burst of flavor from the basil, warm gooey cheese… it was fantastic! Serve with a side salad as a light meal or, in tartlet form, as an appetizer.
Tomato Mozzarella Tart
Adapted from from Ezra Pound Cake and The Complete Italian Vegetarian Cookbook as seen on Annie's Eats
Ingredients for the Crust: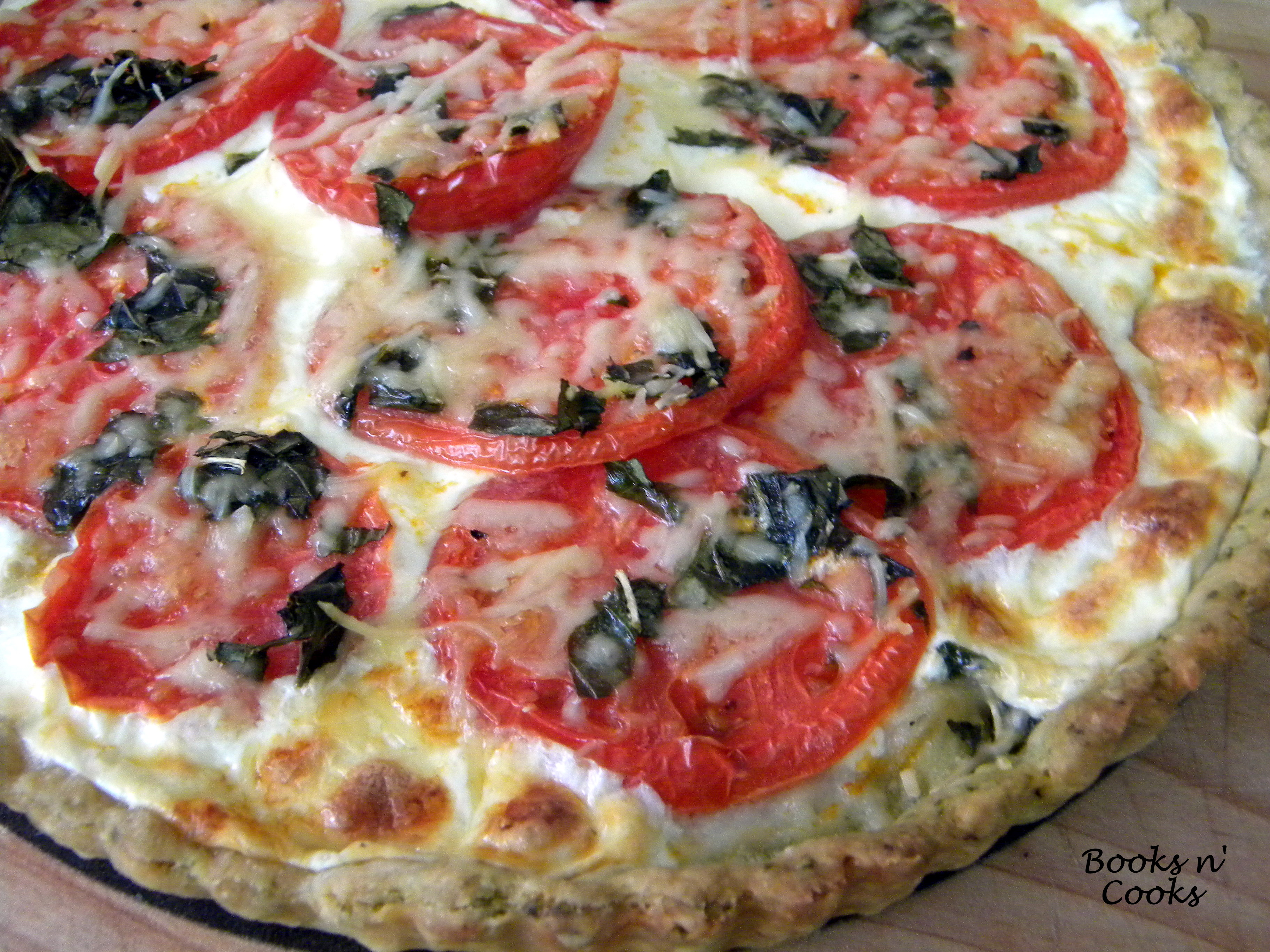 1/3 c. fresh basil leaves
1-2 cloves garlic (or 1 tsp. minced)
1 1/4 c. all-purpose flour
1/2 tsp. kosher salt
8 Tbs. unsalted butter, chilled
4-5 Tbs. very cold water
Ingredients for the Tart Filling:
8 oz. fresh mozzarella, sliced
ripe tomatoes, sliced
kosher salt
fresh ground black pepper
1 Tbs. extra-virgin olive oil
freshly grated Parmesan cheese
1-2 Tbs. minced fresh basil
Make the Crust: Pulse basil and garlic in a food processor until finely minced. Add flour and salt, pulsing until just combined. Add in butter, cut into 1-in. chunks. Pulse until ingredients are incorporated and mixture is in small, pea-sized crumbles. Add water, 1 Tbs. at a time, pulsing in between each addition. Stop when dough forms a ball. Remove from processor, flatten into a disc, wrap in plastic wrap, and refrigerate for at least one hour.
After an hour (or whenever you're ready to bake), preheat oven to 425° F. Lightly flour a wooden cutting board or counter and remove dough from fridge. Roll out dough into a 12-in. circle. Lay dough over a 9-in. round tart pan and press into sides, removing excess dough from top. (I used an 8-in. tart pan, and used the extra dough to create 4 tartlets.). Cover with aluminum foil or parchment paper and fill with baking beads. (I didn't have any baking beads, so baked without weighing down crust. It came out fine, the only difference was that bottom puffed up a bit.) Bake for 10-12 minutes. Remove baking beads and foil, and bake for another 5 minutes, until crust is just set and slightly golden.
Finish the Tart: Remove crust from oven for the second time. Lower oven to 375° F. Arrange sliced mozzarella and tomatoes over crust. Season with salt & pepper and drizzle with olive oil. Top with freshly grated Parmesan and minced fresh basil.
Return to oven and bake for another 15 minutes. Rotate pan and use a paper towel to sop off any extra moisture that has formed. Cook for another 15 minutes. Crust will become golden brown and mozzarella with be bubbly and lightly browned. Remove from oven and let rest 5 minutes before serving.