Over the past couple years, I've become involved in the Susan G Komen Walk for the Cure. Two years ago, I completed the walk for the first time – 60 miles walked and over $3,000 raised to fight breast cancer. The walk was indescribable. Not only was it a physical challenge, but it was an incredibly emotional experience. If I had to only pick one word to describe it, it would be inspiring.
After crewing at the event last year, I'm excited to be back to walking this October with two of my closest friends as well as my aunt. We decided to tackle fundraising early this year, before training kicks in and our weekends become defined by the number of hours and miles walked (5-6 hours and 15 miles at the height of training). Our first fundraiser of the year (and hopefully our only one) was the most successful a couple of years ago – a Boobieque. We served food and drink donated by local businesses and raffled off items donated by friends, family, and more local businesses. Like two years ago, this year's Boobieque was a big success.
A big thanks to our sponsors as well as family and friends who donated or supported us in another way. And thanks and hugs to my girls who participated in this event and will spend many hours walking with me over the next six months.
The Boobieque Menu, 2012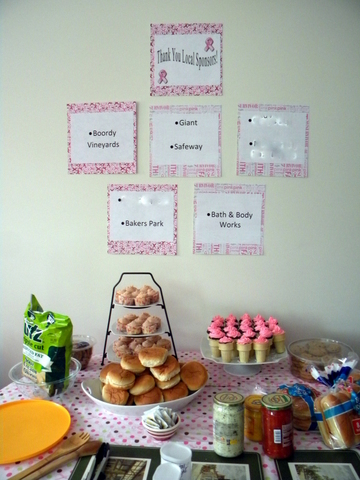 Crockpot Pulled Chicken: BBQ and Spicy
Crockpot Pulled BBQ Brisket
Orzo Salad with Grilled Vegetables
Fruit Salad with Vanilla Syrup
Chips & Dip
Chocolate Ice Cream Cone Cupcakes with Vanilla Frosting (instructions below!)
Vanilla Cupcakes with Strawberry Ice Cream
Sugar Cookies
Chocolate Chip Cookies
Soda, Wine & Beer
Serving & Quantities: We planned this menu for 40-45 people, making a triple batch of pulled chicken (9 lbs.), a double batch of BBQ brisket (8 lbs), a triple batch of the potato salad, a double batch of the orzo salad, a large bowl of fruit salad, 3 bags chips, a single batch of the ice cream cone cupcakes (24 cupcakes), a batch (24 cupcakes) of vanilla cupcakes with strawberry frosting, and two platters of cookies. Hot dogs were on standby for kids (and in case we ran out of pulled chicken/brisket).
We ended up having 30 people, and a good bit of leftover meat and a small container of potato salad.
These are way easier than you'd think.
Take your favorite cupcake recipe or boxed mix. Get a box of ice cream cones – the sugar cones, not the waffle cones. Place the cone in a cupcake pan, one cone per place, just as you'd do with a cupcake liner. Fill each cone about 3/4 of the way full. There's a little lip just inside the cone. Do not go past that lip otherwise your cupcakes will overflow. Bake per the directions on the cupcake recipe, or until a toothpick inserted into center comes out clean. (I think mine took 20-25 minutes.)
Frost and decorate as desired. I used pink and white ribbon sprinkles, but these would be super cute with a Maraschino cherry on top.