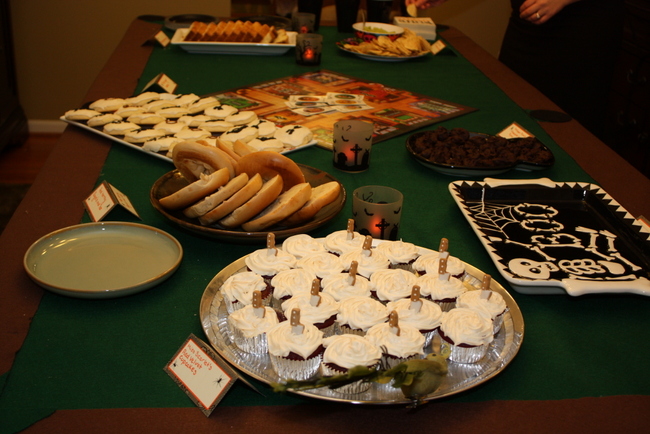 Last Halloween, my friends and I had a Clue-themed Halloween party. It was fantastic. We all dressed up as characters from the movie (yours truly was Mrs. White). We decorated a friend's house with props from the movie – a set of keys, pumpkins with the weapons carved into them, the weapons (a lead pipe, two candlesticks, etc.) scattered about the house. Our hosts, Ms. Scarlet and Mr. Body, did a fabulous job of transforming their dining room table into a billiards table, which is where the food was served. Our menu was also inspired by the movie. I never issued a post with the menu, but here it is:
Ms. Scarlett's Red Velvet Cupcakes
Mrs. White's White Pizza
Soft frosted sugar cookies with the weapons piped onto them
"Monkey's brains" (crab dip)
Red herring (bagels & lox)
Colonel Mustard's homemade pretzels and mustard dip
Almond brandied pound cake (because they drink tons of brandy during the movie)
Mr. Green's chips & guacamole
Professor Plum's chocolate-covered plums
I had been eying this pound cake recipe for a while, and was thrilled for an occasion to make it. I was a huge fan. It was just barely sweet with a slightly crunchy top. It's recipes like this one (and the almond poppy seed bread) that make me wish that I had friends over for tea, because I can't help but think that this would be fabulous with tea or after dinner coffee. But even if you don't entertain for tea or coffee, you should make this recipe. Make it for your coworkers for their morning coffee. Or hoard it for yourself. Either one is perfectly acceptable. 😉

Almond Brandied Pound Cake
Adapted from The Way the Cookie Crumbles, via The Novice Chef featured on Love & Olive Oil (wow, that's a mouthful!)
Makes 1 loaf
Ingredients:
Instructions:
Preheat oven to 350. Butter and flour a 9×5 inch loaf pan. Set aside.
In a stand mixer fitted with the whisk attachment, whip egg whites on medium-high speed until foamy. Increase speed to high and continue whipping until the egg white form soft peaks. With the mixer still running, slowly add 1/2 c. of the sugar. Continue whipping until egg whites form stiff, glossy peaks. Transfer egg whites to a clean bowl and set aside.
Clean stand mixer bowl and switch to the paddle attachment. Beat butter on medium speed until soft and creamy, about 1 minute. Lower speed and add salt and remaining ¾ of sugar. Increase speed again, mixing until light and fluffy, 2-3 minutes. Scrape down sides of bowl.
In a small bowl (or measuring cup), whisk together egg yolks, brandy, almond extract and vanilla extract. With mixer on medium-low speed, add to butter-sugar mixture. Beat for 2-3 minutes, scraping down sides of mixer as necessary, until thoroughly combined.
Now we're going to add the flour and egg whites with a rubber spatula. Alternate folding in ingredients: flour – egg white – flour – egg whites – flour. Flour and egg whites should be completely mixed in.
Pour into prepared pan. Bake 45-60 minutes. A toothpick inserted into the center should come out clean. Top with be golden brown (if it browns too quickly, loosely cover with aluminum foil).
Remove from oven and place on a wire rack to cool for 15 minutes. Then, use a knife to loosen edges of cake from pan. Invert, removing from pan. Place back on a wire rack to cool completely.
Serve at room temperature.
Serving suggestions: with tea, coffee, or a dollop of whipped cream.