Sunflowers Beneath the Snow tells the story of three Ukrainian women and their very different life experiences, through Soviet occupation to an independent Ukraine.
Disclaimer: I received a copy of this book from the author for my enjoyment. All opinions are mine alone.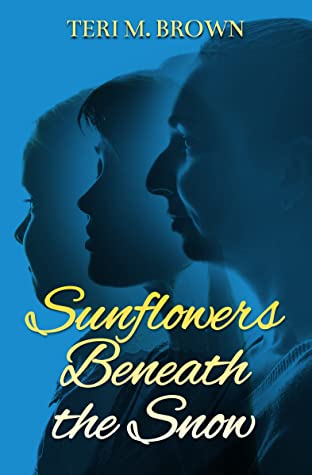 Sunflowers Beneath the Snow by Teri M. Brown
It is 1973 and the Soviet Union occupies Ukraine. The new Communist regime is increasingly oppressive, spurring one man – Lyaksandro – to do his part to counter the Soviets. He's not overtly confrontational but secretly passes on little bite of information. However, Lyaksandro is almost caught and is forced to flee Ukraine. His wife, Ivanna, is told that he died along with his lover.
Sunflowers Beneath the Snow is the story of Ivanna, her daughter Yevtsye (Yevt), and her granddaughter Ionna, from Soviet occupation through the early years of Ukraine's freedom. Each woman has a different perspective. Ivanna is completely loyal to the Soviet Union, believing the struggles of scarcity and oppression are for the greater good. She never gets over the betrayal and loss of her husband. Yevt is an educated scientist who grows up under Soviet occupation but as a young woman in the 1990s, advocates for Ukraine's independence and a return to Ukrainian culture. Finally, Ionna lives her whole life in independent Ukraine. She grows up safe and secure, openminded about her Russian neighbors. But her perspective changes when Russia invaded Ukraine in 2014.
Review & Recommendation:
While Sunflowers Beneath the Snow is a fictional novel, it is based on real events – the Soviet occupation, the Ukrainian fight for independence, the Ukrainian debate over whether to strengthen ties with Europe, and Russia's invasion of Crimea (southern Ukraine) in 2014. Given current events – Russia's 2022 invasion of Ukraine – reading this novel was very timely. If you're unfamiliar with recent Ukrainian history, Sunflowers Beneath the Snow will give you an understanding of some of the major events in recent history as well as an understanding of mentality of the Ukrainian people, of their fierce fight to maintain independence.
I love a book with a strong female protagonist, and this novel had three. The women each had very different perspectives on life and politics, shaped by their own life experiences and where Ukraine was at in its journey toward independence. While each woman had a very different outlook, the character development behind all was well done. The women grew and evolved along side their homeland and along side each other.
The debut novel of Teri M. Brown, Sunflowers Beneath the Snow was an enjoyable read although it had me wanting for more. Packing over 40 years and 2 different points of view for the majority of those years into roughly 500 pages was a lot. There were a time periods that got just a dozen or so pages, before skipping ahead. That felt a bit jarring to me. There was probably a better way to incorporate what Brown wanted to capture as a reflection or something, rather than a quick handful of pages.
The other piece that felt missing for me was more about Lyaksandro. What was included was done well, and I wasn't left with any unanswered questions. That being said, the novel started off with a sprinkling of Lyaksandro's story and then he seemed to go missing for a big chunk of the book.
Overall, Sunflowers Beneath the Snow was an enjoyable book with great characters (and character development), and a timely story. It's worth a read.