Slow Cooker Beef Tacos with Salsa Verde are an easy, flavorful dinner for busy weeknights.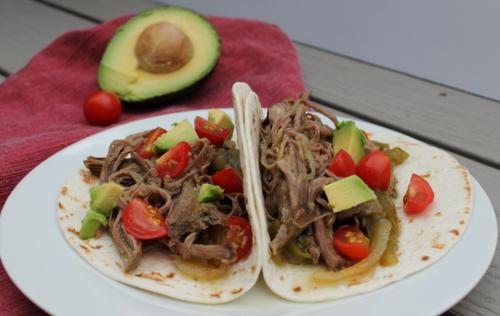 Welcome to Farmer's Mark Week, hosted by Cynthia at Feeding Big and Christie at A Kitchen Hoor's Adventures! This week, a group of bloggers will be sharing recipes inspired by what we find at our local farmer's markets, or for those with a green thumb, in our gardens. You can find recipes here on Books n' Cooks today and Wednesday, but be sure to search social media for #FarmersMarketWeek for more great recipes!
The past couple of weeks have been absolutely horrible at work. For the past two weeks, I came home with stress headaches every day and was just absolutely exhausted. I'd come home almost every day craving quiet and wine and the ability to zone out from the world. I wanted to forget about the people who thought it was ok to send insulting and counterproductive emails to me, when in fact, they were struggling to do their own job. And we won't talk about how I'm to blame for them not having not any common sense or basic communication skills.
I'd come home with so little energy that several nights, I couldn't even bother to season meat and veggies for my hubby to grill. Pathetic, right?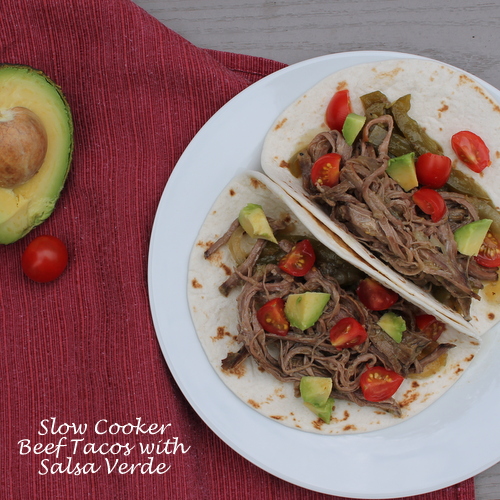 After one week of that, I finally got my act together to make life a little easier for myself, at least at home. This slow cooker beef tacos was a life saver last week. I've made it several times before. It truly requires minimal effort. Slice those onions and peppers from your farmers market or garden (or grocery store – for the really crazy weeks, buy two packages of presliced fajita veggies and skip the slicing all together), dump into the slow cooker and walk out the door for work. Shredding the beef only takes a minute when you get home before you can serve, and likely have some for leftovers. The salsa verde gives the beef and vegetables a bright, slightly sweet flavor and has just a hint of a bite. (If you like things spicier, I bet you could throw a few sliced jalapenos in here as well).
The other reason I really like this meal is that it's so easy to customize to what's in season and to individual tastes. I've made this with all colors of bell peppers as well as both red and white onions. You can even do all onions or peppers, if someone in your house has an aversion to one or the other. Same goes for toppings. I favor a little more fresh produce, the tomato and avocado (or guacamole) that you see above but my hubby adds more salsa, cheese, and even a bit of sour cream to his tacos. The options are endless.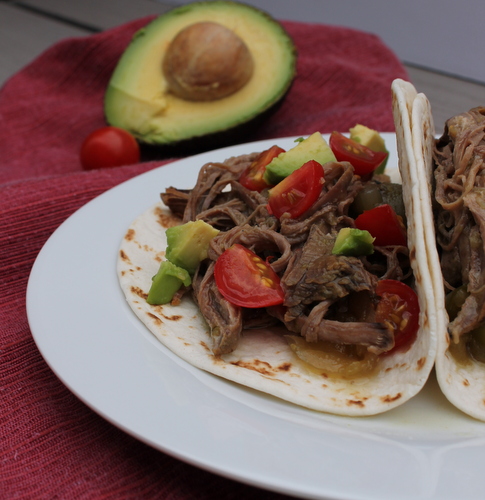 Enjoy this dish now while farmers markets and gardens are producing tons of produce, or bookmark it for a busy weeknight for later. And don't forget to check out the other recipes featuring farmers market produce at the bottom of this post! Bon appetit!
Prep Ahead: Slice onions and peppers the night before (or even a couple nights before), and store in an airtight container for easy prep the morning you want to make this.
Print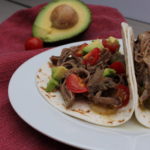 Slow Cooker Beef Tacos with Peppers, Onions & Salsa Verde
Slow Cooker Beef Tacos with Salsa Verde are an easy, flavorful dinner for busy weeknights.
Total Time
10
hours
10
minutes
Ingredients
2

medium to large onions

white, red, or a combination of the two, cut into thin strips

2

large bell peppers

any color, cut into thin strips

1.5-2

lb.

lean flank steak

trimmed of fat if necessary

16-20

oz.

salsa verde

tortillas

Toppings of choice: additional salsa diced tomato, cheese, avocado/guacamole, sour cream, etc.
Instructions
Place sliced peppers and onions in the bottom of the slow cooker. Place flank steak on top of vegetables. Top with salsa.

Cook on low for for 10 hours.

Shred beef and return to slow cooker.

Serve hot with the onions and peppers in salsa verde, in a tortilla with toppings of your choice.
Recipe Notes
Nutrition calculated based on the larger quantities noted for the beef, vegetables and salsa. It does not include tortillas and toppings.
A Books n' Cooks Original recipe.
Looking for a side dish to accompany these tacos? Try my Cilantro Lime Rice.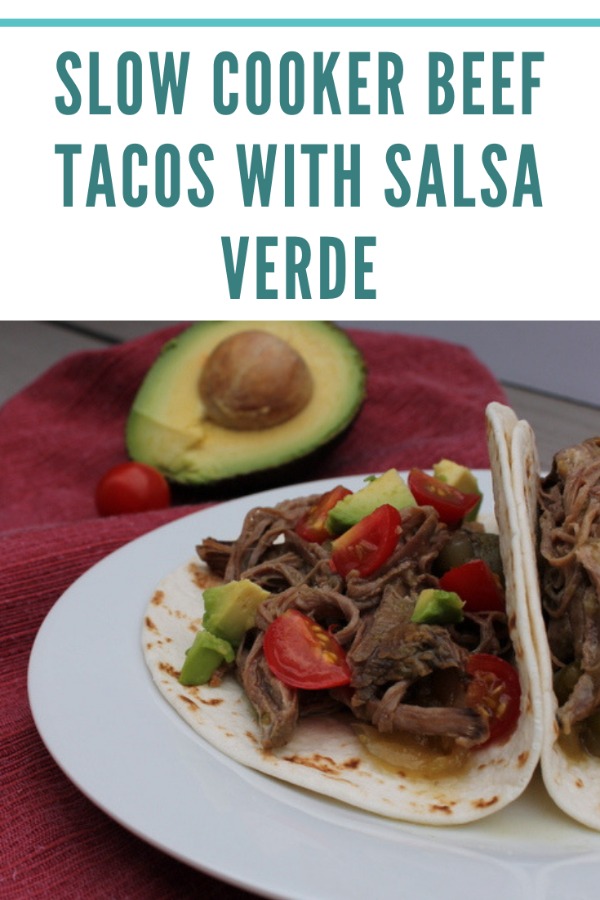 #FarmersMarketWeek Monday Recipes
Aunt Mary's Refrigerator Bread & Butter Pickles by Corn, Beans, Pigs & Kids
BBQ Corn on the Cob with dilled butter by Red Cottage Chronicles
Beef Tacos with Peppers, Onions & Salsa Verde by Books n' Cooks
Blistered Tomato Dutch Baby by A Kitchen Hoor's Adventures
Blueberry Crisp for Two by Family Around The Table
Blueberry Scones by The Freshman Cook
Cherry Stout Jam by The Redhead Baker
Farmer's Market Breakfast Casserole by New South Charm
Freshly Dug Potato Salad by Culinary Adventures with Camilla
Intro post by Bear & Bug Eats
Israeli Salad by Caroline's Cooking
Marinated Mozzarella and Tomato Appetizers by Jolene's Recipe Journal
Peach and Blueberry Overnight Oats by Simple and Savory
Peach Bourbon Jam by Feeding Big
Peaches and Cream Overnight Oats by Cooking with Carlee
Strawberry Mango Jam by Palatable Pastime
Summer Veggies & Kielbasa Sheet Pan Dinner by Tip Garden
Save
Save