Despite 10 years of blogging, there are some dishes that I make that I've never considered blogging about. They're family classics that I make on auto-pilot, that feel a bit like cheater recipes. No or very minimal recipe, sometimes using store-bought ingredients. This recipe is one of them.
My grandmother has made this Italian Green Bean Salad for as long as I can remember. I remember – back when I was in elementary school – picking the green beans from her huge backyard garden, sitting on the steps trimming the ends, and then watching her make it for family dinner that night. It's a quick and easy recipe, perfect for weeknight dinners but also summer BBQs and potlucks, as it can be served at room temperature. It's also easy to adjust the recipe for a dinner for two or to feed a crowd.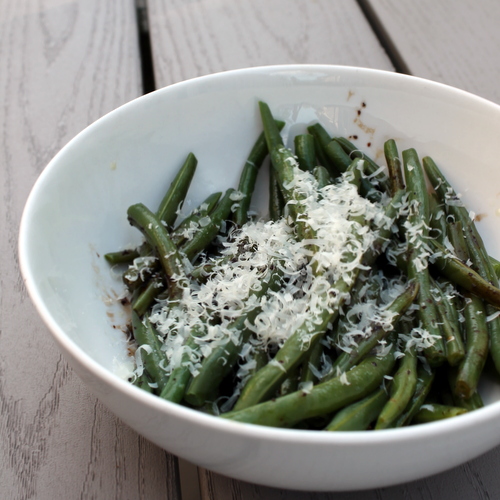 Recipe Notes:
This salad can be served warm (room temperature) or cold, straight from the fridge. If making ahead and storing in the fridge, be sure to check before serving, to make sure that it doesn't need a little extra salad dressing.
Asiago cheese can be exchanged for Parmesan, if you have that on hand.
Italian Green Bean Salad
By Books n' Cooks
Serves 4 as a side
Ingredients:
1 lb. green beans, ends trimmed
Italian Salad Dressing (I use Good Seasonings Italian, made with balsamic vinegar)
Asiago cheese, finely grated (about 1 oz. Asiago, grated)
Fill a large bowl with ice and water. Set aside.
Bring a pot of water to a boil over high heat. Add green beans and blanch, cooking for 3-5 minutes until still crunchy. With a slotted spoon or tongs, move green beans to bowl of ice, to prevent beans from cooking any longer. When beans have cooled to room temperature (or cooler), drain and transfer to a serving dish.
Toss green beans with Italian dressing. Top with finely grated Asiago cheese just before serving.
Serve green beans at room temperature or cold.
Store covered tightly in plastic wrap in the fridge, if not serving immediately.
Save