We're having unseasonably warm weather this year, but that doesn't mean that I'm not craving your typical winter comfort foods, like pastas and stews. A very busy month has had me looking towards recipes that require little extra work from me and meals that make large quantities so that we're set for leftovers for a couple days (or in this case, almost the entire week). This stew recipe, heavily adapted from my uncle's recipe, fits that bill. It makes 14 HUGE, filling servings and with the exception of a few minutes chopping of some veggies, the dish can be set and forget to cook all day long.
I know I'll be making this recipe a couple times over the next two months. Not just because we enjoy it, but because this week, both my hubby and I got hit with some craziness at work. Over the next 6 weeks, we each have a week of training, which tends to equate to long days with the other parent doing the majority of the kid-duties. Add that to a looming deadline for me on a huge project at work… life is going to be busy and a bit rough until mid-March.
I plan to do my best and continue posting as much as possible, but please forgive me if there's a lack of posts on here or on social media. Please send positive thoughts that everything goes smoothly!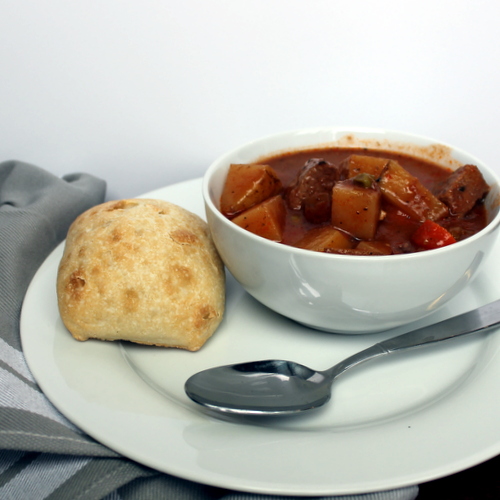 Slow Cooker Beef Stew
By Books n' Cooks
Makes 14 2-Cup Servings
Add the following to a 7-quart (or larger) slow cooker and whisk to combine.
32 oz. low-sodium beef broth
32 oz. low-sodium vegetable broth
6 oz. tomato paste
6 Tbs. homemade stew seasoning (or 2 packets, if purchasing store-bought)
2 cloves garlic, minced
2 Tbs. Worcestershire sauce
1 tsp. sugar
1/2 tsp. kosher salt
1 tsp. paprika
1 tsp. freshly ground black pepper
Then add the meat, potatoes, and vegetables:
8 oz. sliced white button mushrooms
7-8 oz. frozen peas
1/2 an onion, cut into 1-inch pieces
2 lbs. lean stew meat, cut into 1-inch pieces (trimmed of fat, if needed)
6 medium carrots, peeled and cut into 1-inch pieces
3 medium potatoes, cut into 1-inch pieces
Stir to combine. Cover and cook on low for 9-10 hours, until potatoes are soft and meat is tender.
A couple tablespoons at a time, whisk in:
and allow stew to cook and thicken with the lid cracked another 15-30 minutes.
Serve hot, with a side salad and/or dinner roll.