This feels a bit like a cheater post – a list of ingredients with one line of directions. But I couldn't fit it nicely into my stew post (coming Sunday), so you get two. It makes up a little for my light posting schedule this month, right?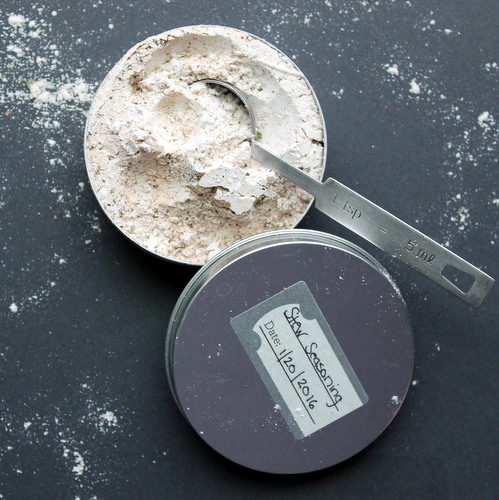 Anyway, homemade stew seasoning takes just minutes to whip up and I'm willing to bet that you have everything in your pantry already. But more than being quick, homemade seasoning means that you know exactly what's in it – no preservatives or ingredients you can't pronounce. Don't make stew much? Simply halve the recipe for an even smaller quantity.
Homemade Stew Seasoning
Adapted from Epicurius and Rachel Cooks
Ingredients:
1/2 c. all-purpose flour
1 tsp. oregano
1/2 Tbs. basil
1/2 Tbs. parsley
1/2 Tbs. kosher salt
1 Tbs. freshly ground black pepper
1 Tbs. paprika
1/4 tsp. cayenne
1/2 Tbs. celery seed
1 Tbs. onion powder
1 Tbs. garlic powder
Combine all ingredients in a small bowl and mix well.
Use 2-3 Tbs. mix per pound of meat used.
Yield: This recipe makes enough for 2-3 batches of stew, when 2 lbs. meat are used per batch.
Save