This post was created for entry into a Food and Wine Conference contest sponsored by Wish Farms. I received no compensation for this post. All opinions are my own.
The sun is shining, the weather is beautiful, and I'm dying to get out of the office and onto vacation. Our summer vacation isn't for months, but I have a mini getaway planned, and the date is in sight…
I'm super excited to be attending this year's Food and Wine Conference in Orlando, FL, especially after seeing all of the amazing food photos from previous years. But it's more than just the food that I'm excited about. The 3-day conference begins on May 19th and brings together bloggers, small business owners, winemakers, chefs, public relations professionals, both new and traditional media, authors and brands. So many opportunities to mix and mingle with such an awesome set of foodies! In particular, I'm looking forward to learning more about social media and the business end of blogging… what I need to take Books n' Cooks to the next level (besides more time, that is!). Be sure to check out their website for more information on the conference, the schedule, and the sponsors, as there's still time to register.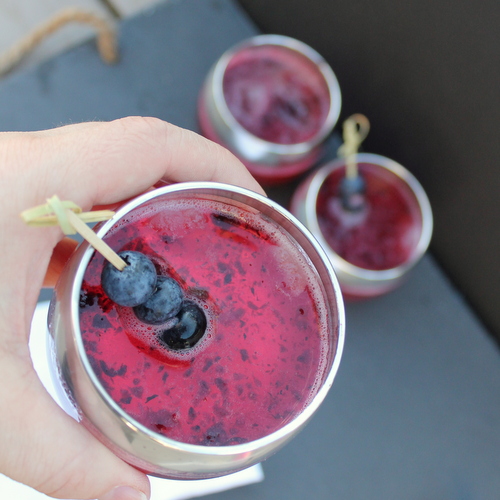 This recipe was created for Wish Farm's Craft Your Favorite Cocktail/Mocktail contest, open to all attendees at this year's Food and Wine Conference. The challenge is to create a cocktail or mocktail using Wish Farm berries, one of the sponsors of the conference. For me, creating the cocktail wasn't the challenge – it was creating the cocktail before someone (in this case, my children) ate the berries.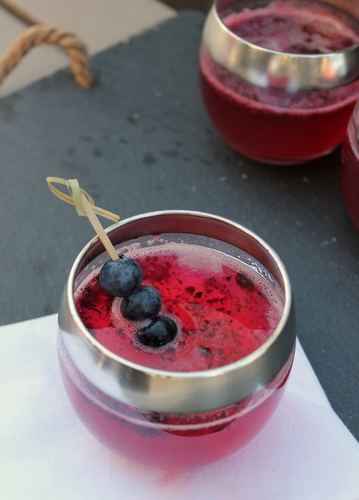 When I learned about the contest, I immediately knew I wanted to create a cocktail around some sort of roasted berry. If you've never had roasted berries before, try them. Roasting the berries bring out even more of the natural sweetness of the berries. The roasted berries give the classic gin and tonic a bit more sweetness than is traditionally in the drink, making it a bit difficult to stop at just one. 🙂
Roasted Berry G&T
By Books n' Cooks
Serves 6
Ingredients:
1/2 c. Wish Farms blueberries, rinsed
1/2 c. Wish Farms strawberries, rinsed, hulled, and quartered
1/2 Tbs. granulated sugar
pinch kosher salt
6 oz. gin
24 oz. cold tonic water
ice
additional berries for garnish (optional)
Preheat oven to 400F.
Roast the Berries: Place berries in a small oven-safe dish. Sprinkle with sugar and salt. Stir, and then spread into a single layer. Bake for 20-25 minutes, until berries are roasted and fragrant. Blueberries have likely burst and strawberries are softened. Remove from oven and allow to cool.
Puree the berries when cool enough to handle. From here, you can refrigerate the puree until ready to serve. If you prefer a smoother drink, strain puree with a fine mesh sieve, discarding large pieces of fruit and refrigerating puree. (I enjoy the pieces of fruit, so I do not strain the puree.)
Assemble the Cocktails: In a rocks glass or an old-fashioned glass, place 1 heaping Tbs. of roasted berry puree. Add 1 oz. of gin. Stir briefly. Add a couple of ice cubes. Top with tonic water, about 4 oz. per glass. Stir gently.
Garnish with fresh berries, either on mini skewers or fancy toothpicks, or on the rim on the glass.
Serve cold.
Make Ahead Notes: The roasted berries can be made ahead, pureed, and kept in the fridge until serving. Roasted berry puree will keep for a few days in the fridge.
Save