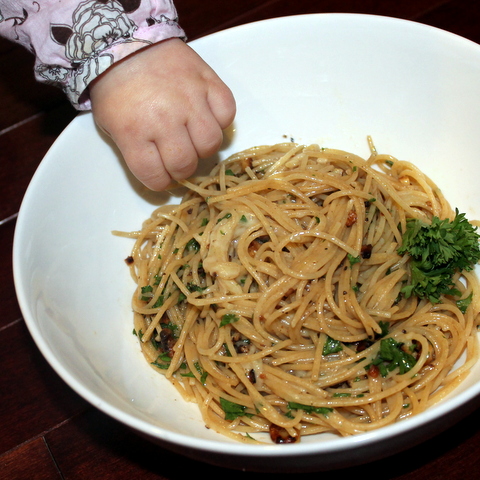 My husband pretty much requires meat at dinner. Doesn't matter if it's red meat or chicken, but he'll rarely feel full or satisfied without one or the other. Occasionally, I'll test the waters with a veggie-based pasta or a seafood-based dish, but those options are rarely winners with him. This pasta dish is one of the few exceptions.
Whole wheat pasta makes this dish filling. Walnuts provide crunch; Parmesan provides some saltiness. And fresh parsley (or freeze-dried parsley in a pinch) is a burst of freshness. And I love that the ingredients are always in my pantry and the dish can be finished in roughly 20 minutes. Yes, this dish is definitely a winner.
The photo isn't the prettiest – it came out darker than I had hoped, but I think the baby's hand is a cute touch. 🙂
Pasta with Walnuts, Parsley & Parmesan
Adapted from The Food You Love by Ellie Krieger
Serves 4
Ingredients:
2/3 c. walnuts, chopped

2-3 cloves garlic, minced

1/3 c. extra-virgin olive oil

1 lb. whole wheat spaghetti

1/2 c. fresh parsley, chopped (I've also used freeze-dried parsley if I don't have any fresh parsley in the house)
1/3 c . low-sodium chicken broth*
1/3 c. extra-virgin olive oil
Kosher salt
Freshly ground pepper
3/4 c. shredded Parmesan cheese
*Make it vegetarian by using vegetable stock. 
Bring a large pot to a boil over medium heat, to cook the pasta in. When boiling, add the pasta and cook until desired doneness (for my hubby us, cooked throughout instead of al dante). Drain and return pasta to the pot it was cooked in. Hopefully by the time it's done, the next steps are  done and you'll be ready to assemble the dish.
Meanwhile, in a small skillet over medium-low heat, toast walnuts until fragrant, about 5 minutes. Move to a bowl and set aside. In the same skillet, saute garlic in olive oil until garlic is browned, about 5 minutes. Turn off heat (or if it's going to be a little while until your pasta is done, reduce heat to lowest setting to keep oil warm).
Toss cooked pasta, chicken broth, garlic & olive oil, walnuts, parsley, and a little salt and pepper. Toss with 1/2 c. Parmesan cheese.
Portion out and top with remaining Parmesan.