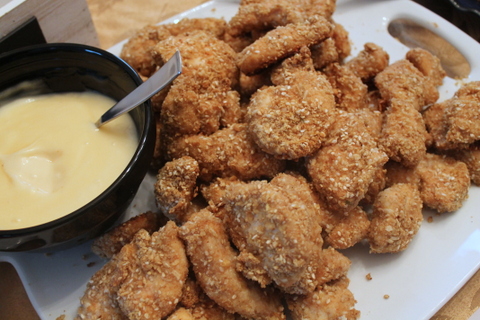 Sesame seed chicken. Every time this chicken is mentioned, my dad tells a story of when I home from college and my mom was away for 3 weeks caring for a sick relative. I tried to help out around the house while she was gone, mostly laundry and cooking. One night, I decided to make this sesame seed chicken and chaos ensued. My brother flipped out about how "sesame seed chicken is an appetizer" and not a meal. I'm not sure he actually ate that night, but he certainly emailed my mother, complaining about it. Needless to say, I've never made sesame seed chicken as a main meal again.
Actually, I don't know if I ever made sesame seed chicken after that night, until Sophie's birthday party last month. Apparently my brother traumatized me. Well, I won't forget about this recipe again. It's easy and it's a great spin on a chicken fingers. I served it with the honey mayo (below), but feel free to add or substitute your favorite dipping sauce instead.
Sesame Seed Chicken with Honey Mayo
Books n' Cooks
Ingredients for the Chicken:
1 c. mayonnaise
2 c. plain breadcrumbs
1 c. sesame seeds
1/4 c. dry mustard
1/4 c. minced onions
2-3 lbs. chicken breasts, fat trimmed and cut into 1-2 inch pieces
Ingredients for the Honey Mayo:
2-3 Tbs. honey
1 c. mayonnaise
Preheat oven to 475F.
Place mayo in a large ziplock bag. In another ziplock bag, combine breadcrumbs, sesame seeds, mustard, and onions. Toss chicken pieces in mayo to coat, and then in breadcrumb-sesame mixture.
Place on a baking sheet, in a single layer. Bake until browned and cooked throughout, about 15-20 minutes.
While chicken is cooking, mix honey and mayo in a small bowl. Refrigerate until ready to serve.
Serve chicken hot or at room temperature with honey may.