In season strawberries are preserved with a quick pickling and a little extra vanilla that highlights the berries natural sweetness. Then, Vanilla Pickled Strawberries are used to top herbed goat cheese crostini for an easy but flavorful springtime appetizer.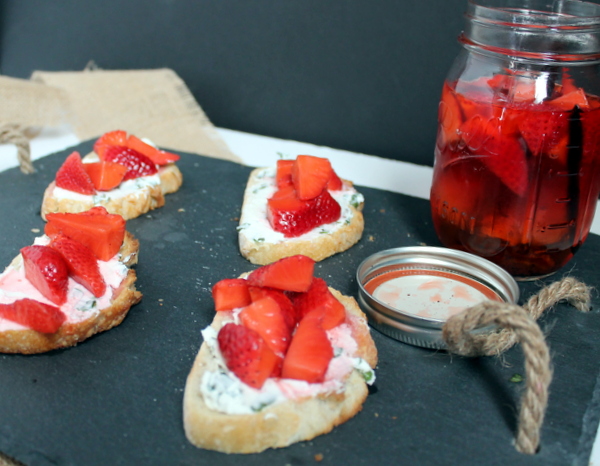 This post is sponsored by Florida Strawberry in conjunction with a social media campaign through Sunday Supper LLC. All opinions are my own.
Winter is finally fading and I'm hoping that we've seen the last of the snow a couple of weeks ago. The weather is gradually warming and we're starting to see glimpses of spring – buds on the trees, animals and neighbors coming out of winter hibernation. And with that, I'm moving away from winter comfort foods like soups and stews and instead craving lighter, fresher foods.
Since it's still too cold to get local in season produce in Maryland, I'm thankful to be able to find quality, in season produce from U.S. growers in the south. Thank you Florida, for your warmer climate! In particular, we consume huge amounts of Florida Strawberries, a favorite snack for myself and my kids. Florida strawberries are in season during Maryland's winter months, December through April, leaving me with only a month or two to get by until Maryland strawberry season starts.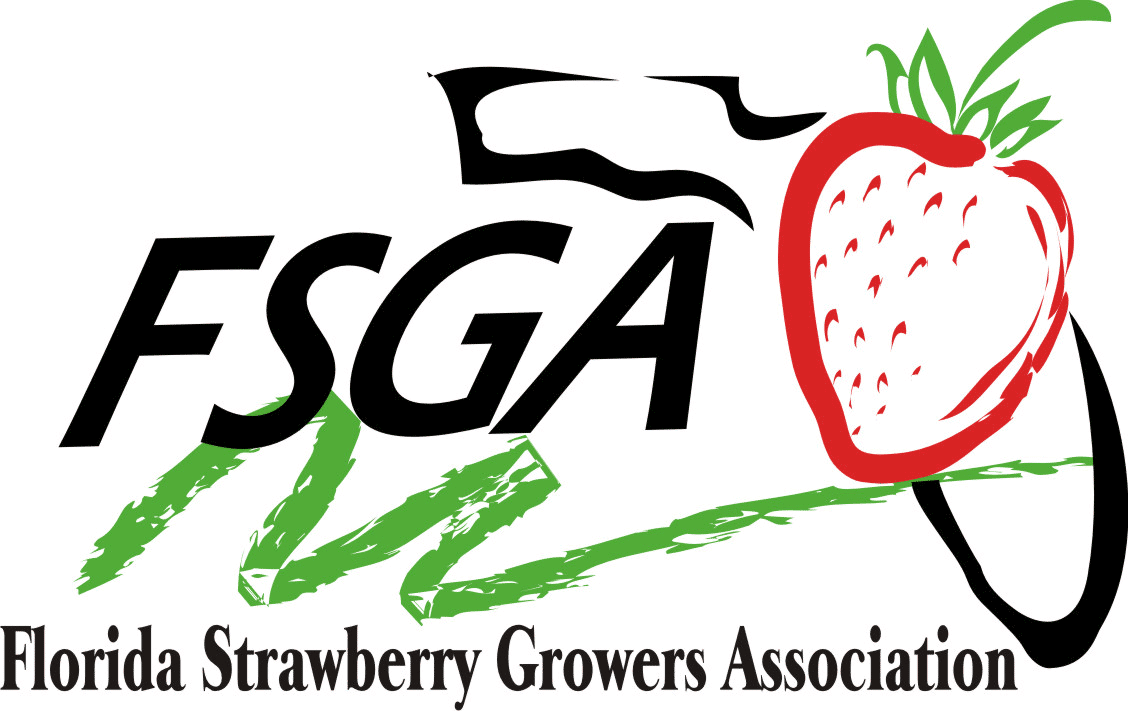 I really do wish we could pick fresh strawberries all year round. My kids wish that as well. Strawberry picking is one of our favorite things to do as a family. We get up early can check the weather. We put on our comfy clothes and baseball cap (don't want to miss any of those gorgeous berries with sun in our eyes!). Each kid picks out their own container and we head off to the strawberry fields. It's taken some time to teach the kiddos that they need to pick only the ripe strawberries – those vibrant red and firm to touch – and to keep the tops of the berries on when picking them and putting the berries into their container. We move methodically from plant to plant, picking all of the ripe berries before moving onto the next. The kids usually leave with smears of berry juice all over their face and up and down their arms. Those are by far, some of my favorite photos of the kids. And after picking? The strawberries are stashed in the car, out of the reach of little hands and of direct sunlight, and we hurry home. The kids usually eat a good bit more once we're home, but I immediately start washing them and divvying them up for whatever purpose I have in mind for them.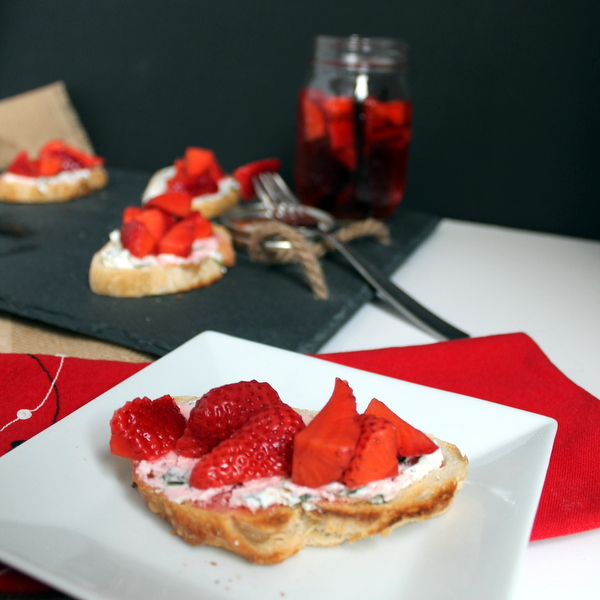 Picking strawberries is just half of the fun. Have you ever preserved them? It's easier than you think and will make the strawberry season last even longer. And that's exactly what the #SundaySupper tastemakers are celebrating today – preserving strawberries. Four techniques, 20 great recipes (below) for you to try. You're welcome. 🙂
There are a couple of different preservation methods you could use. The least intimidating method is freezing clean, hulled strawberries (whole, quartered or sliced) in a ziplock bag. We do this all of the time. Those strawberries usually end up in smoothies, but there are 5 great recipes below that use frozen strawberries that I'm dying to try. The second method is canning. While this could be a bit scary, you won't feel so after the first batch. My mom got me started canning a couple of years ago and now I look forward to it every summer. For strawberries, I use the recipe that my Grandma taught her that does not require a water bath – the part that scares most people. I have, however, done a water bath once and it wasn't nearly as bad as I had feared. Dehydrating strawberries – slowly removing the water from the berry – is the third preservation method. Strawberries can be dried in the sun or a dehydrator. Dried strawberries are wonderful for snacking on their own, or delicious in breakfast (oatmeal or granola) dishes or desserts. The final method of preservation is pickling. Say what? Yes, pickling. Pickling is a preservation process whereby the fruit is submerged in a liquid – usually vinegar – to extend it's life.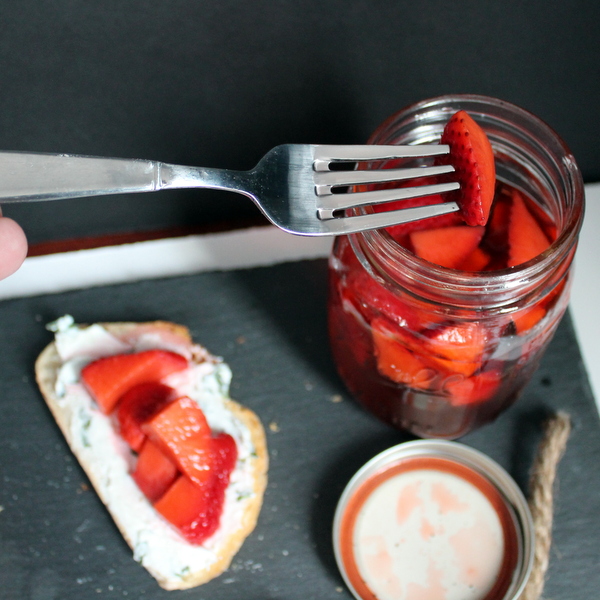 Of all the ways to preserve berries, I had never considered pickling, but I have to admit, I loved it. It was a very quick process and the end result was deliciously sweet. Vanilla Pickled Strawberries kept the strawberries natural sweetness and added vanilla notes and a tartness. The topping paired beautifully with herbed goat cheese spread – a taste of spring. Bonus? The extra pickling liquid can be used to make a quick, tart vinaigrette after the strawberries are gone.
Now is the time to stock up on Florida strawberries! Which preservation technique are you going to try?
Print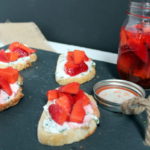 Herbed Goat Cheese Crostini with Vanilla Pickled Strawberries
In season strawberries are preserved with a quick pickling and a little extra vanilla that highlights the berries natural sweetness. Then, Vanilla Pickled Strawberries are used to top herbed goat cheese crostini for an easy but flavorful springtime appetizer.
Servings
1
Pint of Pickled Strawberries and a dozen crostini
Ingredients
For the Vanilla Pickled Strawberries:
1/2

c.

water

1

tsp.

kosher salt

1/4

c.

vanilla sugar

1

c.

apple cider vinegar

1

vanilla bean

3/4

lb.

strawberries

rinsed, hulled and quartered
For the Crostini:
4

oz.

goat cheese

softened

1

oz.

cream cheese

softened

1 1/2

Tbs.

minced fresh basil

or other herb/mix of herbs

1

batch of Vanilla Pickled Strawberries

10-12 1/2-

inch

slices of sourdough bread

toasted
Instructions
Make the Vanilla Pickled Strawberries:
In a small sauce pan, combine water, sugar, and salt. Bring to a boil. Add vinegar. Lower heat and simmer for 5 minutes. Allow to cool to room temperature.

When vinegar mixture is cool, slice a vanilla bean in half. Scrape out seeds and place in a clean pint-sized canning jar. Add pods as well. Fill almost to the top with quartered strawberries. Top with vinegar mixture - vinegar mixture should cover strawberries completely.

Refrigerate for at least 12 hours. Use or continue to store in an airtight jar in the fridge for up to two weeks.
Assemble the Crostini:
Using a mixer or a food processor, combine goat cheese, cream cheese, and herbs until mixture is smooth.

Spread each slice of bread with a generous slather of whipped herbed goat cheese. Top with strawberries. Drizzle with a tablespoon of pickling liquid.

Serve immediately.
Recipe Notes
The recipe for vanilla sugar can be found here.  I'd consider it optional, but will give the strawberries a little extra vanilla flavor.
The vanilla pickled strawberries and the goat cheese spread can both be made ahead of time and kept, tightly covered in the fridge, until ready to assemble and serve.
A Books n' Cooks original recipe.
Interested in learning more about Florida Strawberries? Follow Florida Strawberry Growers Association on social media: Facebook Google + Instagram Pinterest Twitter YouTube
And don't forget to check out these recipes for preserving and using preserved strawberries from the #SundaySupper crew.
How to Preserve Strawberries
Canning
Canning
Dehydrating
Freezing
Pickling
The Sunday Supper Movement is committed to bringing our readers delicious recipes that encourage them to gather and eat together around the family table. Search for your favorite ingredients on our Sunday Supper website. Also check out the Sunday Supper Pinterest boards for plenty more ideas and inspiration.
Would you like to join the Sunday Supper Movement? It's easy. You can sign up by clicking here: Sunday Supper Movement.