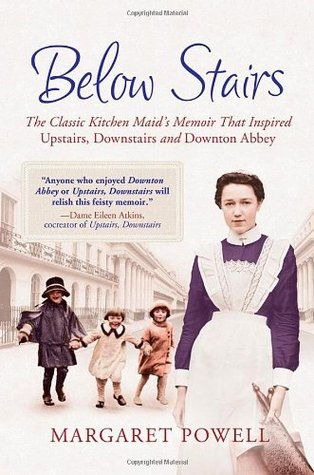 {Book Review}
By Margaret Powell
Below Stairs is the memoir of Margaret Powell, who entered the world of domestic service as a young girl. Starting off as a kitchen maid and raising to the position of cook, Powell served in some of the greatest houses in England. With her sights always set higher than her current stature, Powell constantly pushed to learn more, to do better, and to achieve greater things.
Review/Recommendation: I was drawn to this book as the memoir that inspired Downton Abbey. I binge watched the show during maternity leave years ago and loved every minute of it, so my expectations for the book were set pretty high.
Unfortunately, I was disappointed. This short little book – just over 200 pages – was a struggle for me to finish. If I could sum up my feelings in one word, that would be 'lacking.' The whole book seemed to be lacking in depth and detail that would have made it more enjoyable, easier for the reader to connect with Powell or the time period. The 200-page book started with Powell entering domestic service in her early teens, covered her years in domestic service as a kitchen maid and cook, and ended with a couple of quick pages on her marriage, motherhood, and activities as an elderly woman. There were stories, but years of Powell's life were covered so quickly that I never became invested in the story of Powell's life or even the larger picture of a servant in a 1920smaster's home.
I did appreciate Powell's bluntness, honesty, and her ability to see through society's norms. I appreciated that no matter what her position in life was, Powell always wanted to improve, to reach the next level – as a kitchen maid, as a cook, as a mother, and as a woman. That admirable quality was apparent through her whole life, although like everything else, wasn't detailed.
While the book was short and should have been a quick read, I would not recommend it. It was a real struggle for me to finish. I didn't see the connection with the hit television show that I loved, nor did it tell such an amazing story that I'd recommend it in its own right. Skip it and watch Downton Abbey instead.
[amazon_link asins='1250023211′ template='ProductCarousel' store='booksncooks-20′ marketplace='US' link_id='cb12b645-a730-11e8-a93c-23496c15b0c6′]