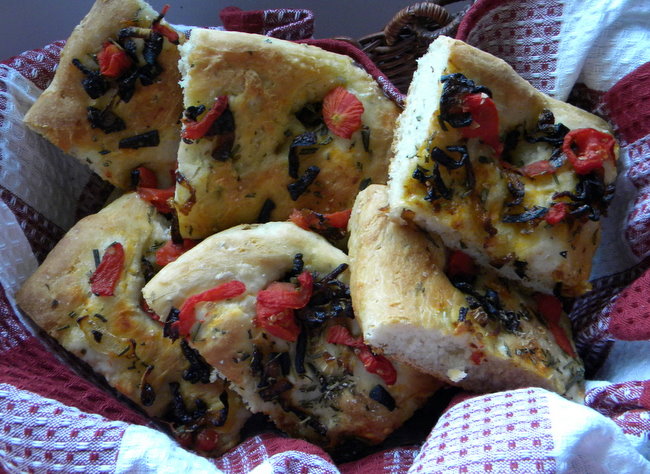 I'm usually pretty fearless in the kitchen. I like trying new recipes and techniques, even when we have friends over. But there are a couple things that scare me. Making homemade caramel is my worst nightmare. I've tried to make it a couple times and without fail, burn it every time. Baking with yeast also used to scare me. I never had any bad experiences with it but I had heard numerous disaster stories about working with yeast. Over the past couple months, I've overcome this fear. I've made three items with yeast as a key ingredient and all were successes: soft pretzel bites, this herbed tomato focaccia bread, and dinner rolls.
I loved this focaccia bread. I followed the recipe below, complete with caramelized onions, herbs, and tomatoes. However, you could easily omit the onions and/or tomatoes, substitute them with something else, or switch out the rosemary for your favorite herb. It took quite a while – several hours, including inactive time for the dough to rise – but it was a fantastic side to some veggie lasagna.
Source: I've had this recipe for a while. It was torn out of one of the booklets that came with my Kitchen Aid mixer. I scoured the Internet to see if this recipe was posted to their website, but had no luck finding it.
Herbed Tomato Focaccia Bread
Makes 12 servings
Ingredients:
1 c. warm water (105-115F)
1 envelope (2 1/2 tsp.) active dry yeast
9 Tbs. olive oil, divided
5 c. all-purpose flour
2 tsp. salt
4 Tbs. chopped fresh rosemary and/or thyme, divided
1 c. milk
2 medium yellow onions
1/2 tsp. oregano
1 c. canned plum tomatoes drained, seeded, and chopped)
1 tsp. kosher salt
Instructions
In a small bowl, combine water, yeast, and 3 Tbs. olive oil. Set aside.
In a stand mixer fitted with the paddle attachment, mix flour, 2 tsp. salt, and 2 Tbs. herbs on low speed, just to toss together. With the mixer still running, add yeast mixture and milk, beating for 1 minute. Scrape down side of bowl, and beat a few more seconds to ensure everything's fully incorporated.
Remove bowl from mixer and cover with plastic wrap. Set in a warm spot and allow it to rise until the dough has doubled in bulk, 1-2 hours. (I set the bowl near an oven/stove that is turned on. I know others that have let the dough rise over a heating vent or in a laundry room with the dryer running. If it's not warm, the dough won't rise, or at least not as quickly.)
Oil a large rimmed baking sheet with 1 1/2 Tbs. olive oil. Turn dough out onto pan and stretch to fill the pan completely. Allow dough to rise another hour, until it doubles in size again.
When dough has just about doubled in size, preheat oven to 450F and prepare the onions. Slice onions thinly and saute in 3 Tbs. olive oil until they begin to color. Season with salt, pepper and oregano. Set aside and allow to cool. If the plum tomatoes aren't chopped, do that now as well.
With your fingertips, "dimple" the surface of the dough creating little dips every 2 inches. Scatter onions, tomatoes, and fresh herbs evenly over the surface of the dough. Drizzle with 1 1/2 Tbs. olive oil and kosher salt.
Bake for 15 minutes. Use a spatula to check bottom for browning (if getting too dark , slide another baking sheet under it to insulate the bottom and slow browning). Return to oven and bake another 10 minutes, until golden brown (about 25 minutes total).
If serving immediately, transfer directly to a cutting board. Otherwise, allow to cool on a wire rack.
Number of servings (yield): 12