I first learned to drink coffee while studying abroad. During the semester in Viña del Mar, Chile, I would go with a couple of friends to a little cafe called Mango's every afternoon. There, we should share cappuccinos with a spoonful of extra sugar and little cookies. Supposedly we were working on homework, but mostly we just chatted. During my summer doing research in Santiago, my go-to coffee place was the cafe in the national library. It was breathtakingly beautiful. After returning to the U.S. for my senior year, I moved from costly cappuccinos to slowly learning how to drink regular coffee, which was free at the cafeteria or cheap on campus coffee shops. To this day, however, espresso drinks (cappuccino, caramel macchiato, cafe mocha) are definite treats to myself. I use them mostly to bribe myself out of bed…. "there's a caramel macchiato waiting for you when you get to work." Sometimes it works. Sometimes I roll back over for another hour and buy myself a fancy espresso drink anyway.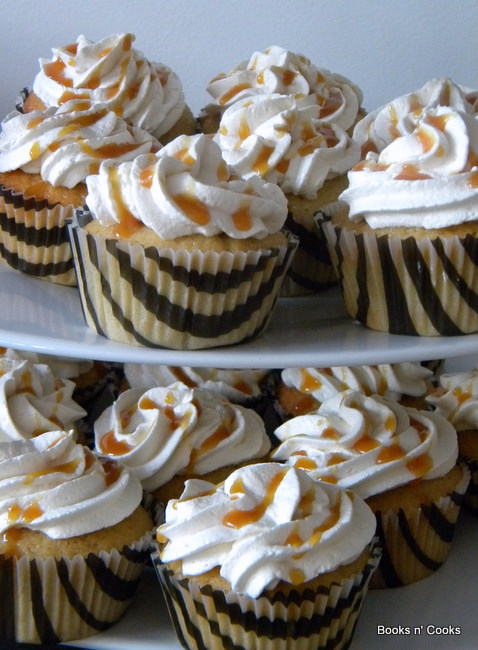 This caramel macchiato cupcake recipe has a subtle cupcake base – highlighted by just a hint of espresso flavor (I couldn't find the caramel macchiato frappuccino and used a unflavored frappuccino instead) with a slightly sweet frosting. I did taste the frosting as I went, and tried not to drizzle too much caramel on top, for fear of making the cupcake overly sweet.
This cupcake recipe was originally adapted from More From Magnolia: Recipes from the World Famous Bakery and Allysa Torey's Home Kitchen by Allysa Torey and posted on Sweat ReciPEAs (formerly Culinary Concoctions by Peabody). The frosting recipe is original by Sweat ReciPEAs.
Caramel Macchiato Cupcakes
Makes 20-24 Cupcakes
Ingredients for the Cupcakes:
1½ c. self-rising flour*
1¼ c. all-purpose flour
1 c. unsalted butter, at room temperature
1½ c. superfine sugar**
4 large eggs, at room temperature
1 c. Starbucks Bottled Caramel Frappuccino (use the original Frappuccino flavor if you can't find the caramel)
3 Tbs. homemade or store-bought caramel sauce
1 tsp. vanilla extract
Ingredients for the Caramel Italian Buttercream Frosting:
1 c. sugar
¼ c. water
5 egg whites
¼ c. sugar
2 c. unsalted butter, room temperature and cut into tablespoons
4 Tbs. homemade or store-bought caramel sauce, plus more to drizzle over cupcakes
* I don't use self-rising flour on a regular basis and refused to buy some just for this recipe. I made my own. For 1 c. self-rising flour, portion out 1 c. all-purpose flour. Remove 2 tsp. of flour and discard. Stir in 1½ tsp. baking powder and ½ tsp. salt. Voila! Self-rising flour! (Don't forget, you need 1½ cups of self-rising flour – that would be 1½ cups minus 3 tsp. of all-purpose flour, 2¼ tsp. baking powder and 3/4 tsp. salt).
** Make superfine sugar by throwing it in a food processor (I use food processor the attachment for my emulsion mixer) and pulse a couple times.
Make the Cupcakes:
Preheat oven to 350F. Line 2 muffin tins with cupcake liners and set aside.
In a stand mixer fitted with the paddle attachment, cream butter until smooth. Add sugar and beat until light and fluffy, about 3 minutes. Add eggs one at a time. Scrape down sides of bowl and add caramel. Beat for two minutes.
With the mixer on low, add the self-rising flour (or self-rising flour mixture). When thoroughly combined, add half of the frappuccino and the vanilla. Add the all-purpose flour. Scrape down sides of bowl and finally, add remaining frappuccino.
Portion batter into prepared muffin tin – filling each cupcake liner until 3/4 full. Bake 20-25 minutes, until a toothpick inserted into center comes out clean. Let cool in pan for 10 minutes before moving to a wire rack to cool completely.
Make the Frosting and Ice the Cupcakes:
In a medium saucepan over medium heat, bring 1 c. sugar and 1/4 c. water to a boil. When the mixture reaches 245F, remove from heat and allow to cool.
While cooling, fit a stand mixer with the whisk attachment. Whisk egg whites on high speed until they form soft peaks. Then, with the mixer still on high, add 1/4 c. sugar, a little at a time, until the mixture starts to form glossy peaks.
Keep mixer on high and slowly add the hot syrup to the meringue. Continue whisking for 7-10 minutes, until the outside of the bowl has cooled to room temperature.
With the mixer still running, add butter, one tablespoon at a time. The butter will deflate the frosting. (I think I added the butter a little early and the frosting was a little soft for piping – just keep whisking and it'll firm up again). Once incorporated, add caramel sauce, mixing for another minute.
Frost cupcakes and, if desired, drizzle with caramel.