To my readers,
I'm looking at a crazy month or so ahead of me. My parents (and dear cousin) are coming to visit (twice), plus I'll be making trips to meet my new niece, see my uncle's new house (and hopefully take an Ina-tour around the Hamptons), and attend my future sister-in-law's bridal shower. Plus, my hubby and I are starting the process of building our "Forever Home," so we have appointments and planning for the new home.
I'll do my best to post either a new recipe or book review at least once a week, but if I slow down or skip a week or two, please bear with me. Rest assured that I will be reading and cooking so that I can share with you when I get back. If you miss me, you can keep up with me on facebook and pinterest, both of which I can update from my phone, wherever I am!
Happy baking & reading!
Liz
I have a confession to make. The cute ice cream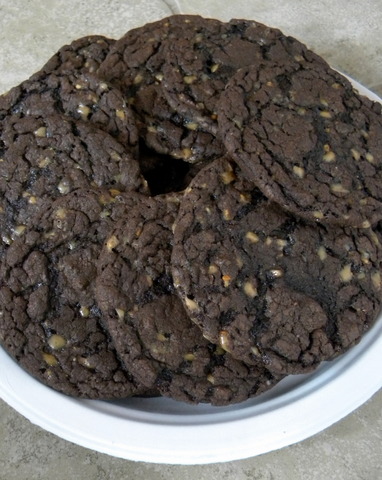 cone cupcakes that I made for the Boobieque last month? I didn't make them from scratch. I wanted to, but was a little stressed with hosting and other cooking, and could not find the energy to make cupcakes from scratch. So I took the easy way out. I bought a box of cake mix. Two actually, thanks to a BOGO sale.
Ever since signing the contract to build our Forever Home, I've been starting to gear up for the move. It's months away, but it's going to take a while to whittle down my pantry and sort through everything in the house. I'm tackling it a little bit at a time – a drawer here, a closet there. And that box of chocolate cake mix…. something I never use except in an emergency…. was staring me right in the face.
Not going to lie, I loved these cookies. I used chocolate cake mix and the last of a package of toffee pieces to make them. They are huge and super soft and hard to resist. I brought them to a friend's house for dinner and thought real hard about being that rude guest and asking to bring the extras home. Real hard. They were that good. You'd be proud of me – I left the cookies behind. And I haven't bought any more cake mix, although it's going on the first grocery list after we move!
Chocolate Cake Batter Cookies
Adapted from AllRecipes as seen on Stephanie Cooks
Makes 2 dozen cookies
Ingredients:
 1-18.25 oz. box chocolate cake mix
1 tsp. baking powder
2 eggs
1/2 c. vegetable oil
1 c. EITHER toffee pieces OR peanut butter chips (or another desired mix-in)
Preheat oven to 350F and line two baking sheets with parchment paper. Set aside.
In a large bowl, whisk together cake mix and baking powder. Use a hand mixer and beat in oil and eggs. Fold in mix-ins with a rubber spatula.
Using an ice cream scoop, portion batter onto prepared baking sheet, placing cookies 3 inches apart – they spread a lot! Bake for 9-11 minutes, until cooked through. Allow cookies to cool on baking sheet for a few minutes before moving to a wire rack to cool completely.