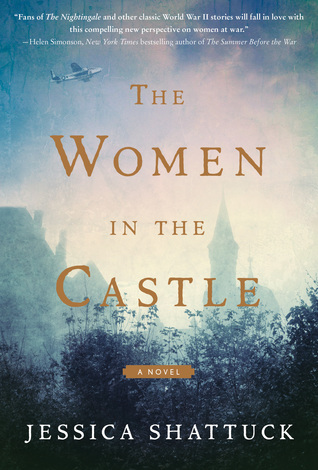 {Book Review}
The Women in the Castle
By Jessica Shattuck
On the eve of WWII, a small group from Germany's high society were planning  Hitler's assassination. Marianne von Lingenfels was the sole woman present. She not only supported the plot, recognizing the monster that Germany's leader was, but was charged by the men with protecting and caring for their wives and families, should the plot go awry.
Unsurprisingly, the plot fails and the men, the resisters, are sentenced to death. Marianne survives the war and returns to the castle owned by her husband's ancestors. It is from that home base that Marianne searches Germany for the women and children she promised to protect. She successfully recovers two fellow resister wives and their children. Together, the three women and their children spend their days at the castle recovering from the war and searching for a way forward in life.
Review/Recommendation: I read a lot of WWII-era historical fiction books but not very many from a German perspective. This  book was super interesting and hard to put down. It was a fantastic story with engaging characters.
I thought it Shattuck did well showing the different perspectives of a German woman during Hitler's reign. The three widows each brought their own perspective of WWII-era Germany – one [former] Nazi supporter, one adamant resister, and one just slightly the indifferent and a bit oblivious to the politics of the time. Each woman had a history that helped them make it through the years immediately following the war, when they were recovering and attempting to restart their lives. Each had a history that crafted their paths forward after the recovery period.
The Women in the Castle flipped back and forth between different dates (mostly prewar and postwar, the "present" of the novel) and between each of the different characters, giving the reader insight into the women's history and life. The format worked well for the book and for the story Shattuck crafted.
I really enjoyed this novel and would recommend it to any fans of historical fiction.
[amazon_link asins='006256367X' template='ProductCarousel' store='booksncooks-20′ marketplace='US' link_id='3411d53d-a731-11e8-855d-631b1c296763′]
This post contains affiliate links, which means that if you click on the link and purchase, I make a very small percentage (at no additional cost to you!) which goes towards maintenance of this blog. Thanks for your support!
Save