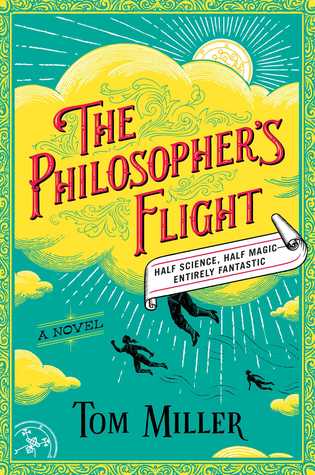 {Book Review}
By Tom Miller
The tag line on the cover – "half science, half magic, entirely fantastic" – is a perfect description of this book. The Philosopher's Flight tells the story of a very special empirical philosophist, Robert Weekes, and his journey to realize his passion.
Empirical philosophy, aka sigilry, is a branch of science that deals with the movement of energy to produce a physical effect. Like flying, healing, manipulating smoke or wind. It's a female dominated field, with men interested in the profession harshly discriminated against.
Robert Weekes has big dreams. He wants to use the sigilrist skills taught to him by his mother and sisters – in rural Montana – to save lives. He wants to join the elite US Sigilry Corps' Rescue and Evacuation Department and help save the lives of his countrymen who are fighting in World War I. To realize that dream, he must do the impossible – go to school and get proper training in the science, excel beyond others, and figure out how to get himself a position on the female-ruled R&E team.
Review/Recommendation: Published in February 2018, The Philosopher's Flight is Tom Miller's first novel, and he knocked it out of the park. I flew through this book in under a week, and loved every minute of it. (Then I passed the book to my husband, who devoured the book in just a few days.)
The Philosopher's Flight is a fun, creative blend of historical fiction and fantasy. Miller stayed true to major world events but rewrote the details to fit within the original world of empirical philosophy that he created. There were so many aspects of this that were interesting – the women-dominated elite profession and the discrimination against men, the way the government intended to use the science in its war, the polarization of society about the science and the practitioners of empirical philosophy… And amidst all of this? Weekes strives to succeed, despite the challenges and the ridicule he faces from peers, teachers, and even sometimes his own family.
There's a love interest in this book – because what book is complete without some romantic story line. And I'm not going to lie, I adored it. Weekes falls for a strong-headed young woman and war hero, Danielle, who is completely his opposite. While Weekes came from the rural West, raised in a big family with empirical philosophy in his blood, Danielle is an East Coast girl, from a wealthy family where she is the only empirical philosophist. The interactions and dynamics between the two (as well as between Weekes and other characters) made Weekes that much more endearing to me – his awkwardness in the relationship (particularly a few foot-in-mouth moments that showed him as the country boy he is), their effort to keep their relationship out of the spotlight… it was all very sweet.
I'm excited for Miller's second book in the series, The Philosopher's War, due out next year. And I'll give you  hint – If you read the quotations at the top each chapter close enough, you'll see some hints about what else is to come. 🙂