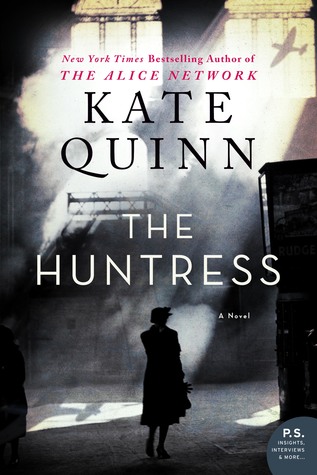 {Book Review}
The Huntress
By Kate Quinn
The Huntress is a story split between two time periods – during WWII and a few years after. It follows the stories of 3 unlikely individuals whose lives become unexpected entwined:
Nina Markova: an elite Soviet fighter pilot, one of the Nachthexen ("Night Witches") feared by Germans
Ian Graham: a British journalist turned war crimes investigator
Jordan McBride: an American teenager who dreams of being a photographer in the thick of the action
But how are these 3 individuals connected? Through the hunt for a Nazi war criminals known only as The Huntress.
Review: Guys, this was soooo good. I picked it up and couldn't put it down.
Now if you've been reading Books n' Cooks for a while, you know that I tend to enjoy WWII-era historical fiction novels, but this one – wow! The story – inspired by real men and women of the time period, which you can read about at the end – was unique and fascinating, and just a little  bit scary. I love it when a novel teaches me a little bit about the lesser known aspects of history, and this one totally did (e.g. the Night Witches, post-WWII hunts for war criminals and the legal issues that were sometime encountered with tracking the criminals and extraditing them, etc.).
Quinn masterfully wove the WWII and post-WWII timelines together, with chapters set during the war to fill in key details about the character's experiences and personalities. The switches between characters and their own unique perspectives also felt seamless, which is sometimes difficult to accomplish.
In terms of the characters, I loved them all. All three major characters as well as the minor characters felt so real. Each character was very different from the others – feisty Nina, grumpy Ian, and innocent (and incredibly driven) Jordan. The changes in timeline showed the character development well and as I said, gave the background necessary to understanding each characters' personality.
If you enjoy historical fiction, this is one to read. While not the most uplifting topic, the book was addictive – hard not to read from end to end in one sitting.