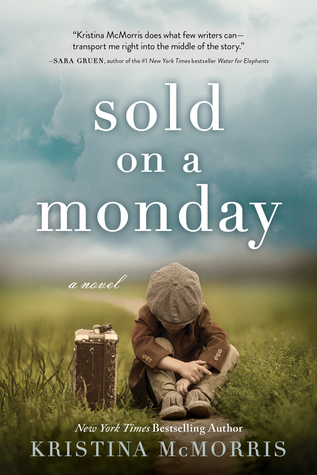 {Book Review}
Sold on a Monday
By Kristina McMorris
World War I has ended and the U.S. has plunged into the Great Depression. After a long day working on a story, newspaper reporter Ellis Reed snaps a picture that will change the course of his life. 2 CHILDREN FOR SALE reads the sign in front of two young children. That photo – and the story that accompanies it – earns Reed a front-page byline, followed by a new job writing for a major paper.
But the picture will follow Reed, haunt Reed, for the next several months. That photo, and a dirty little secret, will tie him to the family for months – changing not just his future but theirs.
Review/Recommendation: Sold on a Monday is a quick, engaging read. I consider it part fiction, part historical fiction, part mystery (can that be a real thing?). The novel is filled with passion and remorse. It gives the reader glimpses into history's newsrooms, the life of America's poor (the story was based on an actual published photo from the time period), and of the country's mafia.
The primary plot line of Sold on a Monday is Reed's quest to find out what happened to the family that he photographed. There's a secondary story about Reed falling for a secretary from his old newspaper, Lillian Palmer, who helps him in his quest for the truth. The two stories are endearingly intertwined, with each character pushing one another to grow as a person.
Some of that growth is born out of trust. Reed and Palmer both have a secret, and you feel for them so badly – that closed society of the 1930s, where protocol and society dictate lives. There are some things that it's just not appropriate to say; and there are some secrets that will cause one to be judged for the rest of their lives. But their shared adventures draw them closer, allowing each other to trust, to open up, to stand up for themselves.
While this wasn't the happiest book overall, it's totally worth a read – for the story, for the glimpse into history. I found that I quickly became invested in the story and despite my busy schedule, I devoured it in less than a week.