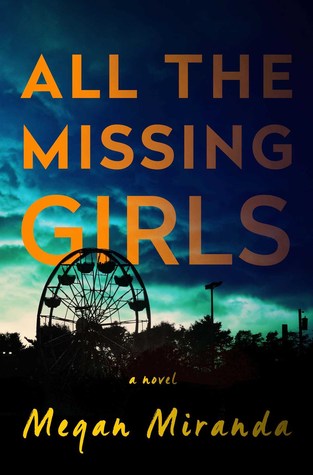 {Book Review}
All The Missing Girls
By Megan Miranda
When Nic Farrell goes home to help get her father's house ready to sell, she's quickly swept up in a tragedy from her past. As a teenager, her best friend disappeared. Nic, her friends, and her family were all entangled in the investigation, doing everything possible to protect their own secrets. Fast forward to present, and another girl disappears – one linked to some of the same people that were caught up in the investigation 10 years earlier.
Review/Recommendation: It's been quite a while since I've picked up a mystery novel – I just haven't been in the mood to read a mystery or suspense novel lately – but I was almost immediately hooked on this book.
In All The Missing Girls, each chapter is a day. After the stage is set in the first chapter, those days start going backwards for a two-week period. It is an unusual way to piece together the pieces of the puzzle – or maybe, it's better to say, unravel the secrets of Nic, her brother Daniel, and her high school boyfriend Tyler – but it worked. And while this structure may not be to everyone's liking, it does make the novel stand out from others in the genre.
All of the characters had secrets that they were trying to protect and I found myself constantly trying to figure out what those secrets were. What was Nic, Daniel and Tyler hiding? Why the strong feelings of doubt and distrust between so many of the characters? I wouldn't say that the characters were super well developed, but I think that was intentional, to keep you wondering about their past, about what made them the (fairly dark) men and women they were at the time.
The mystery was a good one, definitely unpredictable. And the ending? Not common! One I was actually really please with. If you enjoy mysteries, this is one to read.