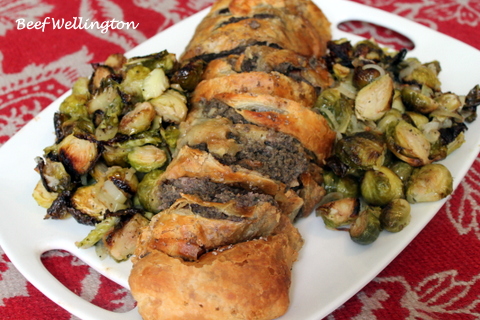 I feel like Beef Wellington is one of those dishes you indulge in. It's expensive and while not difficult to make, it does take a little bit of time. However, this recipe has become of of my favorite beef recipes and my go-to entree for special occasions, particularly for Easter. The beef is incredibly tender and the stuffing is full of flavor. I usually pair it with a simple potato dish, a roasted vegetable, and a salad – the beef is the star of the show and there's no need to detract from it with fancy sides.
I've used this recipe (scaled accordingly) to make both individual Beef Wellingtons as well as one large Beef Wellington, which we then sliced. While I like the idea of everyone having their own individual serving, the larger one was easier to put together and honestly easier to accommodate appetites of varying sizes.
Beef Wellington 
Heavily adapted (simplified) from Tyler Florence
Serves 6-8
Ingredients for the Mushroom Duxelles: 
2 Tbs. unsalted butter
2 Tbs. extra-virgin olive oil
3 pints (1 1/2 lbs.) white button mushrooms
2 shallots, peeled and roughly chopped
4 cloves garlic, peeled and roughly chopped
1 1/2 tsp. fresh thyme leaves
kosher salt and freshly ground pepper
Ingredients for the Beef:
3 lbs. center-cut beef tenderloin, trimmed
extra-virgin olive oil
kosher salt and freshly ground pepper
all-purpose flour
1 lb. puff pastry, thawed
1 large egg, lightly beaten
cooking spray
coarse sea salt
Make the Duxelles: On the stove, heat a medium skillet over medium heat. When hot, add butter and olive oil.
Meanwhile, in a large food processor, pulse the mushrooms, shallots, garlic, and thyme until finely chopped. Add to skillet with melted butter and olive oil. Sautee for about 10 minutes, until most of the liquid has evaporated. Season with salt and pepper and set aside to cool.
I've made this step several hours ahead of time, and simply refrigerated it until ready to prepare the beef.
Prep the Beef: In a cast-iron skillet over medium heat, heat olive oil.
While the oil is heating, season all sides of the beef tenderloin with salt and pepper. Sear meat on all sides for only a few minutes, to seal in juices.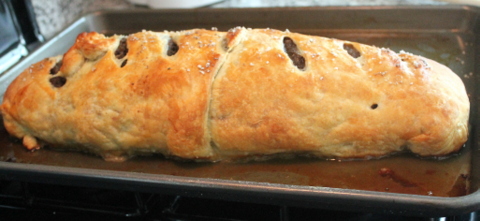 Assemble the Beef Wellington:  Meanwhile, preheat oven to 425F and lightly flour the counter. Roll out puff pastry to 1/4-inch thickness, overlapping the two sheets of puff pastry as necessary. Spread duxelles in the center, to the approximate length and width of the puff pastry. Set seared beef tenderloin on top.
Combine beaten egg with a little bit of water to create an egg wash. Brush long sides of puff pastry with egg wash and then fold over, sealing in meat. Trim ends, if necessary. Brush with egg wash and fold over.
Spray a baking sheet with cooking spray. Gently place beef on prepared baking sheet, seam side down. Brush top with egg wash and sprinkle with coarse sea salt. Cut slits into top to allow steam to escape.
Bake for 30-45 minutes, until a thermometer inserted into the thickest part of the beef comes out at 125F. Allow to rest for 15 minutes, which will allow the meat to continue to cool until it reaches medium, about 140 degrees.