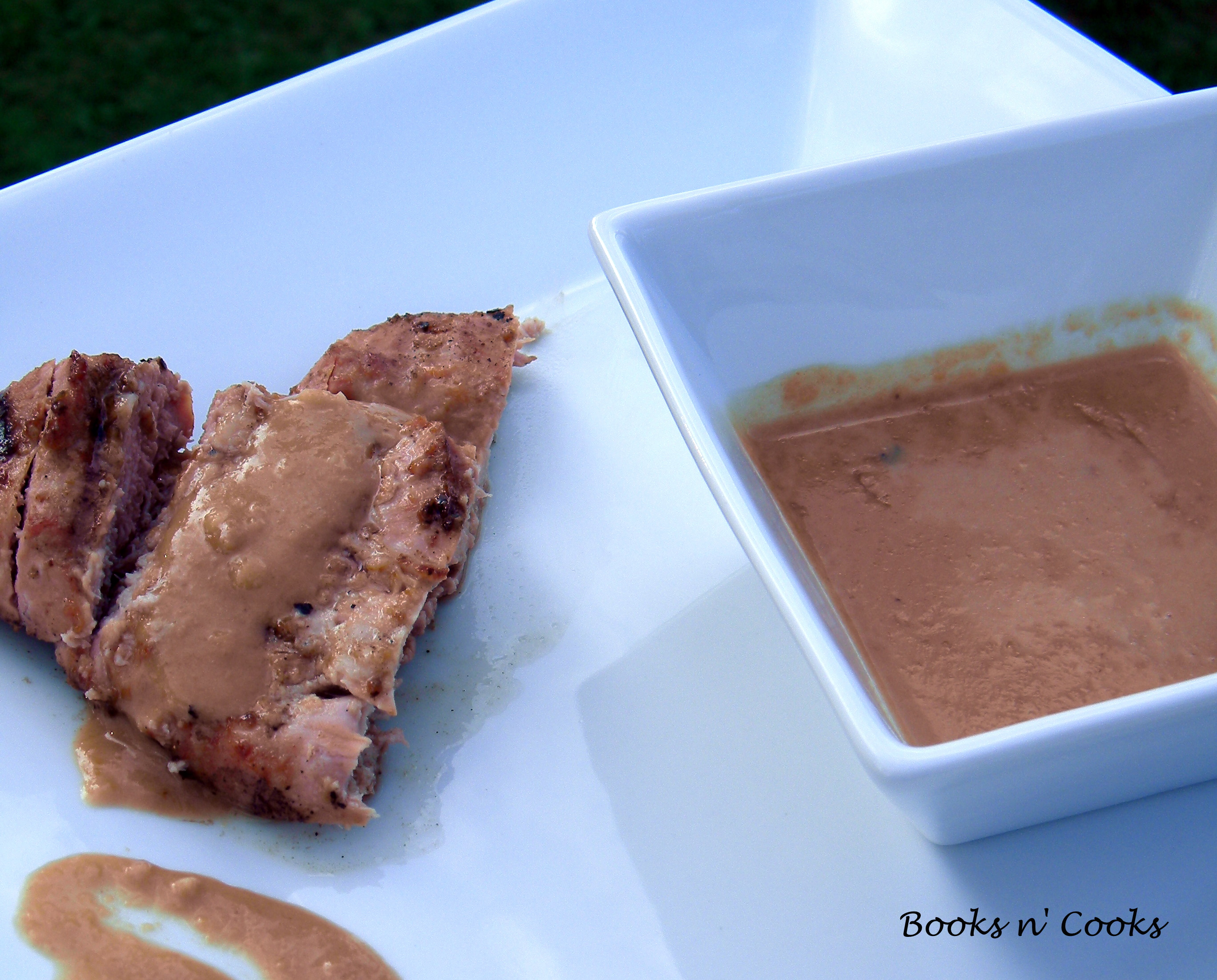 I love peanut butter – peanut butter cookies, peanut butter sandwiches (no jelly of course!), pb & toast for breakfast… Ooo, and remember Ben & Jerry's Chubby Hubby ice cream? Vanilla with chocolate covered peanut butter stuffed pretzels? … I don't know if I've ever met a peanut butter food I didn't love.
This grilled pork tenderloin has been on my to-try list for quite a while, and the hubby and I quite enjoyed it. The peanut butter marinade / sauce was very good, although next time, I'd probably add the coconut milk a little at a time, tasting as I go. I found the sauce a bit sweet (although the hubby didn't complain!), and I would probably add in a little less coconut milk than required.
Asian Grilled Pork Tenderloin with Peanut  Sauce
Adapted from Fine Cooking No. 86 (p. 78a)
Serves 4-5
Ingredients:
1 c. light coconut milk
1/2 c. creamy peanut butter, preferably natural pb
1/4 c. soy sauce
3 Tbs. fresh lime juice
3 Tbs. dark brown sugar
2 1/2 tsp (2 large cloves) garlic, minced
2 tsp. ground coriander
2 small pork tenderloins (2 lb. total)
vegetable oil for the grill
Prepare the Pork:
Trim fat from pork and butterfly the tenderloins (split each tenderloin lengthwise, but not all the way through – it should fold open like a book). Then pound out tenderloin with a meat mallet until about 1/2-inch thick. Thicker is fine, just takes longer to cook.
Make the Marinade:
Whisk all other ingredients together in a large bowl. (I'd recommend whisking in the coconut milk a little at a time, tasting as you go.) Mixture should be creamy and smooth. Add pork an marinade for 10-20 minutes, or for several hours in the fridge.
Grill the Pork & Prepare the Dipping Sauce:
Heat a gas grill to high. Lightly oil grates and add tenderloin, allowing excess marinade to drip back into the bowl. Grill until cooked through, flipping once, 5-7 minutes total. Let rest for 5 minutes before slicing.
Meanwhile, pour marinade into a small saucepan. Add 2 Tbs. water and bring to a boil. Reduce heat and simmer for a couple of minutes, adding water in 1 tsp. increments if the sauce seems too thick.
Serve pork with marinade/sauce.