This year, Books n' Cooks went through a site redesign and moved to a new web hosting service. I like the new format – including the recipe/book review index and reading sidebar – but because of the new format, I can't pull most popular posts for the year. Instead, I'll give you some of my personal favorite recipes (there were quite a few this year) and books.
Links to reviews in bold.
IN THE KITCHEN

I spent a lot more time in the kitchen this year, than I had thought I did. I had a hard time narrowing down the list, so you've got about 15 of my favorite recipes here.
Appetizers: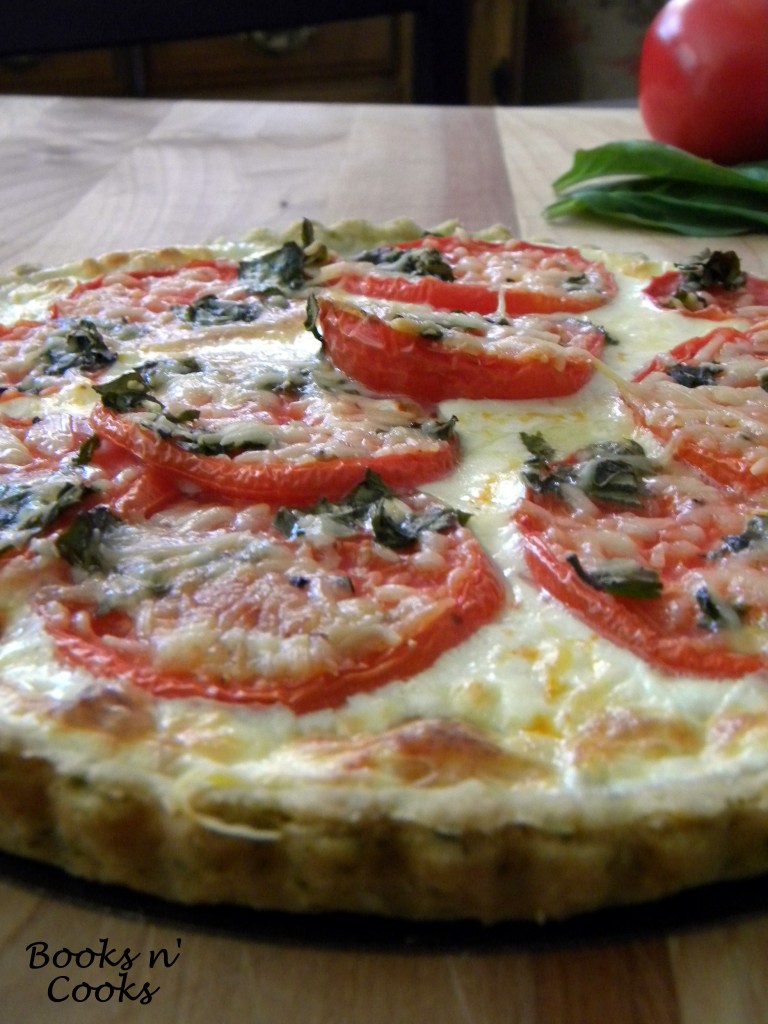 Baked Fontina: This baby didn't last long. It's super easy to put together but seems so classy. Serve with a giant baguette and it'll be done before you know it.

Buffalo Chicken Dip (aka Crack Dip): I'm waiting for the hubby to invite some guys over for fight night or a football game so that I have an excuse to make this again
Soft Pretzels: Oh so good. One of my first experiences working with yeast. Although a little time consuming, these addictive game-day snacks were easy to make and flew off the plate.
Mini Crab Cakes: Although crab is a little expensive for hosting a lot of people, these crab cakes won't disappoint. This recipe was easy to assemble, could be cooked ahead of time, and simply reheated. I made it once this year, for our holiday party, and had several requests for the recipe.
Tomato Mozzarella Tart: This is one appetizer that felt like a real treat. It was pretty light but still satisfying. Serve with a glass of wine and a side salad for a refreshing lunch with the girls.
Cinnamon or Cardamom Palmiers and White Chocolate Chip Oatmeal Cookies are two of my favorite cookie recipes to whip up. The palmiers are super easy and look impressive. The white chocolate chip oatmeal cookies have just the right amount of sweetness, and taste great slightly cold from the freezer (where we keep a bag stashed!)
The hubby and I rate the following three cupcakes as our favorite of all time (although our order differs slightly): Irish Carbomb Cupcakes, S'Mores Cupcakes (made in 2010) and Chocolate Chip Cookie Dough Cupcakes (recipe not yet blogged). I was also surprised when I made Lemon Limoncello Cupcakes this summer, and ended up loving them. They had a nice light lemon flavor, with a burst of lemon from the filling and the candied lemon slices. Thanks to S for picking out this recipe for her birthday this summer!
Homemade Vanilla Extract: Made for the first time this year, homemade vanilla extract was super easy, and cheaper than buying at the story. I now keep a couple bottles going at once so that I always have some ready. This would also make a great gift as well!
Breakfast, Lunch, and Dinner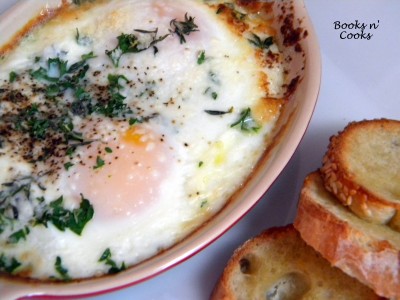 Herbed Baked Eggs: This recipe turned me into an egg-lover. The Parmesan and herbs turned a blah breakfast into a fantastic breakfast.
Apple Almond Chicken Salad: Poor photo aside, this chicken salad was awesome. A little bit of homemade mayo, the sweetness from the apples, and the crunch from the almonds made this a winner. Wonderful on a sandwich, salad, or on its own.
Grilled Skirt Steak with Chimichurri: The hubby and I improvised this meal after craving our friend's Brazilian steak and chimichurri. It wasn't the same, but it was a pretty good substitute. The salt and pepper steak had a freshness of flavor from chimichurri spread onto.
Pasta with Gorgonzola, Brussels Sprouts and Candied Pecans: I have no idea what tempted me to try this recipe, since I'm not really a creamy/cheesey fan, but I really enjoyed it. The cream sauce was light, and the gorgonzola was only as heavy as you made it. I can't wait to make this for my vegetarian brother, if he ever escapes law school for a visit.
Tilapia with Cardamom and Basil: Made in my quest to use cardamom more, I loved the flavors of the cardamom and herbs on this mild fish.
Roasted Shrimp with Feta and Tomatoes: The ingredients for this shrimp dish are always in my kitchen. It' easy to throw together and wonderfully flavorful.
Soups & Sides
French Onion & Fennel Soup Gratin: I can't tell you how much I enjoy this soup. I've never been a big French Onion Soup person, unless I was in Canada (the soup tends to be too salty whenever I get it in the U.S.). This was amazing. I brought it to work for a friend and people were furious there wasn't enough to share. So good!
Old-Fashioned Potato Salad: There's really only one thing to say about this. The girls and I were eating it straight out of the serving bowl while the guys were grilling. I think we ate close to half of the double batch before the guys finished grilling. Enough said. Make it.
OFF THE BOOKSHELF

2011 was a pretty slow year for me. I read over 110 books in 2010, but barely hit 80 in 2011. I think some of the books were longer, and life was just busier in general. Here are my favorite books of 2011, in no particular order:
The Zookeeper's Wife (by Diane Ackerman): Based on memoirs, interviews and historical documents, The Zookeeper's Wife is a story about a Polish couple who owns a zoo during WWII. They struggle to keep the zoo's inhabitants (animal and refugee alike) alive and safe as long as possible.
Revolution (by Jennifer Donnelly): A young adult book that flip-flopped between past and present France as a girl struggled to overcome depression and find herself. Great story. The story should have depressed me, but Donnelly did a great job not dragging the reader down with the character. I still felt empathy towards the character, but didn't get depressed as a result.
The Immortal Life of Henrietta Lacks (by Rebecca Skoot): The "immortal cells" that were "donated" by Henrietta Lacks to science in the 1950s. This book is about medical history and advancements, black history in the Virginia-Maryland area, and the struggle of the Lacks family to understand what the cells mean to science. What I had assumed would be a boring, slow sciency book turned out to be a fabulous, easy-to-read book about a family, history, and medicine explained in layman's terms so that even I could understand it.
The Millennium Triology (by Steig Larrson): This trilogy includes the popular Girl With the Dragon Tattoo, The Girl Who Played With Fire, and The Girl Who Kicked a Hornet's Nest. While a bit graphic, I thoroughly enjoyed this series. I would compare them to many American mystery novels but much more complex.
A Discovery of Witches (by Deborah Harkness): Supposedly a young adult book, this paranormal romance feels more like an adult book. The characters were much older and more mature than most young adult books, and the lengthy descriptions of alchemy and ancient texts are something that an adult would enjoy more than a young teen.
Bossypants (by Tina Fey): This hilarious autobiography slipped in just before the new year. Witty and sarcastic, Fey describes her childhood and career in comedy, writing, and producing for both Saturday Night Live and 30 Rock.
With so little free time, I tend to read only books that I know I will be interested in, which is part of the reason you don't see a lot of negative reviews on this site. Life is to short to read books that I won't enjoy. The one exception, the least-favorite book of the year was One Day (by David Nicholls). It was chosen for my book club, and like a true champ, I powered through it. I liked the concept but hated the characters. This was the one book that I really wish I had skipped this year.