With a few pantry staples and the right tools, it's easy to enjoy a simple roast chicken, full of flavor.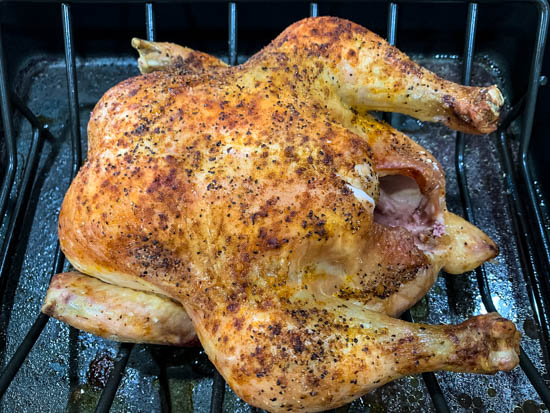 It's a strange time to be posting and sharing recipes, when it feels like my world changed from normal, busy mom-life almost overnight. I feel like I went from menu planning and kids activities to preparing to hunker down for a couple of weeks at home in a matter of hours, compulsively checking my news feeds and email for updated information to plan and make the best decisions for my family. It feels strange to be sharing new recipes at a time when grocery shelves are empty and people are probably making tried and true family favorites rather than experimenting with new meals.
Whatever your opinion is on the topic of social distancing, with more and more things closing each and every day, I decided to post today – and continue on as normal as much as possible given our own family choices – for a couple of reasons. First, more people will have more time at home. Whether you're feeding your family or baking to keep kids entertained (or out of boredom), I hope I'll provide some inspiration for you. Secondly, I believe everyone who chooses to practice social distancing is going to need some sort of outlet. It's hard to be disconnected from friends and family. It's hard to change your routine so completely, for so long. It's hard to be confined with active little ones at home. Whether you get lost for a few minutes in reading my posts, or for longer by testing a recipe out in the kitchen (use #booksncooks on social media, and please come back here and rate the recipe and let me know how you liked it), I hope these posts will be an outlet for you in the days going forward.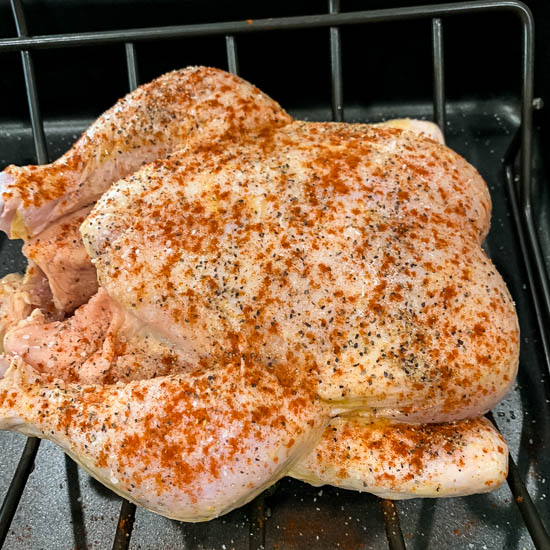 For years, I was intimidated by this dish. I grew up eating it, but it took over a decade of cooking for myself before I attempted it – and now it's become one of my go-to Sunday night dinners… and a great, easy dish to prepare for your family if you're one of the lucky ones to score a whole chicken in the frenzied grocery shopping this week.
Why did it take me so long? Well, for one, the idea of man-handling a whole chicken or turkey just grossed me out. The texture, the fact that I had to remove innards… no thank you. But I got over it. The other thing that held me back is that done wrong, roast chicken could be dry and flavorless. I've had more than my fair share of dry chicken.
Once I got over the two issues, I realized just how silly I was being. Handling the chicken wasn't all that bad, although I still get squeamish when I think about dealing with a large turkey on Thanksgiving (hence, the total lack of traditional Thanksgiving turkey recipes on this blog – although I have an excellent turkey breast recipe, stuffed with cornbread, apples, and sausage, for those that host on a smaller scale).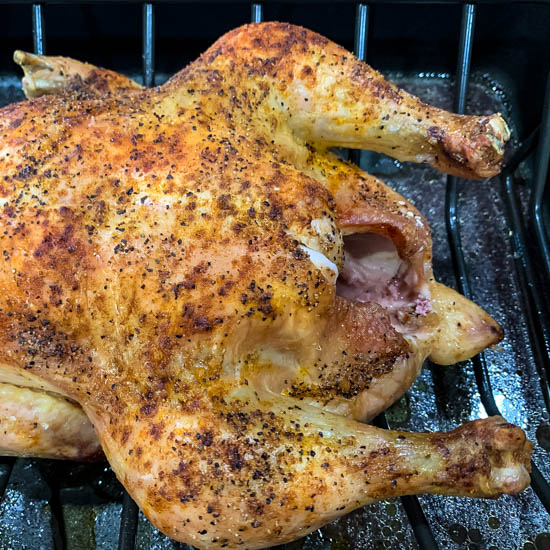 The trick to getting the roast chicken cooked well and flavorful is deceptively easy.
It's just a few easy steps to a moist and flavorful roast chicken. (Fun fact: my daughter LOVES the crunchy, bold skin from this chicken.)
Season the chicken well – here I use simple but quality ingredients in the pantry (extra-virgin olive oil, kosher salt, coarsely ground black pepper, and paprika) but you could also use a flavored olive oil with salt and pepper; a flavored salt (Williams Sonoma Herbes de Provence Sea Salt is a particular favorite of mine); or your own blend of spices.
Use a timer and a meat thermometer – chicken should be cooked to 165F at the breast, which is about 16-21 minutes per pound after initial roasting. I always set my time to cook at 15 minutes per pound, check the temperature, and continue cooking and rechecking temperature at roughly 5-minute intervals to make sure the chicken isn't overdone.
I use a roasting pan like the one below, for this dish. It's non-stick and a little water in the bottom makes it even easier to clean.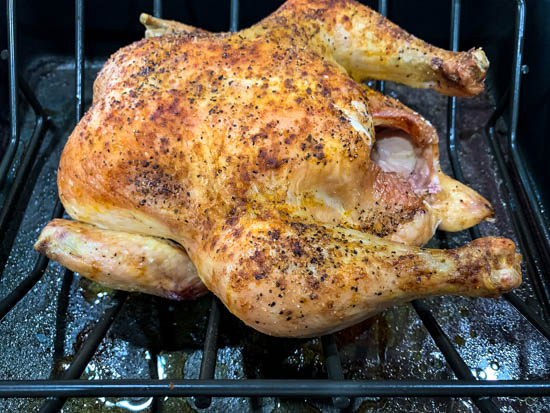 Stay well, my friends! And if you have any special requests for the upcoming weeks, leave me a comment and I'll do my best to accomodate.
Print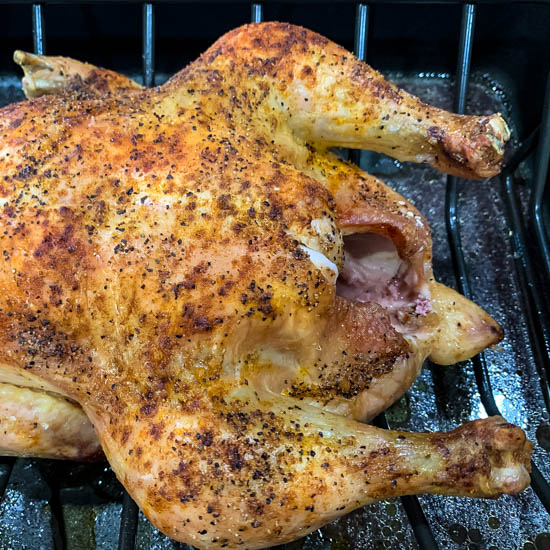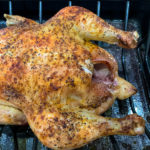 Simple Oven Roasted Chicken
With a few pantry staples and the right tools, it's easy to enjoy a simple roast chicken, full of flavor. 
Cook Time
1
hour
45
minutes
Ingredients
5

lb.

whole chicken

giblets and neck removed, rinsed and pat dry

1

Tbs.

extra-virgin olive oil

2

tsp.

kosher salt

2

tsp.

coursely ground black pepper

2

tsp.

ground paprika
Instructions
Preheat oven to 450. Place about a cup of water in the bottom of a roasting pan. Set rack inside.

Rub chicken all over with olive oil. Sprinkle bottom with half of the salt, pepper, and paprika. (I do this while chicken is set on the rack in the roaster.) Flip and sprinkle remaining salt, pepper and paprika over chicken. Set chicken, breast up, on rack in prepared pan.

Cook uncovered in preheated oven for 15 minutes. Lower temperature to 350F and continue cooking for 15 minutes per pound. Check and add additional water to pan about halfway through, if needed, to keep the bottom from burning from any drippings.

Using a meat thermometer, check temperature in the chicken breast. Chicken should be cooked to 165F. Cook for additional time, if needed (I usually check temperature every 5 minutes, until chicken comes to temperature.)

Remove from oven and allow to rest for 10 minutes before serving.
By Books n' Cooks