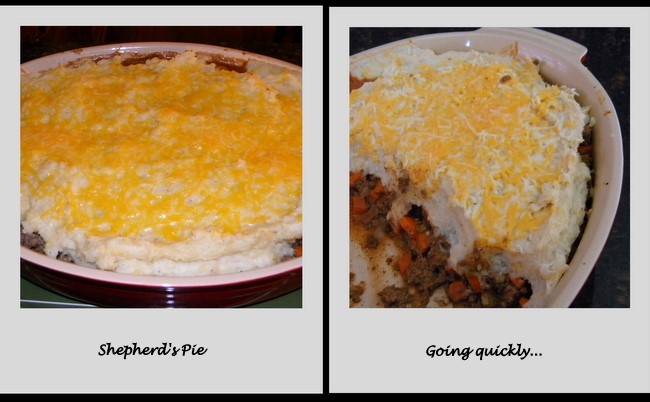 Lately, my work schedule has been crazy and it has been hard to fit chores, working out, and friends into my after work hours. And when I can fit it in, I just don't want to. I usually want to veg out on the couch with some mindless tv or a quick mystery novel. Since I'm pretty much useless after work these days, I've gotten into the habit of making a nice big meal on Sundays, so that the hubby and I have leftovers for lunch or even dinner during the week. In summer months, we usually grill, but it's harder during the winter. We end up with a lot of pasta, meatloaf, and other warm cozy meals. Shepherd's pie recently earned itself a spot in our winter dinner rotation.
I came up with this recipe after some trial and error. I've never found a recipe out there that I loved completely. Some recipes called for ingredients that I didn't normally have on hand. Others just didn't appeal to me for one reason or another. The one I came up with uses ingredients I almost always have on hand. The filling is just a little bit thick, with most of the flavor coming from the Worcestershire sauce.
I like this recipe because it's pretty forgiving. I use ground beef or turkey, depending on what I have on hand or what's on sale. I might use more veggies to bulk up the mixture or simply change up the veggies I include (such as the extra carrots and no peas pictured above) depending on what's in the fridge or in season. Even the mashed potatoes – sometimes I use leftovers, sometimes I make them from scratch with a little cheddar cheese thrown in for some extra flavor. Have fun with it – it's hard to mess up!
Shepherd's Pie
By Books n' Cooks
Yields 8 servings
Ingredients:
2 Tbs. canola oil
2 lbs. lean ground beef or turkey
2-3 carrots, peeled & diced
1 onion, diced
1 Tbs. minced garlic
3/4 c. water or beef broth (1 c. for a slightly more liquidy consistency)
3 Tbs. flour
2 Tbs. tomato paste
4 Tbs. Worcestershire sauce
Black pepper
Kosher salt
1 c. frozen peas
3 large potatoes, peeled and cubed into 1-inch pieces
1/3 c. sour cream
1/3 c. milk
1/2 c. cheddar (optional, for cheddar mashed potatoes)
Instructions:
Preheat oven to 400F.
In a large skillet or oven-proof skillet over medium heat, heat oil. Add ground beef/turkey, carrots, onion, and garlic. Cook, breaking up chunks of ground beef with a wooden spoon, until meat is browned and vegetables are softened.
Meanwhile, boil the potatoes until soft. Drain and put back into pot with sour cream and milk. Mash to desired consistency, adding more sour cream/milk if desired. Season with salt, pepper, and cheddar cheese. Set aside.
When the beef is browned and the veggies are soft, add water, flour, tomato paste, and Worcestershire sauce. Season with a little salt and pepper. Stir in peas. Allow to simmer another 5 minutes, until slightly thickened.
Pour into a 9×13 oven-safe dish and top with mashed potatoes. Bake for 15 minutes until heated throughout.