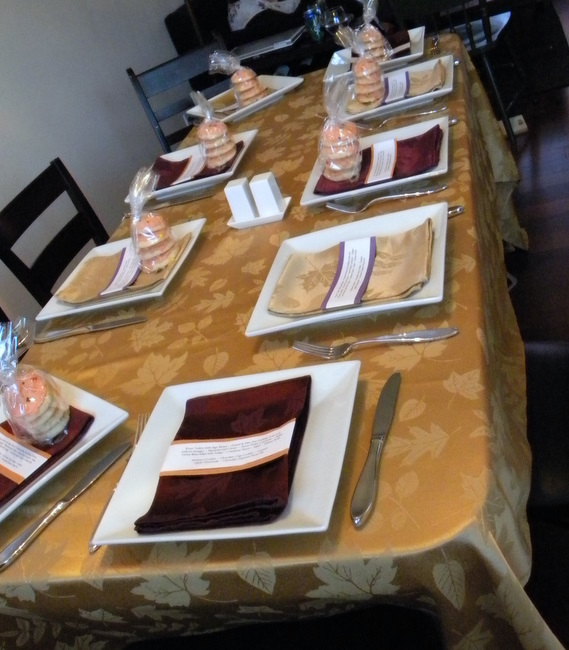 My family has never really had any big Thanksgiving traditions. Sometimes we would spend the day with my extended family, and sometimes my immediate family would eat a quite dinner alone. It's just the way it was, with most of my family spread out across the U.S. I was never impressed with the holiday – I didn't care much for most of the food and I couldn't stand the football games that would play on the television through the day. My husband, on the other hand, always had big family dinners with the extended family (just about everyone lived within a couple hours of each other). And, the true southern family that they are, there was lots of football.
Since neither of our families live nearby, the hubby and I usually celebrate Thanksgiving among friends. We don't usually host, since our big holiday party is in early December, and to be honest, I'm squeemish when it comes to handling a turkey. They're big and slippery, and I hate pulling the innards out.
This year, we get the honor of hosting not only my family for Thanksgiving, but my hubby's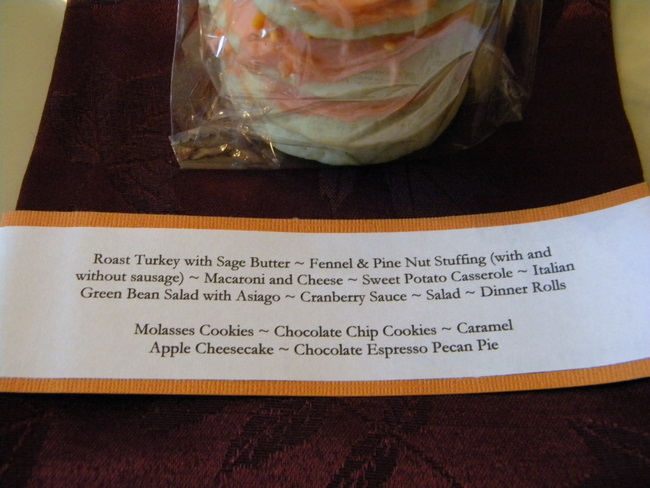 family as well. We're thrilled to have everyone traveling to spend the holiday with us, and I'm thrilled that I will have a lot of people to delegate the turkey-touching to. (Hubby doesn't know it yet, but he's cleaning the turkey and brining it!). There will be 9 of us, including one vegetarian.
I put together the below menu, with what I hope will be a mix of the traditional foods from both of our families as well as some new favorites.
Happy Thanksgiving!
2011 Thanksgiving Menu
Serves 8-10
Appetizers & Cocktails
Cranberry Lime Bellinis
Spinach-Artichoke Dip
Deviled Eggs
Veggies with Ranch Dressing
Butternut Squash Soup
Dinner
Roast Turkey with Sage Butter
Stuffing with Pine Nuts & Fennel
Stuffing with Sweet Italian Sausage
Baked Sweet Potato Casserole
Cheddar Macaroni & Cheese
Italian Green Bean Salad with Asiago
Dinner Rolls
Salad
Canned Cranberry Sauce
Dessert
Chocolate Chip Cookies
Molasses Cookies
Caramel Apple Cheesecake Pie
Chocolate Espresso Pecan Pie
Favors