One of my favorite things about summer and early fall is all of the fresh produce – from fruits and veggies to fresh herbs, which are so incredibly easy to grown in a little pot on the front stoop or back porch. Last year, my herbs were thriving well into December. I can't tell you how many times I had to attack the plans to get them back to a more reasonable size, leaving me with loads of fresh herbs to cook with, give away, or save for later. I tend to preserve (usually freeze or dry) a good bit for out of season cooking, but I do enjoy trying new recipes that highlight the fresh ingredients while I have them around. Fresh herbs in light, slightly sweet cocktails has become one of my favorite ways to experiment with fresh herbs.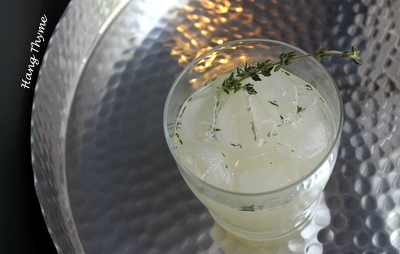 This particular cocktail has been rewritten from the below book, but not really changed. The cocktail has a strong citrus flavor with just a touch of sweetness from the sugar and subtle thyme undertone. It takes just minutes to mix up, and is a cocktail I've enjoyed more nights that I should admit.
Hang Thyme
Adapted from Mix Shake Stir (p. 128)
Makes 1 drink
Ingredients:
ice
5 springs of fresh thyme
2 oz. Citrus-flavored vodka (I use lemon)
1 oz. fresh lime juice
1 oz. sugar
Muddle 4 sprigs of fresh thyme in a cocktail shaker. Top with ice, vodka, lime juice, and sugar. Shake well until combined.
Strain into a rocks glass filled with ice. Garnish with remaining spring of thyme.
Serve immediately.
Save
Save
Save