Cheesy jalapeno corn chowder provides a delicious and satisfying meal, assembles quickly, can easily be tweaked to taste or diet, and makes a lot. Perfect for a cold winter day.

When I was preparing for the arrival of our new little one, I knew that I'd have to line up some posts for you guys. I tried to prepare some in advance, but never quite got my act together. I did, however, line up a very special guest post for you – from Lynsey of Lynsey Lou's. Lynsey and I met in person for the first time at Mixed, hit it off, and have been chatting ever since.
When I saw the posts Lynsey had worked up for me, I knew I was in trouble – my husband is going to take one look at the below and ask when I'm going to make it for him. 🙂
If you haven't visited Lynsey Lou's yet, be sure to check out it out. Her blog is full of fantastic recipes and amazing photos.
Thanks again to Lynsey for this post!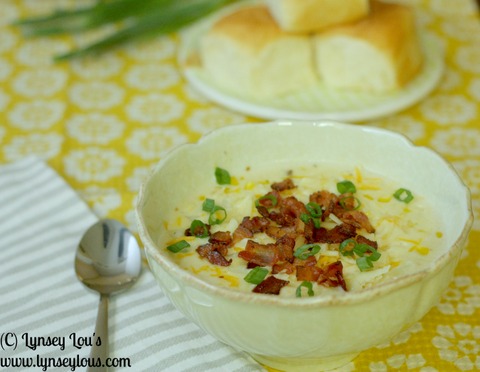 Hello all you Books n' Cooks readers!  I am so happy to be here today.  I can't tell you how happy I was when Liz asked me if I would be interested in posting over here for all of you!  I debated for quite some time about what recipe to share with you.  I debated between sweets; cookies, bars, cake?  Or savory; soup, casserole, a side, etc?  Finally after much debate, I decided on a savory dish to share with you.
Since Liz just welcomed a sweet, baby girl in the world (congratulations!), I decided to make something that is not only simple, but that's delicious and makes quite a bit.  Having a new baby in the house is not only a blessing but takes some adjustment, as well.  Finding meals that can be assembled quickly and that can be stretched over a couple of days are essential for moms and busy families.  I find that this recipe for cheesy jalapeno corn chowder does all of the above; provides a delicious and satisfying meal, assembles quickly, and makes a lot.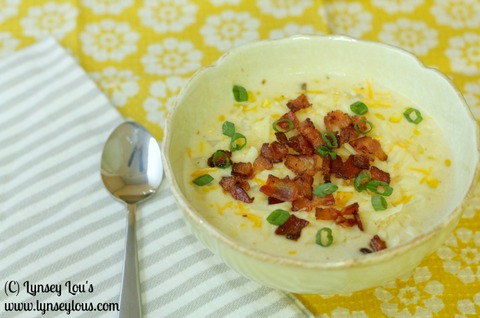 In the winter I am all about soups and stews.  There is nothing better than cozying up with a big, hot bowl of something delicious on a cool, crisp winter day.  It's just comforting!  There are a lot of recipes for soups that require quite a bit of simmering time before it can actually be enjoyed and if you were to dish it up before allowing it to simmer the minimum amount of time the flavor just wouldn't be there.  While I love these rich and flavorful soups and stews, sometimes I just can't wait 2, 3, 4 hours or more.  I'm hungry and I want that comfort food now!  Well, this chowder delivers.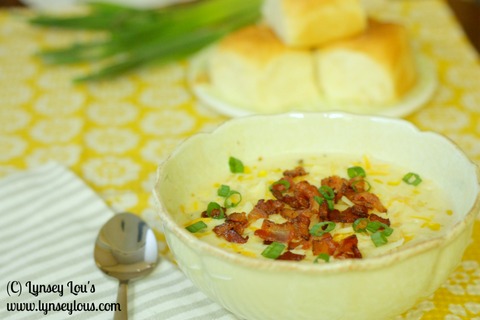 This chowder is rich and full of flavor, without the wait.  The process from start to finish takes about 30-45 minutes, which for a soup isn't bad at all, especially if it delivers big flavors in the end.  The soup starts by sautéing onions in a mixture of bacon drippings and olive oil.  After the onions have had time to simmer, flour is then added along with chicken stock to develop a rue.  Once those ingredients are incorporated, the potatoes, corn and peppers are added and brought to a simmer to allow the potatoes to become tender.  Then the good stuff is added; cheese and heavy cream!  That's it!  After the cheese has melted, it's time to dish it up, top with bacon and enjoy!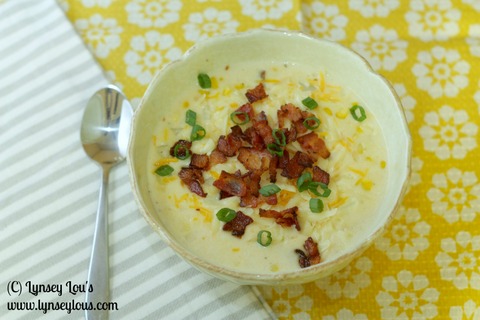 This soup is delicious and big on flavor.  It's a satisfying meal that can be assembled in no time.  The flavors can be adjusted according to taste; if you're a heat lover then add more jalapenos or leave a few seeds in the one that's called for.  This meal could also be made completely vegetarian by eliminating the bacon, and substituting the chicken stock for vegetable stock.  It's great for a cozy weekend meal, but is perfect for those busy weeknights too.  Serve this with come crunchy garlic bread or homemade yeast rolls and you have the perfect meal!
Congratulations again, Liz.  I know you are enjoying this special time with your newly extended family.  Cherish every single moment, because it goes by way too fast.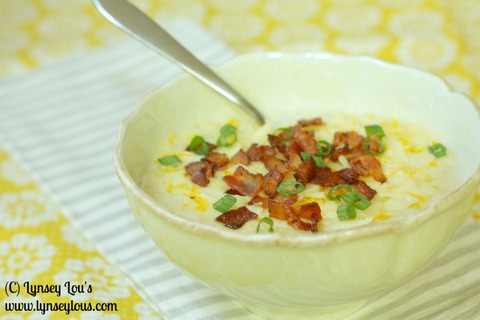 Print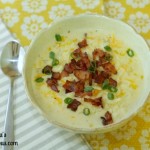 Cheesy Jalapeno Corn Chowder
Cheesy jalapeno corn chowder provides a delicious and satisfying meal, assembles quickly, can easily be tweaked to taste or diet, and makes a lot. Perfect for a cold winter day.
Ingredients
1

lb.

bacon

2

Tbs.

olive oil

1

medium onion

diced

2

Tbs.

butter

2

cloves

garlic

minced

1/3

c.

flour

8

c.

chicken broth

3-4

medium potatoes

cubed (with skin left on)

1

small jalapeno

or more depending on heat preference, chopped

1 ½

tsp.

salt

2

tsp.

pepper

6

c.

frozen corn

2

c.

heavy cream

2

c.

sharp cheddar

shredded

1

c.

Monterey jack

shredded

½

c.

gouda

shredded (plus more for topping-optional)
Instructions
Cut bacon into lardons (small strips). Drizzle olive oil in a large Dutch oven over medium heat. Once oil is heated, place the bacon lardons in the pan and cook until crisp. Once the bacon is cooked through, remove with a slotted spoon and place on a paper towel lined plate.

Add the butter and diced onion to the Dutch oven and allow onions to cook until translucent, about 10 minutes. Once the onions are translucent; and fragrant, add the garlic and cook about 30 seconds longer. Add the flour, salt and pepper and stir to combine. Allow the mixture to cook for about 3 minutes.

Stirring continuously, slowly pour in the chicken broth to avoid clumps from forming. Add the potatoes and jalapenos and bring to a boil. Once the mixture reaches a boil, reduce to a simmer, cover and cook for 15 minutes, or until potatoes are fork tender.

Once the potatoes are tender, add the corn, heavy cream and cheeses and stir to combine. Allow the mixture to cook about 5 minutes, until the cheese has melted.

Spoon soup in bowls, top with more cheese, crumbled bacon and green onions.
Recipe source: adapted from Fantastical Sharings of Recipes originally from Life and Kitchen