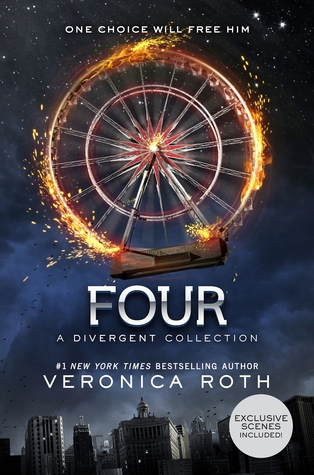 {Book Review}
Four: A Divergent Story Collection
By Veronica Roth
Four begins two years before The Divergent Trilogy starts, and is told from the perspective of Tobias Eaton, or Four. It's a series of short stories:
The Transfer
The Initiate
The Son
The Traitor
The first story was about Tobias's last days with his father and his transfer from Abnegation to to Dauntless. The second story detailed Tobias's initiation and the story behind his new name, and the only name the Dauntless will know him as, Four. From there, I'm not quite sure how the stories paired with the titles. (I listened to the book, rather than read it, and the breaks from one story to the next were not clear at all.) Between the last two stories, Four uncovered a plot that was the beginning of the end for the Dauntless and struggled with how to deal with it, to include involving his Abnegation and Factionless parents.
The book ends with three scenes from The Divergent Trilogy written from Four's point of view.
Review/Recommendation:
The Plot: I was far from impressed by this set of short stories. For one thing, the short stories didn't add all that much to the trilogy. Most of Four's history was alluded to or told, outright, in the trilogy. Hearing it from Four's perspective didn't add a whole lot.
Furthermore, the Four in the short stories seemed so radically different from the Four we knew from the trilogy. In the trilogy, Four is strong, an even-tempered compliment to Tris's hotheadedness. Here, Four seems weak, very conflicted, and indecisive. For example, he when he learns about the plot that will take down the Dauntless, he agonizes over the best course of action and when he faces resistance to the path he chose, he gave up fairly easily. I was very surprised and disappointed in this version of Four.
Format: My hubby and I listened to this book on a road trip we took this summer. I was not impressed with the audiobook format – the narrator was bland and boring and as I mentioned above, the four different stories and three "bonus" scenes were not clearly distinguished. The result was a slightly disjointed feeling as the narrator shifted between the stories.
Overall, I'd tell you to skip this book, even if you're a Divergent fan. While entertaining, there's not enough substance to make it worthwhile.
Grade: C-