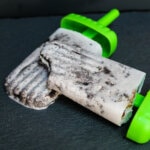 Cookies and Coconut Cream Popsicles
Don't let the coconut in these Cookies and Coconut Cream Popsicles scare you. These sweet treats are rich in vanilla flavor, super creamy and studded by one of our favorite store-bought cookies. 
Total Time
6
hours
5
minutes
In a medium, microwave safe bowl, heat the coconut milk for 30 seconds, or just long enough for the fat to be able to be evenly distributed into mixture. Stir in crushed Oreos and vanilla extract.

In a popsicle mold, add 1-2 tablespoons of the coconut milk mixture. Add whole Oreo. Fill to almost the top, leaving about 1/2-inch room. Insert popsicle stick into the center. Repeat until finished with the Oreos and coconut milk mixture.

Freeze until solid.