Welcome to #Choctoberfest!
#Chocotoberfest is the third annual food blogger celebration of all things chocolate, made possible thanks to our gold sponsor Imperial Sugar and the other sponsors listed below. This is my first year participating, and I'm excited to share a couple of great recipes with you. And don't worry – they're not all desserts!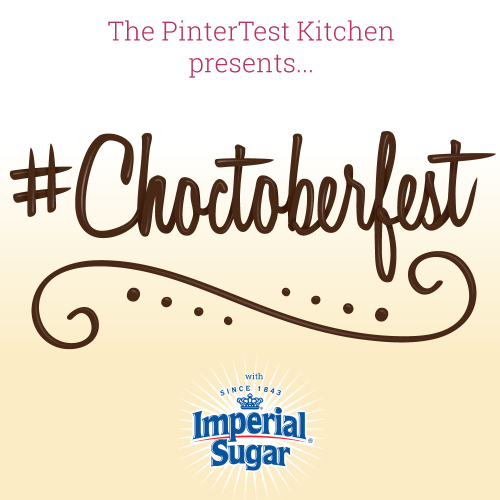 Disclaimer: Thank you to #Choctoberfest Sponsors  Barleans, The PinterTest Kitchen and our gold sponsor Imperial Sugar for providing prizes for #Choctoberfest free of charge. These companies, as well as sponsors Rodelle and Davis Chocolate also provided the bloggers with samples and product to use for #Choctoberfest . All opinions are my own.
Over 70 bloggers are participating in #Choctoberfest 2017 and will be posting 200+ chocolate recipes over the next week. Keep your eyes peeled, visit any of the blogs listed below, or use the #Choctoberfest hashtag on Instagram and Twitter to follow along. You can also check out our #Choctoberfest Pinterest board, where we post chocolate recipes all year long.
You can also enter to win our #Choctoberfest prize pack. Thank to our amazing sponsors who are contributing the following items for the prize:
This prize pack is valued at over $450! To enter, simply follow participating sponsors and bloggers using the below giveaway widget.
Stay tuned to see the delicious recipes bloggers have cooked up using Imperial Sugar and Barlean's products. Thank you also to Davis Chocolate and Rodelle for being #Choctoberfest shoutout sponsors! Watch Instagram and Facebook to find out more about about their chocolate products.
Here is a complete list of all the bloggers participating in #Choctoberfest 2017, so you can see the recipes they are posting throughout the week:
The PinterTest Kitchen ♥ Fix Me a Little Lunch ♥ Savory Moments ♥ Crumbs in my Mustachio ♥ House of Nash Eats ♥ Bake It With Love ♥ That Recipe ♥ Hardly A Goddess ♥ Cooking With Carlee ♥ A Kitchen Hoor's Adventures ♥ Body Rebooted ♥ Cindy's Recipes and Writings ♥ The Redhead Baker ♥ Faith, Hope, Love, & Luck Survive Despite a Whiskered Accomplice ♥ Sweet Coralice ♥ Seduction in The Kitchen ♥ Cooks&Books&Recipes ♥ Everyday Eileen ♥ Under My Apple Tree ♥ Family Around The Table ♥ Bottom Left of the Mitten ♥ The Spiffy Cookie ♥ Fairyburger ♥ Join Us, Pull up a Chair ♥ Jonesin' For Taste ♥ Jane's Adventures in Dinner ♥ Take Two Tapas ♥ Jennifer Bakes ♥ The Unlikely Baker ♥ Hostess At Heart ♥ Karen's Kitchen Stories ♥ Kate's Recipe Box ♥ Kelly Lynns Sweets and Treats ♥ Wildflour's Cottage Kitchen ♥ Chocolate Slopes ♥ Little House Big Alaska ♥ Makes, Bakes and Decor ♥ 2 Cookin Mamas ♥ That Skinny Chick Can Bake ♥ Books n' Cooks ♥ Mildly Meandering ♥ Living Ideas ♥ Restless Chipotle ♥ Get the Good Stuff! ♥ The Weekday Gourmet ♥ An Affair from the Heart ♥ West Via Midwest ♥ Cookie Dough and Oven Mitt ♥ The Bitter Side of Sweet ♥ Cookaholic Wife ♥ Daily Dish Recipes ♥ For the Love of Food ♥ The Saucy Southerner ♥ Cook's Hideout ♥ By the Pounds ♥ Tramplingrose: Cooking, Baking & Ranting in Small-Town South Dakota ♥ Sarah Cooks the Books ♥ Chef Sarah Elizabeth ♥ Fantastical Sharing of Recipes ♥ Sarah's Bake Studio ♥ The Pajama Chef ♥ Frankly Entertaining ♥ Long Distance Baking ♥ Palatable Pastime ♥ The Freshman Cook ♥ The Food Hunter's Guide to Cuisine ♥ A Day in the Life on the Farm ♥ Wendy Polisi ♥ Tampa Cake Girl ♥ My Southern Sweet Tooth ♥ Canning and Cooking at Home ♥ Full Belly Sisters ♥ SuperSizeGuy.com ♥ Our Good Life ♥ The Jolie Life ♥
Save
Save