Cool off this summer with a light and bright Watermelon Salad with Feta and Mint.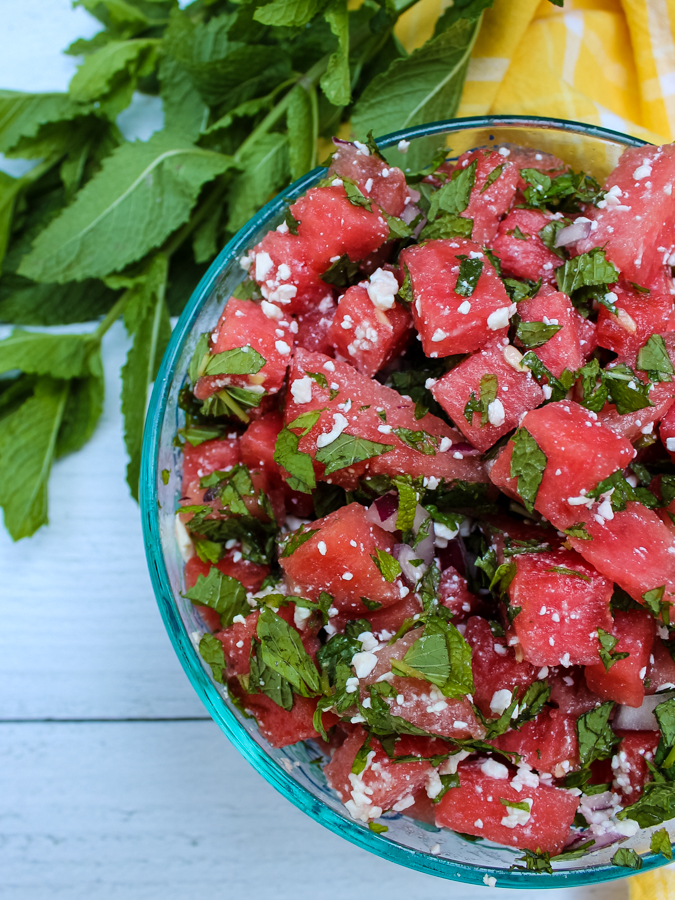 The stifling summer heat is officially here. Gone are the days when we get a nice breeze or a cooler day where we can enjoy being outside. Now it's just hot and humid. All of the time. It's gross. I don't want to be outside unless I'm at the pool or the beach.
Sadly, work gets in the way of that. I snag a few hours here and there at the pool. And I do have a few weekend getaways planned to the beach. But my outside time mostly consists of the long walk to and from the parking lot at work, and shuttling the kiddos to camps. Definitely not fun or enjoyable. #MomLife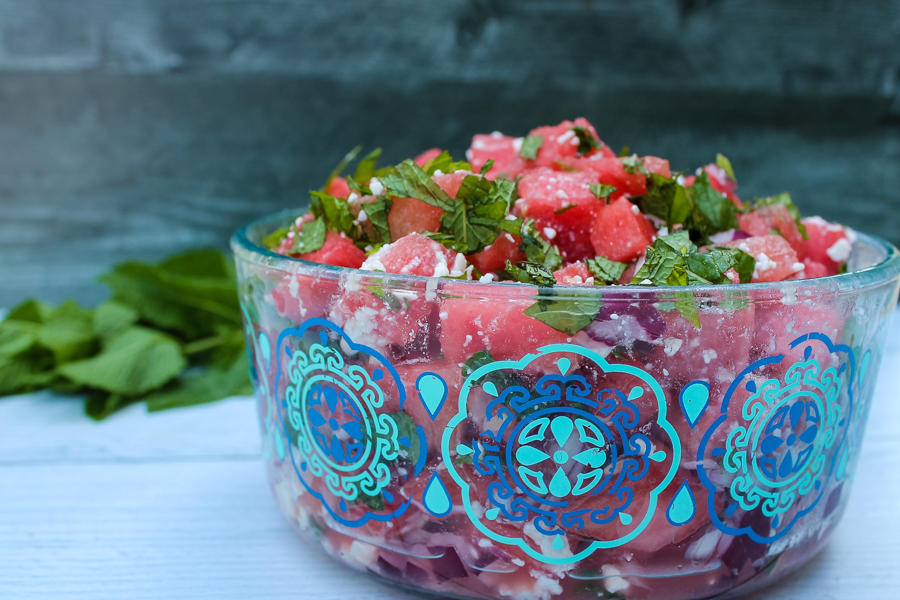 With the worst of summer heat approaching, my friends from From Our Dinner Table group have gathered together to share some recipes with you, designed to Beat the Summer Heat. We're talking quick and easy recipes, recipes that don't heat up the kitchen with lots of cooling.
For this event, I knew instantly that I'd be highlighting watermelon. With it's high water content, it's a great way to stay cool and hydrated this summer. My kids love sliced watermelon or Watermelon Sorbetto Popsicles, but today's recipe is more tailored for the adults. This Watermelon Salad with Feta and Mint takes that summer fruit to an all new level. It'll still keep you cool but the salty feta and addition of mint is just magical. It's a great summer snack or side for BBQs and cookouts.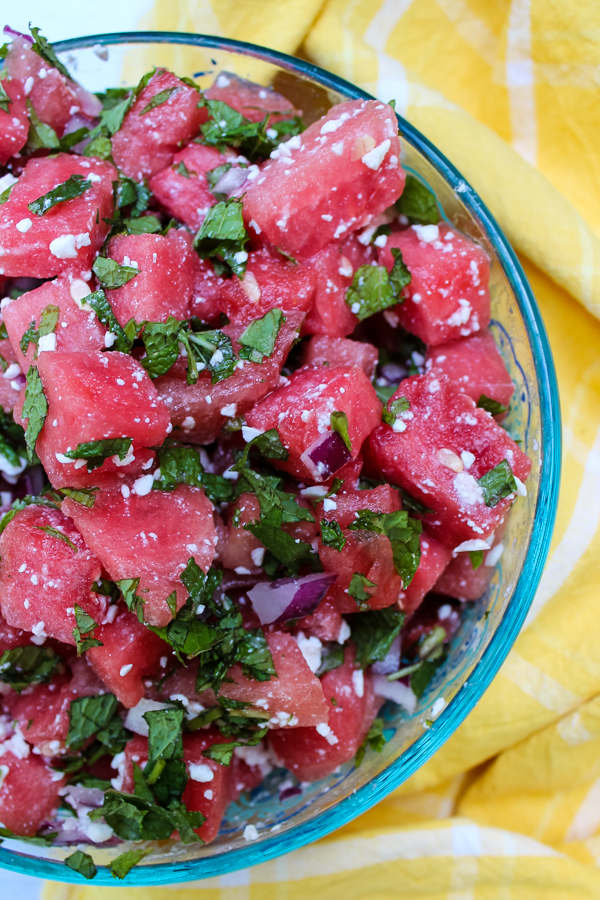 Recipe Notes:
Prep time includes time to cut the ingredients. Because that's really all there is to this recipe. Just cut the ingredients and and toss.
You don't need to use seedless watermelon, but I prefer it for a salad. It's easier to eat and easier to prep.
Variations: Add cucumber, cut to roughly the same size as the watermelon.
This is best served the day it's made.
Stay Cool with More Beat the Heat Recipes
We share Recipes From Our Dinner Table! Join our group and share your recipes, too! While you're at it, join our Pinterest board, too!

Print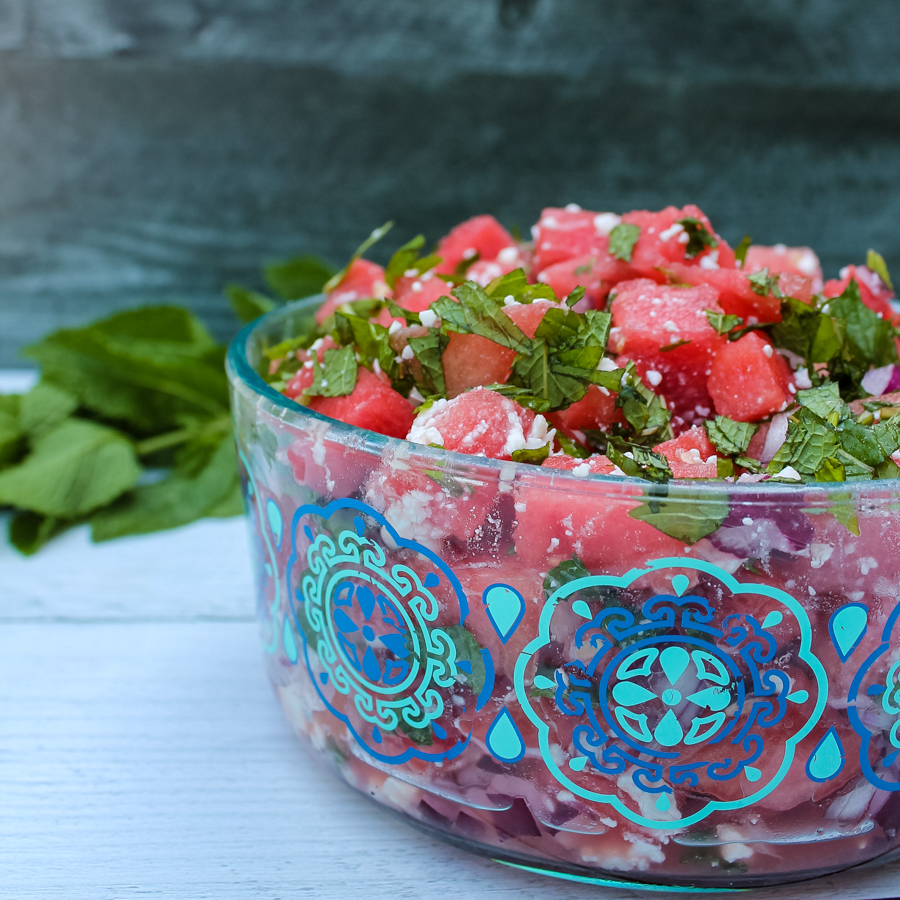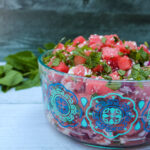 Watermelon Salad with Feta and Mint
Cool off this summer with a light and bright Watermelon Salad with Feta and Mint. 
Ingredients
6

c.

seedless watermelon cut into 1/2-inch cubes

(about a quarter of a watermelon)

1/2

c.

diced red onion

1/2

c.

minced fresh mint

3

oz.

crumbled feta cheese
Instructions
Combine all ingredients in a large bowl. Keep cold until serving.
Recipe Notes
Prep time includes time for cutting fruit.