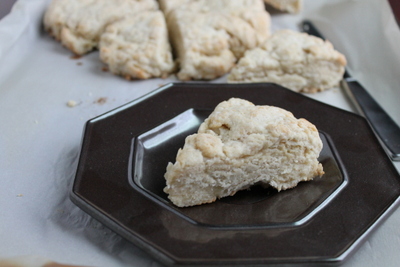 When I was in high school, I took my first trip abroad. It was a special trip – just me and my grandmother. She took me to London where we had the most amazing time. We saw the castles and museums. We accidentally arrived to see the opening of Parliament and ended up seeing the queen (my teenage mind was BLOWN!).
One of the highlights of that trip was shopping at Harrod's – which my grandmother and great aunt used to rave about – and staying for high tea. There, I fell in love with the wonderful tradition of mid-afternoon tea, dainty little finger sandwiches, and sweet breads, pastries, and cookies.
I've been to England a handful of times since that amazing trip with my grandmother, but never had tea at Harrod's again. But whenever I do go, I make sure scones and clotted cream are part of every trip. I have yet to find a clotted cream that lives up to my memories of that tea at Harrod's, but I do love recreating scones at home. They're a wonderful addition to an afternoon tea, but most frequently, I serve them with homemade jam for breakfast when we have overnight guests.
Homemade scones are so incredibly easy to make, and unlike many that you find in stores and shops, the texture is quite soft.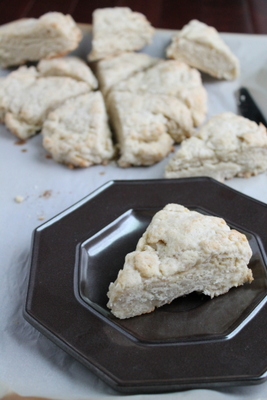 Want more scone recipes? Try my bacon, cheddar & chive scones or my cranberry walnut scones.
Vanilla Cardamom Scones
Adapted from Savory Simple
Makes 12 Scones
Preheat oven to 425F. Line a baking sheet with parchment paper and set aside.
In a large bowl, whisk together:
3 c. all-purpose flour
2 Tbs. granulated sugar
1 Tbs. baking powder
1 tsp. baking soda
1 tsp. kosher salt
1/2 tsp. cardamom
Using two forks or a pastry cutter, cut in
12 Tbs. cold unsalted butter
until mixture is crumbly. Finally, fold in:
1 c. half-and-half
1 Tbs. vanilla paste
Mixture will just start to come together, but will remain very crumbly. With clean hands, knead dough until it comes together. Divide in half and form into two 7-inch rounds. Set on a baking sheet lined with parchment paper. Slice each round into 6 pieces. Brush tops with
2 Tbs. unsalted butter, melted
Bake for 10-12 minutes, until tops are golden. Remove from oven and allow to cool on baking sheet for a few minutes.
Serve hot or warm.
Store in an airtight container at room temperature for 3-4 days.
Save