Last month I attempted macarons. I was so excited, I thought they were going to come out –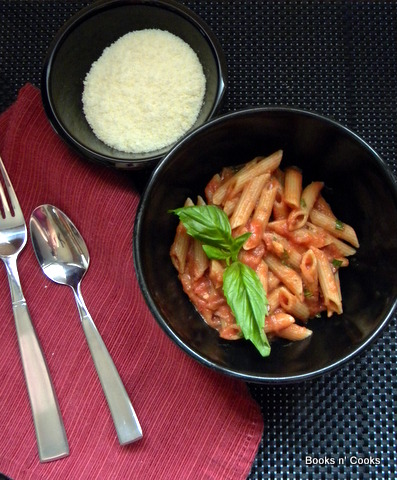 the temperamental cookies had "feet" and everything! However, I was never able to get the darn things off the baking sheet. I was sooo disappointed.
After my failed macaron attempt, I had a container of marscapone cheese in the fridge (the cookies were supposed to have a marscapone-raspberry filling). I rarely cook with marscapone and was struggling to find a recipeto use it up. Lucky for me, the perfect recipe popped up – tomato marscapone pasta. I love that it's quick and easy (30-45 minutes end-to-end, mostly inactive time, depending on whether you follow the cooking times below… I've definitely cut the simmering time short at least once before), but even more, the sauce was impressive. The marscapone adds a slightly creamy texture to the sweet tomato sauce, making a simple meal something special. Thanks to The Jey of Cooking for a great new recipe!
Tomato Marscapone Pasta
Adapted from JaimeOliver.com via The Jey of Cooking
Serves 4-6
Ingredients:
2 Tbsp. olive oil
1 tsp. minced garlic
1 large shallot or 1 small onion, small dice
1/4 tsp. crushed red pepper flakes
1-28 oz. can crushed tomatoes
8 large basil leaves, finely chopped
1/4 c. red wine
4 oz. mascarpone cheese
Salt and pepper, to taste
1 lb. of pasta, cooked
Instructions
In a medium saucepan over medium heat, heat olive oil. When hot, add garlic, shallots/onions, and red pepper flakes. Cook for about 5 minutes, until onions are soft.
Add tomatoes and basil. Lower heat and allow to simmer for 20 minutes.
Stir in red wine and simmer for another 20 minutes. Now is a good time to start cooking your pasta.
Just before pasta is ready, stir marscapone into tomato sauce and season with salt and pepper. Lower heat to low and leave on the hot burner until pasta is ready. Drain pasta and stir in tomato-marscapone sauce.
Serve hot with a grated Parmesan cheese, a side salad, and some fresh bread.