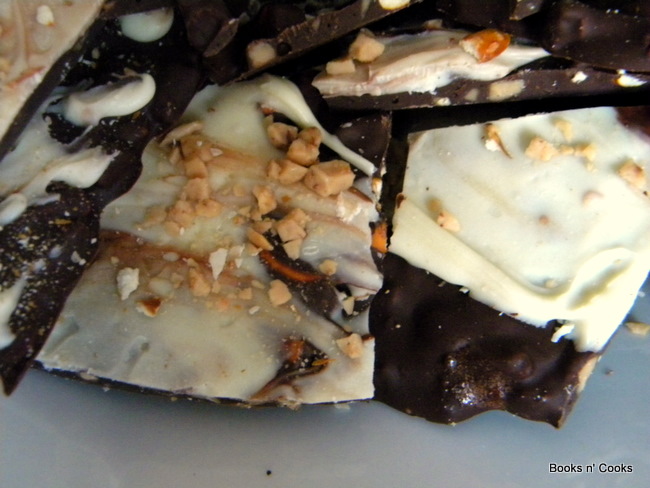 This toffee pretzel bark recipe is the third bark that I served at our holiday party last weekend. I love the salty-sweet combo featured in this bark (my mom used to send me chocolate covered pretzels in care packages throughout college).  Like the other two barks, this is pretty quick and easy to make, and keeps very well.
The recipe was adapted from My Kitchen Addiction via BrownEyedBaker. The only change I made to the recipe was to increase the amount of white chocolate, as 7 oz. did not quite cover the dark chocolate layer. This change is reflected below.
Toffee Pretzel Bark
Makes 1 1/2 lbs. bark
Ingredients:
14 oz. dark chocolate chips
¾ c. broken pretzel pieces, divided
¾ c. Heath toffee pieces, divided
9 oz. white chocolate chips
Instructions:
Line a baking sheet with parchment paper and set aside.
In a double broiler, melt dark chocolate. Stir in 1/2 c. pretzel pieces and toffee. Pour on prepared baking sheet and refrigerate for at least 30 minutes, until chocolate is set.
When chocolate is set, set up the double broiler again. This time, melt white chocolate. Pour over dark chocolate layer, spreading until even. Sprinkle with remaining 1/4 c. pretzel pieces and toffee, pressing the pieces down a little bit so that they stick. Refrigerate for another 30 minutes, until chocolate is set.
Remove from fridge, and using the tip of a knife or a fork, break into pieces.
Store in an airtight contain in the fridge or at room temperature.