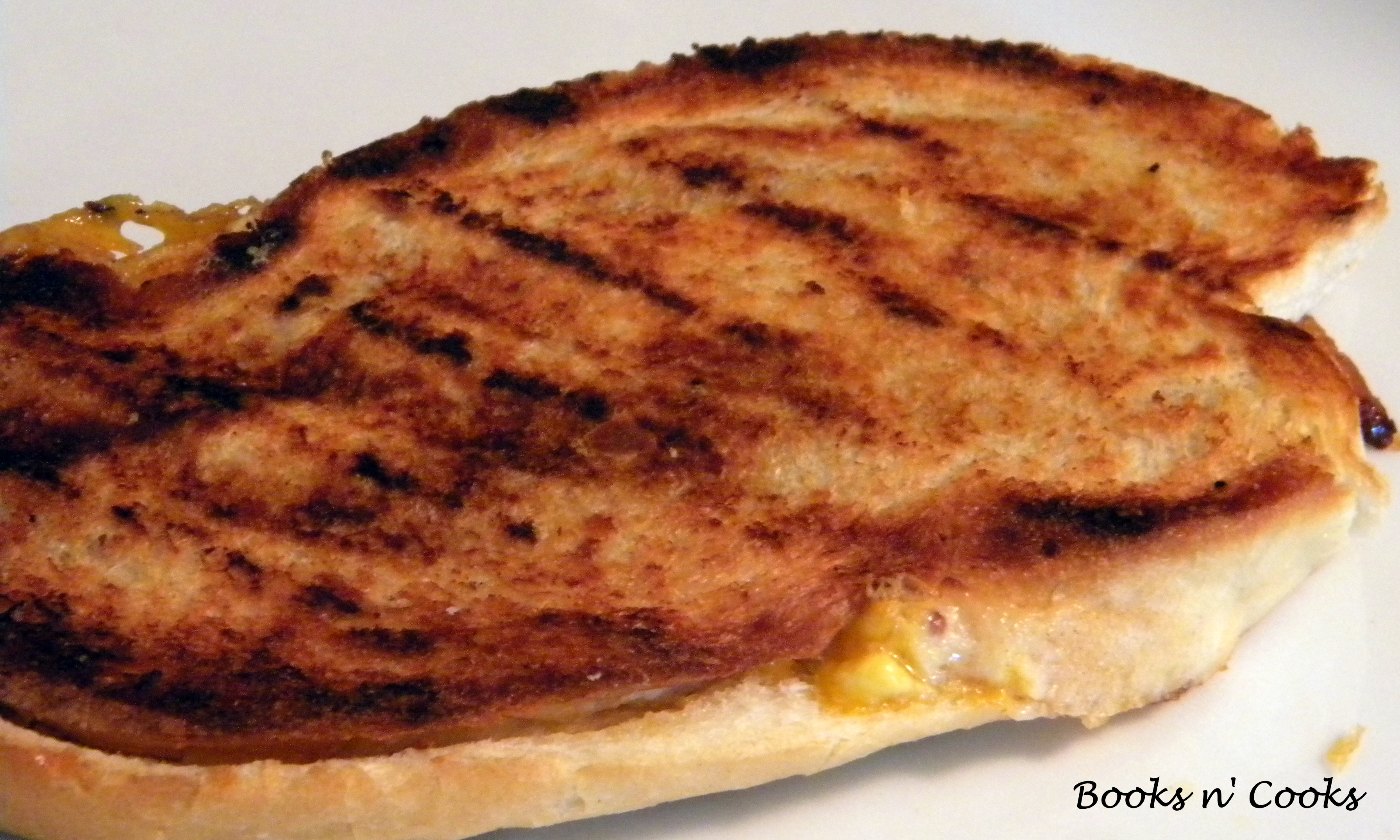 A couple of weeks ago, my hubby invited some friends over for the first college football game of the season. He promised light snacks, and everyone was coming over around 6:30. Light snacks? Really? Chips and dip were never going to suffice. We definitely needed something more substantial. These Ultimate Grilled Cheese Sandwiches satisfied that requirement – I couldn't make them fast enough!
The only real changes I made to this recipe were the bread (my grocery store didn't have sour dough so I used French bread) and the serving size. I don't know if the bread was smaller or if I used less cheese and bacon, or a little bit of both, but I actually got more like 10 sandwiches out of this recipe. Ina also suggested shredding the cheese and crumbling the bacon. I ended up leaving the bacon slices whole (or halved when necessary) and "shredding" the cheese with a knife, so that I ended up with pieces larger than a traditional shredder would make. In the future (and in the recipe below), I actually changed this step, so that the cheese is thinly sliced. It will be easier to get more cheese on the sandwiches, and will keep the cheese from falling off when grilling.
Recipe chosen by Rebecca of Ezra Pound Cake, of Barefoot Bloggers, from Ina's new book, How Easy is That? to be released this October.
The Ultimate Grilled Cheese
Adapted from Ina Garten's How Easy is That?
Makes 6-10 Sandwiches
Ingredients:
12 slices thick-cut bacon, such as an applewood smoked
1 c. good mayonnaise
1/4 c. Dijon mustard
1/4 c. freshly grated Parmesan cheese
1 1/2 tsp. kosher salt
1/2 tsp. freshly ground black pepper
1 loaf of sourdough bread (french bread also worked well), sliced 1/2 inch thick (12+ slices)
6 Tbs. unsalted butter, at room temperature
6 oz. aged Gruyère or Comte cheese, coarsely grated or thinly sliced
6 oz.good  extra-sharp Cheddar, coarsely grated or thinly sliced
Equipment: Panini Press or Grill Pan
Make the Bacon: Preheat oven to 400F. Prepare a rimmed baking sheet with foil on the bottom (optional – makes for easy clean up) and a baking rack inserted on top. Lay bacon in a single layer over baking rack. Cook about 20-30 minutes "until nicely browned." (I cooked mine for about 40 minutes to get the bacon crunchy.) When done, set on a plate lined with paper towels.
Assemble the Sandwiches: In a small bowl, combine mayo, mustard, Parmesan, salt and pepper. Spread half of the bread with a generous serving of the mayo mixture. Add cheese (1 oz. each cheddar and Gruyère / comte, about 1/3 cup total if grated) and 1-2 slices bacon. Top with other slice of bread.
If using a Panini press on the stove, heat the Panini press over medium heat. Meanwhile, either spread butter on sandwiches (both sides), or melt butter, and when Panini press is hot, brush butter on both sides of the pan. Cook 3-5 minutes, flipping as needed. Allow to cool a couple of minutes before serving.