The Paris Seamstress packs in mystery, intrigue and romance in two intertwined timelines, present day and World War II, from New York to Paris.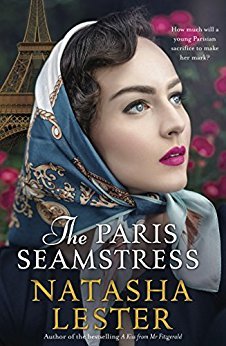 The Paris Seamstress by Natasha Lester
It's 1940 and the Nazi army is approaching Paris. Seamstress Estella Bissette finds herself in the wrong place at the wrong time. Within just 24-hours, her world is turned upside down, with new truths revealed about her family and herself. Her mother forces her to flee. Estella boards one of the last ships to the U.S. before the Nazis reach Paris.
Estella arrives in New York City with little money, her mother's sewing machine, and the gorgeous gold dress that she wears. Her mother dreamed of her safety and her success as a seamstress and a designer – but can she do it alone? And what will her journey look like?
Review:
I've really come to love historical fiction novels, and after my last read (which took two months to get through), I needed The Paris Seamstress. It was one of my final reads in 2021, but I just couldn't get myself motivated to get this review published. I do feel bad for holding out – this would have been a great read for you all during holiday time off. Sorry. Perhaps save it for spring break or summer? Or lose yourself in it after a long week?
Anyway, The Paris Seamstress packed in so much that I didn't want to put it down – mystery surrounding the family and it's history, complicated romance, intrigue of Allied spying… The book is really well-written, weaving in so many pieces for a complete and engaging story.
Estella's story unfolds primarily as we follow her journey in New York during WWII. Alternatively, in present day, Estella's granddaughter Fabienne struggles with loss, love and finding herself – and the truth about her family history. Both plot lines were well done, both were engaging. Fabienne's journey tied in seamlessly with Estella's story. Between the two story lines, there were so many unknowns, so many twists and turns. I just wanted to keep reading until I could figure out the puzzle that was Estella's life.
I loved the characters – so young and facing such hardships. There wasn't just war but abuse, loss, and lies. Despite this, the core characters were kind and hard working, each fighting to make a way for his or her self in the world. I wanted each and every one of them to be happy in life and to succeed in their goals.
I'd definitely recommend The Paris Seamstress. Did you read it? Leave me a comment and let me know what you thought of it.